Tottori Prefecture
Japan's Regions: Tottori 鳥取県
Tottori Prefecture is located on the Japan Sea coast in the Chugoku (south west) region of Japan. Tottori Prefecture borders Shimane Prefecture, Hyogo Prefecture, Okayama Prefecture and Hiroshima Prefecture. Tottori is the least populous prefecture in Japan.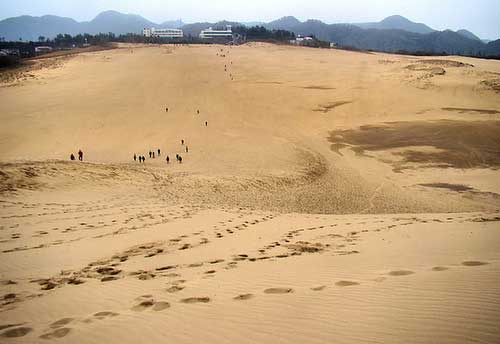 Tottori Sand Dunes, Tottori Prefecture
Tottori is a mainly rural prefecture with its coastline famous for the Tottori Sand Dunes - part of the San'in Kaigan Global Geopark.
Around 14% of the total area of Tottori Prefecture is protected land Daisen-Oki and Sanin Kaigan National Parks, Hiba-Dogo-Taishaku and Hyonosen-Ushiroyama-Nagisan Quasi-National Parks and Misasa-Togoko, Nishi Inaba, and Okuhino Prefectural Natural Parks.
Tottori Prefecture's main cities and towns include the capital Tottori City, with a population of around 192,800 inhabitants, Kurayoshi, Sakaiminato (a port with ferry links to the Oki Islands in neighboring Shimane Prefecture) and Yonago (Tottori's second largest city).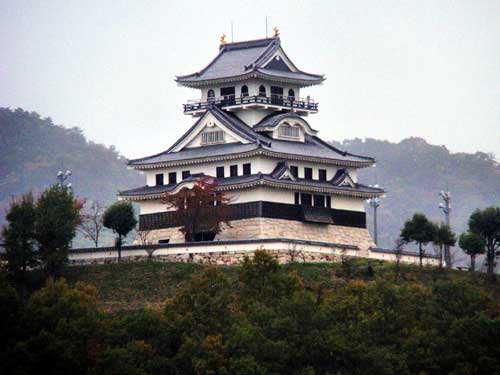 Kawahara Castle, Tottori, Tottori Prefecture.
Tottori has slightly cooler weather in the summers than areas further to the south in Honshu and those towns and cities on the Pacific Coast, though temperatures usually top 30 degrees Centigrade or more in July and August. The coastline of Tottori Prefecture traditionally receives snowfall in winter.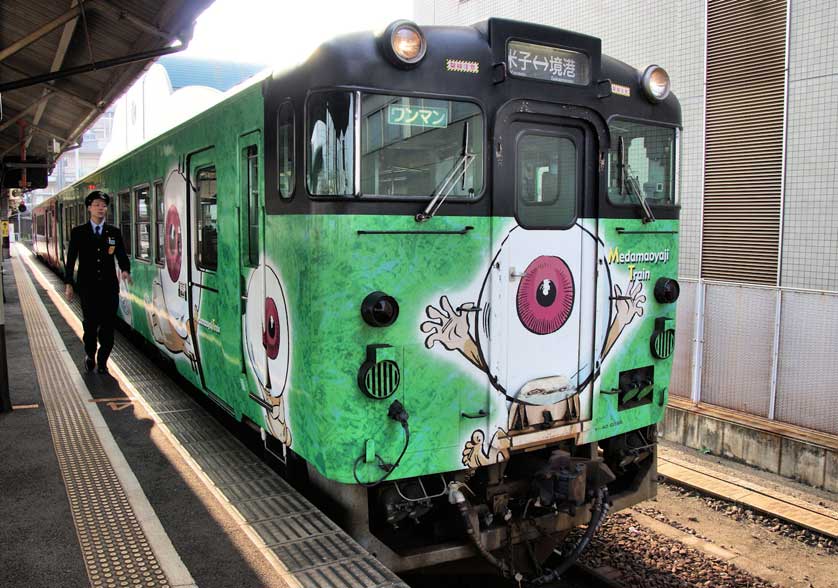 Medama Oyaji Train, Kitaro Train, Tottori Prefecture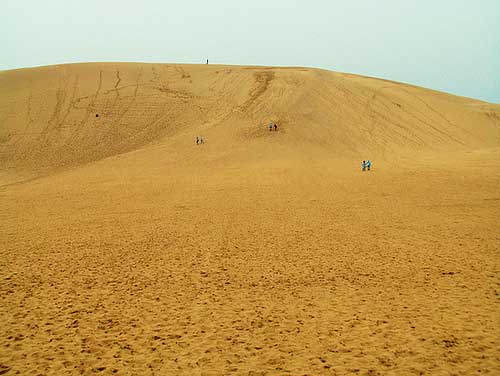 Tottori Sand Dunes, Tottori Prefecture
Tottori Attractions
Tottori Prefecture has a number of attractions chief among them Japan's only major sand dunes. Tottori Sand Dunes are a short bus journey from Tottori City.
The former Tottori Castle is well-known for a famous 200-day siege by Toyotomi Hideyoshi in 1581, when the defenders, lead by Kikkawa Tsuneie, were starved into submission, with some reports that the castle's inhabitants resorted to cannibalism. All that remains now are ruins, but the towering walls and the moat around them remain well-preserved, and with one of the main gates of the castle having been restored.
Also in Tottori city, Jinpukaku is a French Renaissance style residence built for the Nakahiro Ikeda, 14th lord of the Ikeda clan. The house hosted Crown Prince Yoshihito, later Emperor Taisho on his royal tour of the San'in Region in 1907. The architect was Katayama Tokuma (1854-1917), who was also responsible for Nara National Museum and the Akasaka Palace in Tokyo, both of which it resembles in style.
Tottori Prefectural Museum is a large modern facility right across from Jinpukaku Mansion, showcasing the natural and cultural history of Tottori Prefecture. Starting with its striking architectural design, the museum has something for everyone, covering almost every aspect of life in Tottori Prefecture throughout the ages with spacious, well-designed exhibits and with English signage.
Kannon-in Temple is an old Buddhist establishment in Tottori City founded at the behest of the Ikeda clan, the lords of Tottori Castle. Kannon-in Temple is best known for its more than 400 year old garden at the rear, which requires a fee to view.
Kotokuji Temple is a short walk from Kannon-in Temple, and is marked by exquisitely cultivated and scrupulously maintained gardens, a mix of formalism and naturalism. Kotokuji Temple is also significant for its sumo wrestling connections, being the resting place of one of a legendary (and literal) giant of a sumo wrestler from the 1600s, and with over 100 other less well-known sumo wrestlers of old buried here too.
Manidera Temple is an important mountain temple located on Mount Mani, north of Tottori city and not far from the Tottori Sand Dunes. Reached via hundreds of steps up a narrow valley, Manidera includes a statue of Kannon set in a large basin of water from the mountain spring with a reputation for healing.
Hakuto Shrine (Hakuto Jinja) near the sea at Hakuto Beach is connected to two Japanese myths: the story of the White Rabbit of Inaba and the Wani and the Yasogami brothers and the White Rabbit.
Ochidani Park is a narrow valley near the center of Tottori city that is home to some traditional Japanese gardens, an interesting history museum, an historical shrine, and a nature preserve.
Encho-en Garden in Kurayoshi is one of the largest Chinese gardens in Japan. It is a genuine Chinese garden rather than a Chinese-style garden. It was designed in China, all the materials were sourced in China, the buildings were built in China and then dismantled and shipped over, and even some of the trees came from China.
Kawahara Castle, is a 20th century replica castle in Kawahara, south of Tottori city, located on Oshiroyama (Castle Mountain).
Mount Daisen at 1,729 metres it is the tallest mountain in the Chugoku region, and its highest peak and ridges are considered the most difficult in Japan. In winter climbers heading for Everest practice here. A Mt. Daisen cycling tour is a recommended way to experience the area around the mountain.
Mount Mitoku, Mitokusan, a 900 meter high mountain in the middle of Tottori Prefecture is a sacred mountain, particularly for the yamabushi, the followers of Shugendo. The mountain is home to Nageiredo and Sanbutsuji Temple.
The Shoji Ueda Photography Museum is a strikingly modernist presence smack in the middle of the rural Houki-cho district. As well as showcasing the work of local - and globally accoladed - photographer Shoji Ueda, with its strong story-telling flair, the museum provides stunning views of Mt. Daisen across the plain.
Tottori Prefectural Flower Park, in the general vicinity of Mt. Daisen, is a 50-hectare, all-season garden park with a wealth of beautiful floral landscapes, dominated by a massive, transparent Tropical Dome, and with numerous other stylish, modern facilities. Fully covered walkways make the Park an any-weather attraction. There is a famous lily collection, and a Flower Hill that offers the most picturesque view of Mt. Daisen of anywhere in the prefecture. A free hourly - at times half-hourly - shuttle bus leaves from Yonago Station.
There are a number of character trains in Tottori Prefecture including the Conan Train on the Sanin Line with designs of Detective Conan and scenes from the manga, the Sakai Line from Yonago Station to the port town of Sakaiminato which features trains decorated with the yokai monsters of the GeGeGe no Kitaro manga and anime series and the Iwami Characters Train, featuring 16 mascots and photos of towns in the Iwami region.
Sakaiminato is an important fishing and ferry port and worth a visit here is the Yumeminato Tower, an observation tower which includes the Pacific Rim Exchange Village, a kind of museum focusing on the traditional cultures of Japan's neighbors, China, Korea, Taiwan and Mongolia.
Also of interest for manga fans is the Mizuki Shigeru Road with statues of manga characters created by Mizuki Shigeru.
The Ishitani Residence in Chizu is an Edo Period house that belonged to a rich family of peasants. Chizu-shuku was an important post-town during this period of Japanese history.
The Nagashibina Doll Museum in Mochigase houses a collection of more than one thousand dolls, and includes many different types of doll from different parts of Japan and also from different historic eras, but what is most interesting are the dolls that relate to the museum's name, nagashibina, which is the name of an ancient ritual from which the more modern Hina Matsuri derived.
There are several hot springs (onsen) in Tottori Prefecture including Iwai Onsen, Misasa Onsen, Shikano Onsen, Hamamura Onsen, Yoshioka Onsen and Tottori Onsen right in the center of Tottori city.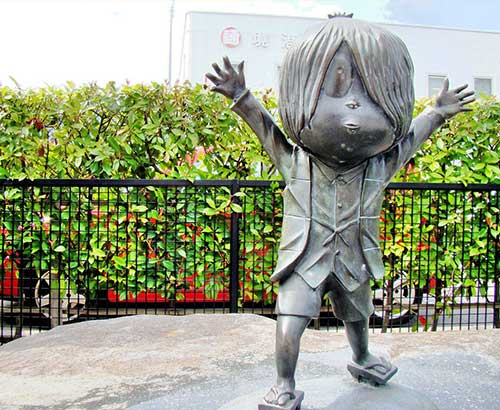 Mizuki Shigeru Road in Sakaiminato
Mizuki Shigeru Road in Sakaiminato, Tottori, Japan
Tottori History
The Mukibanda Yayoi remains in the foothills of Mount Daisen are the large remains of a settlement dating from the Yayoi Period. The prefecture also has a number of kofun (burial mounds) dating from Japan's early history.
The area of present-day Tottori prefecture was originally two provinces: Hoki based around Yonago, and Inaba centered on Tottori city.
During the Edo Period, Tottori was ruled by the Ikeda clan from their base in Tottori Castle.
Tottori Prefecture was established during the Meiji Period in 1888. The 1943 Tottori Earthquake destroyed around 80% of Tottori city.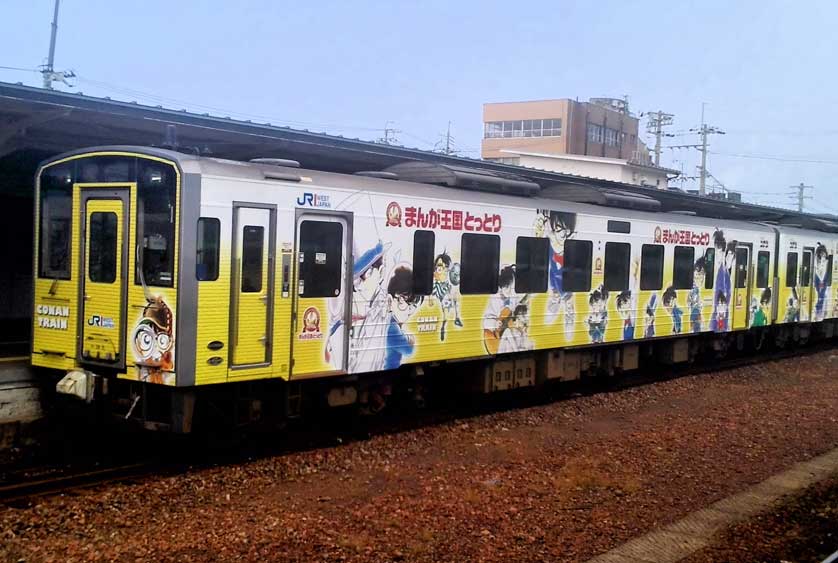 Conan Train, Tottori Prefecture
Tottori Dining
Tottori Prefecture is known for Tottori Kyukotsu Raamen, a ramen noodles with a broth that gets its distinctive flavoring from boiled beef cartilage, and which first appeared in Tottori restaurants in the early 1950s. Tottori Kyukotsu Raamen is available mainly in the central western region of the prefecture, i.e., the towns or cities of Sakai-minato, Yonago, Kotouracho, Hokueicho, Kurayoshi, Yurihamacho, and Misasacho.
Access
Air
Tottori has two airports, at Tottori and Yonago. There are flights from Tottori Airport to Haneda Airport (75 minutes) in Tokyo and from Yonago Airport to Haneda (80 minutes) and also to Incheon Airport near Seoul in South Korea (90 minutes).
Train
Tottori Station is on the JR Sanin Main Line from Kyoto to Shimonoseki. The Inbi Line runs from Tottori to Tsuyama in Okayama.
There are Limited Express Super Hakuto trains to and from Kyoto Station, Shin-Osaka Station and Osaka Station. There are Super Inaba trains to and from Okayama Station in Okayama (1 hour, 50 minutes).
From JR Nagoya Station in Nagoya take a shinkansen bullet train to Himeji and change to the Limited Express Super Hakuto (3 hours, 18 minutes) or change to the Super Inaba at Okayama (3 hours, 40 minutes).
From Tokyo Station the quickest route by rail is to take a shinkansen to Himeji for the faster Limited Express Super Hakuto, or Okayama and then change to the slower Super Inaba.
Bus
There are daily express highway buses from Tottori Station to a variety of major cities in Japan including Kobe (2 hours, 40 minutes), Osaka (3 hours), Universal Studios Japan (USJ), Kyoto and Fukuchiyama.
There is an overnight bus from Izumo and Matsue in Shimane to Nagoya that also stops at Yonago. Overnight buses from Izumo and Matsue also link Yonago with Shinjuku Bus Station in Tokyo (11 hours, 15 minutes).
Car
The main highway running through Tottori is the San'in Expressway.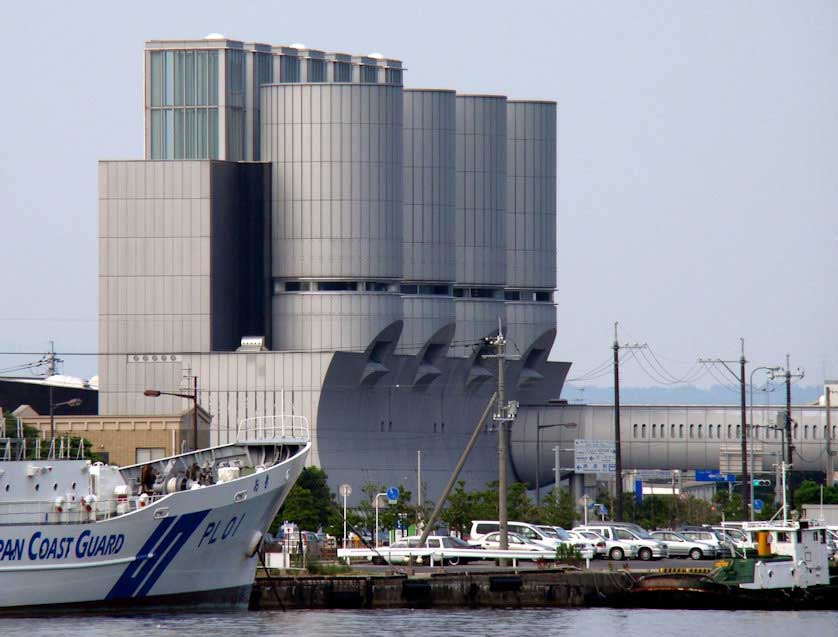 Sakai-minato Port, Tottori Prefecture
Tottori is a mainly rural prefecture with its coastline famous for the Tottori Sand Dunes - part of the San'in Kaigan Global Geopark.
All the themes of the city