Matsue Castle
松江城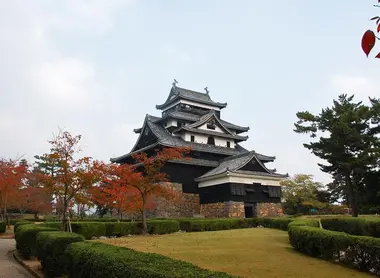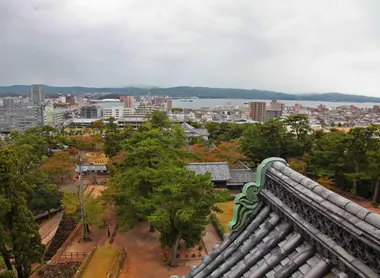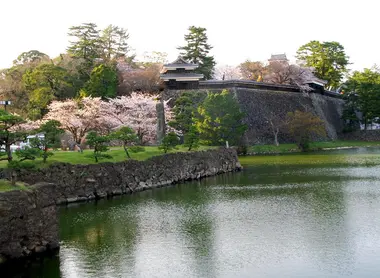 The Black Castle
Its color and beauty make it a mythical castle, worthy of the greatest samurai films.
Built in five years by order of daimyo Horio Yoshiharu and completed in 1611, Matsue Castle is nearly 30 meters high and offers a magnificent view of Matsue. This is one of the last twelve castles preserved in their original state in Japan.
The great strategist Horio Yoshiharu had the city rebuilt to make the castle an impregnable fortress, thanks to the canals. But erected after the late sixteenth century feudal clashes, Matsue castle never found itself in any battles. Less than two hundred years after its construction the castle was taken over by the Matsudaira, younger branch of the Tokugawa, who kept the castle in its original state but modernized the city.
However, much of the castle was destroyed at the end of the shogunate. Today, only the surrounding wall, a few scattered ruins and the imposing Tenshukaku (keep) remains.
The Keep
Perched on a hill, it is very often compared to a plover, a sea bird with dark feathers, taking off. It is therefore sometimes referred to as Chidori-jo, the plover castle. So while Himeji castle is nicknamed "White Heron", Matsue castle is nicknamed "black castle" or "plover castle", even though it does bare a small resemblance to Himeji.
The keep is built on top of a stone base, and comprises of six storeys, but only five are visible from the outside. The labyrinth of small stairs and the wooden structure provide a good overview of life in the feudal era. Armor, helmets, statues, contemporary documents and photos tells the castle's history.
Beautiful ruins
The Ninomaru, Castle Park, covers the total area of the former domain. It is dotted with ruins of the now defunct building. Only the stone sides have stood the test of time. The vegetation is very well maintained and visitors will find, cherry, plum and other trees which the Japanese appreciate the flowers of. Without a doubt spring and fall are the best seasons to visit Matsue castle and its grounds to the rhythm of flowing water in the moat.
---
Address, timetable & access
All the themes of the city