The tatami
畳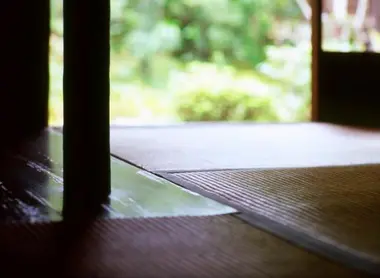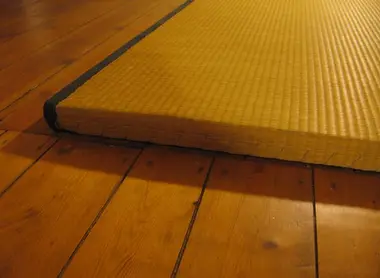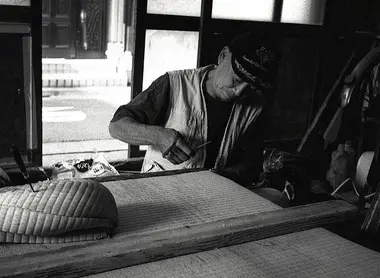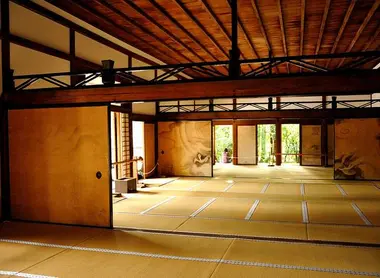 rice mattress
The tatami is a traditional floor covering of Japanese homes, and more specifically of the Japanese-style room, washitsu .
Tatami is a floor covering found in traditional Japanese homes.
A carpet of grass
The tatami is a mattress made of layers of rice straw superimposed, crisscrossed, and then compressed. The "mattress" is then covered with a rush mat. At first, the tatami has a somewhat green color due to the young straw, but over time it turns yellow as it dries. The weight of the tatami varies between 25 and 30 kilos and it is about 5 centimeters thick. Nowadays, tatami also exists in synthetic materials (composition of foam and cardboard).
Read: Chashitsu, the tea pavilion
Used in homes, temples, and dojos, the tatami has even become the unit of surface measurement in Japan! The dimension of a mattress is 91 x 182 centimeters, or 1.6562m 2. On the tatami, it is possible to sit, sleep and walk. The decorated upper part of the tatami is called goza.
Uses of the tatami
Originally, tatami mats had only one layer of rice straw. A second layer was added for more comfort. The tatami then indicated the rank of each: only important personalities could sit on it, while the others had to be content with the wooden floor. While it is common to sit on tatami, ancient custom dictated that these mattresses be covered with rice straw on the surface of the tokonoma. From the Edo period (1603-1868), tatami was stacked to form a bench.
Read also: 10 typical objects of the Japanese house
The Japanese air and dry the tatami once a year. While the inside of the mattress has a long lifespan, the outer rush part requires replacement every year. Be careful, don't forget to take off your shoes before entering the room!
To compose the arrangement of the tatamis in a room, it is necessary to keep in mind that they reflect the light. Some tatamis will not have the same color depending on the room where they are installed. The agreement proposes two layouts: s hugijiki, tatamis aligned in both directions, and fushgijiki, tatamis laid out in one direction. The tatami is not fixed but only interlocked. It is thus easy and quick to dismantle.
To read: Machiya, the houses of Japanese merchants
All the themes of the city