Akihabara Station
Akihabara Station 秋葉原駅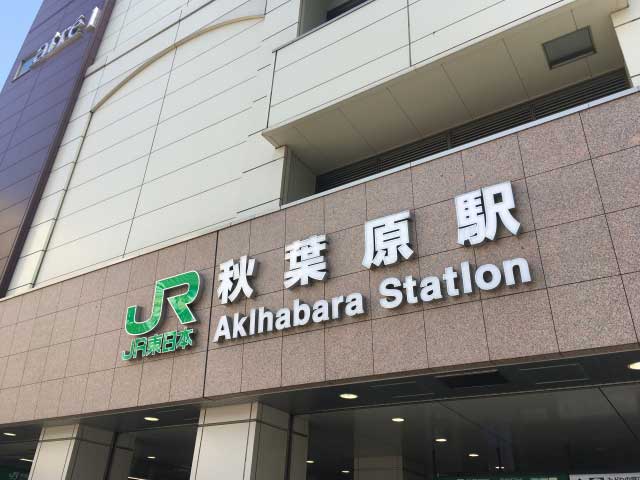 Akihabara Station is located a little east of central Tokyo in Chiyoda ward, at the heart of the Akihabara electronics area.
Rail Connections
Akihabara connects with the JR Yamanote Line, the Chuo-Sobu Line, the Keihin-Tohoku Line, the Tsukuba Express line, and the Tokyo Metro Hibiya subway line.
The Tsukuba Express line links Tokyo to Chiba, Saitama and Ibaraki prefectures.
Akihabara Station was first opened in 1890 for freight traffic and began to serve passengers in 1925.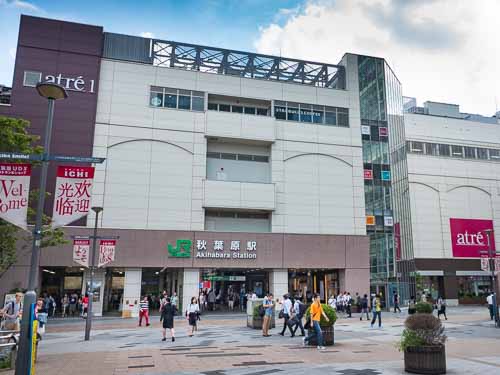 Electric Town Exit of Akihabara Station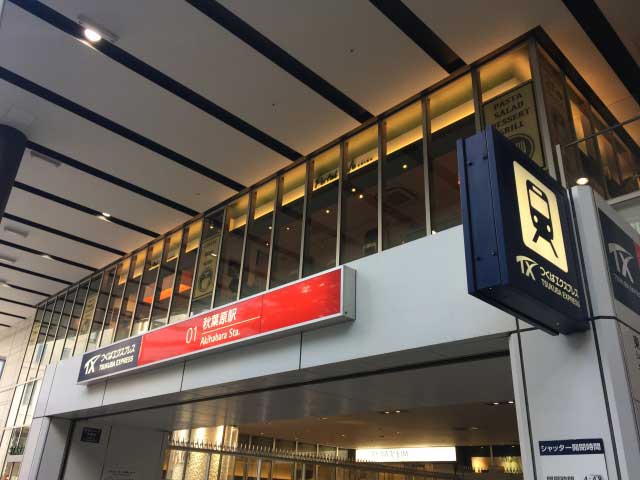 Entrance to the Tsukuba Express platforms which are very deep underground and take a while to reach by escalator
The JR Line platforms are above ground, whereas the modern platforms of the Tsukuba Express are contained in a huge, futuristic cavern deep underground.
Buses From Akihabara Station
There are buses from Akihabara Station to Haneda International Airport. Journey time is 30 minutes to Terminal 2 and 35 minutes to Terminal 1. Keisei buses from Akihabara Station also run to Tokyo DisneySea and Tokyo Disneyland via Tokyo Station. The journey time is 35 minutes. The Akiba Shuttle bus departs from the Central (Chuo) exit of Akihabara Station to Asakusa (in front of Kaminarimon Gate) and Tokyo Sky Tree with the first bus at 9.05 am and the last bus at 8:10 pm, about every 30 to 50 minutes; 210 yen for adults, or 206 yen with an IC card.
Long distance Highway Buses run from Akihabara to Osaka, Kyoto and Kyotanabe in the Kansai region, Fujioka, Maebashi and Takasaki in Gunma Prefecture, Toyama, Kanazawa, Tsuruoka and Sakata in Yamagata Prefecture as well as Tono, Kamaishi and Otsuchi in Iwate Prefecture.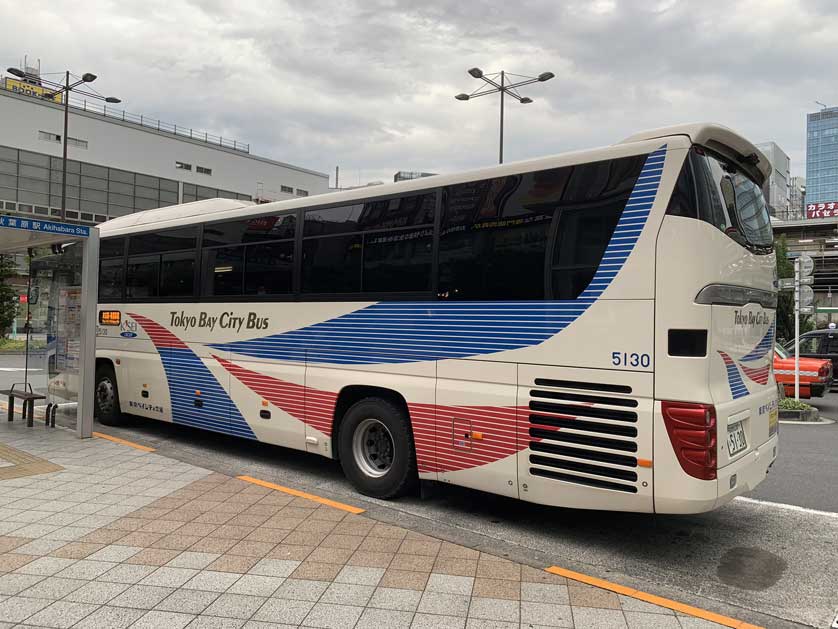 Bus to Tokyo Disneyland, from Akihabara Station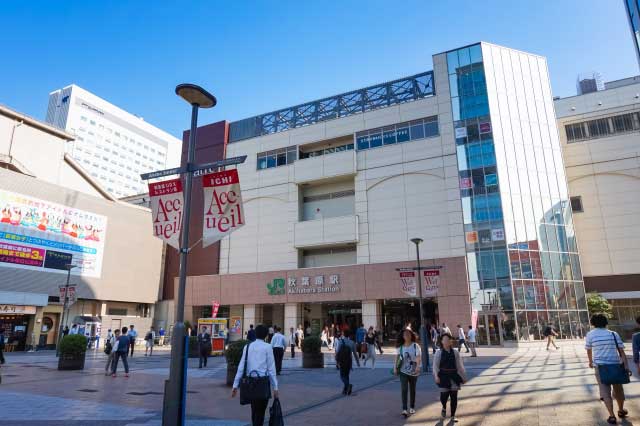 Akihabara Station, Tokyo
Akihabara is a major commercial and shopping area in Tokyo and has become famous for its countless cut-price consumer electronic and gadget stores, its more recent trend of maid cafes and its numerous stores selling computer games, and geek culture (otaku) goods.
There is a small square at the back of the JR station at the Akihabara Electric Town Exit (pictured above).
The office@akiba opposite the large Yodobashi Akiba electronics store has a pay toilet for 100 yen, a smoking room and information corner.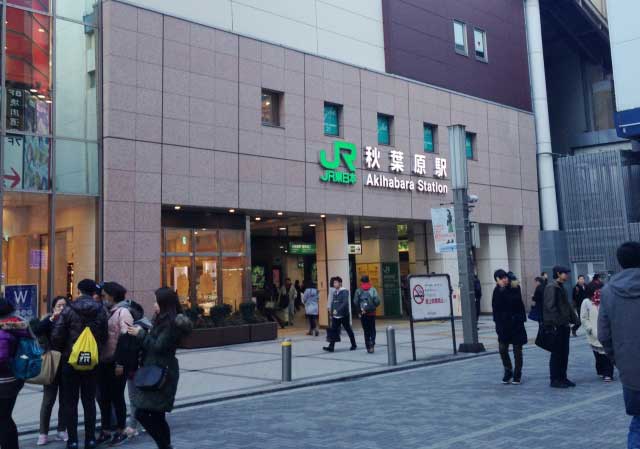 JR Akihabara Station
Akihabara Station Video
Coin Lockers
Akihabara Station has several banks of coin lockers but these can often be full due to the popularity of the place. One bank of lockers is on your right as you enter JR Central Gate.
See here for a full list: coinlocker.click/akihabara-station.php#IN
There are also several places around Akihabara Station that have coin lockers. These include one close to the Animate 新館 store and another near to the AKB Theater.
Nearby Akihabara Station
Yanagimori Shrine is a picturesque Shinto shrine across the Kanda River, just south of Akihabara Station.
The APA Hotel Akihabara-Ekimae is a nearby hotel.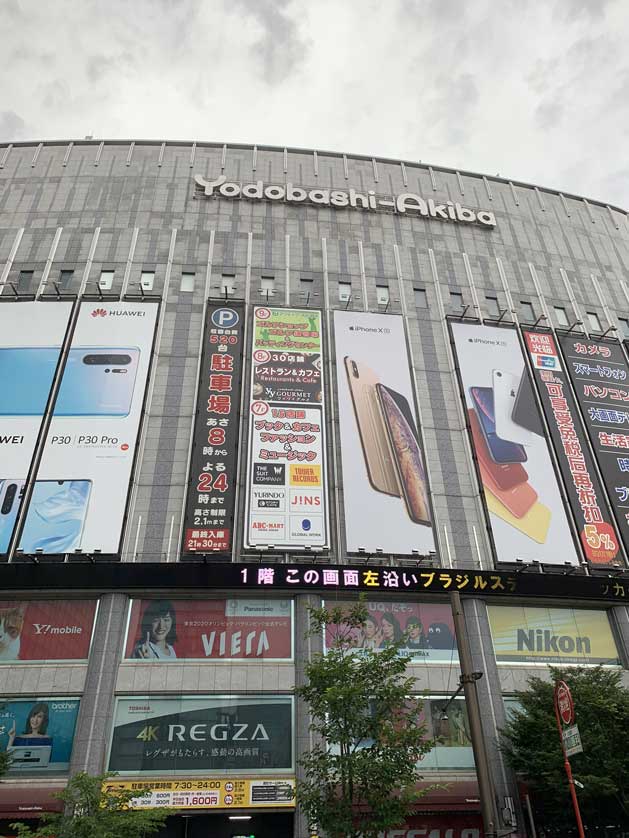 Yodobashi Akiba Building, Tokyo
Akihabara Station: read a guide to Akihabara Station which connects to the Tsukuba Express, Yamanote Line and Chuo-Sobu Line.
All the themes of the city