Hakata Dontaku Festival
博多どんたく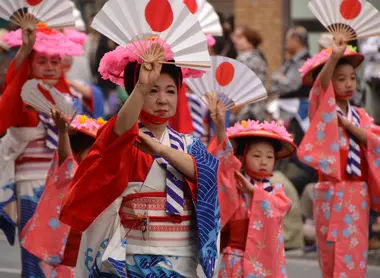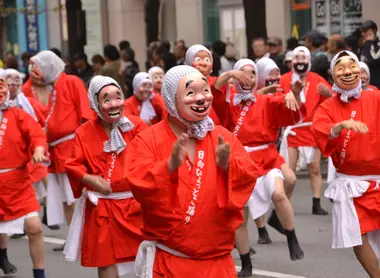 Hakata in high spirits
In Hakata, the Dontaku Festival has been celebrated for more than 800 years. Held during Golden Week, this carnival brings nearly 2 million people together every year.
To find the origins of this festival, we have to go back to 1179, to the Heian Era. Formerly called Matsubayashi, it was an opportunity to celebrate the local lords and thank them for their kindness by wishing them eternal prosperity.
Considered "too extravagant" by the government, the festival was banned in the Meiji Era, but it managed to survive by changing its name, becoming the Dontaku Festival.
The word Dontaku (どんたく) comes from the word Zondag, a Dutch word that means both "Sunday" and "holiday".
Order of Events
On May 2, a pre-opening ceremony is held at night at the Kokusai Centre (International Centre) in Hakata. All the groups participating in the parade are there, and it is also an opportunity to elect the new "Miss Fukuoka"!
On May 3 at 10am at Hakata Port, the festival officially begins with a speech given by the Mayor.
It starts with the Hakata Matsubayashi, a ceremony to show respect for three deities: 
Fukurokuju, the deity of longevity, easily recognizable with his long mask.
Ebisu and his wife Daitoku, the gods of health identifiable by their yellow silk garments and bag. All three seal on their horse.
This ceremony is at the core of this legendary Festival, and has remained unchanged since its inception.
The festivities continue until May 4. Similar to the Rio Carnival, Dontaku Festival boasts a huge parade! There are usually around 500 groups that perform: some wear costumes, others dance, play the shamisen (a Japanese stringed instrument) or beat drums, and it's traditional to clack shamoji, wooden spoons used for scooping rice, together.
It's a giant party that animates Fukuoka city centre for 2 days. Many people wear yukata (light kimono for women) and jinbei, and yatai spring up everywhere to try and satiate the 2 million spectators.
It has now been renamed the Hakata Dontaku Port Festival. Hakata Port is the starting point of the festivities. During the festival, the Port of Hakata comes alive and offers many activities.
---
Address, timetable & access
All the themes of the city