Hagi City Guide
Hagi Guide, Yamaguchi 萩市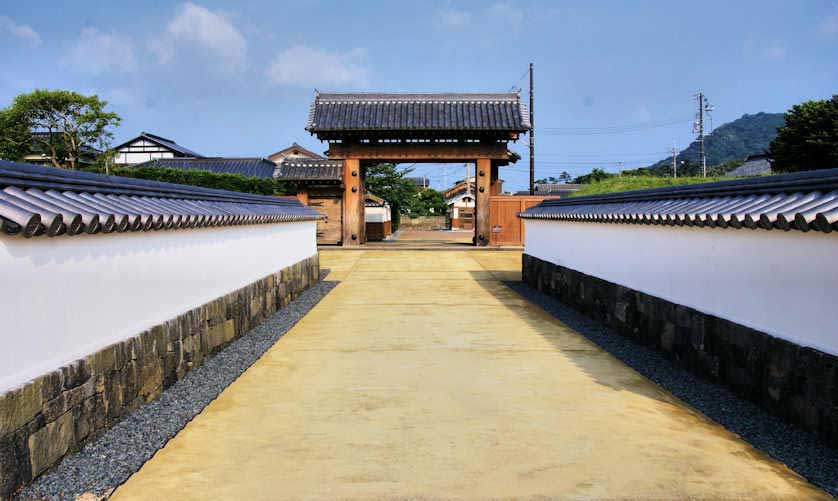 North gate entrance into samurai district of Hagi, Yamaguchi Prefecture, Japan
Hagi on the Japan Sea coast of Yamaguchi Prefecture in the south western corner of Honshu, is small but fascinating historical and scenic town that easily deserves an extended stay to see its many attractions.
With a population of around 56,000, Hagi is small enough to see on foot or rent-a-cycle. A journey to Hagi can be combined with visits to the nearby towns of Tsuwano, Yamaguchi and the limestone caverns of Akiyoshi-dai.
The center of Hagi is essentially an island created by the Hashimoto and the Matsumoto rivers. Most of Hagi's attractions lie in this area.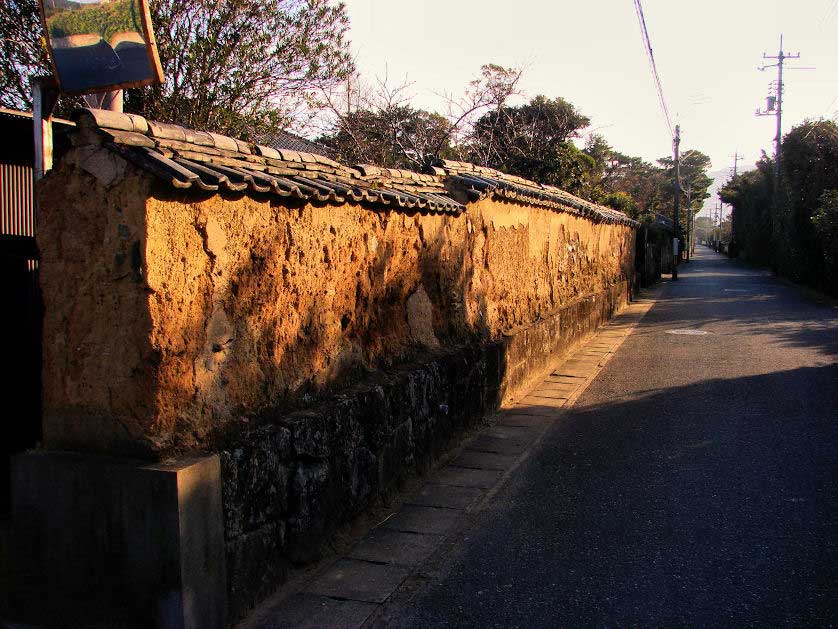 Old walls in Hagi, Yamaguchi Prefecture, Japan
Hagi History
Hagi became a major local center in the area after warlord Mori Terumoto built his castle in the fishing port in 1604.
Though a relative back-water through much of the Edo Period (1603-1868), known more for its pottery than its politics, the Choshu domain with Hagi as its capital rose to prominence from the 1850s onwards as samurai from the area took a leading role in the eventual overthrow of the Tokugawa Shogunate.
Chief among these rebellious samurai was Yoshida Shoin (1830-1859) an influential teacher who inspired a generation of young men from the area who would go on to be major figures in Japan's new Meiji government such as Ito Hirobumi (1841-1909), Japan's first Prime Minister and Kido Koin (1833-1877).
Shoin was executed for his part in an assassination plot against Ii Naosuke - a Tokugawa government official - but his legacy remains strong in the town of his birth.
During this period of domestic strife Choshu became a center of progressive reform: remodeling its army along western lines with mixed units of commoners and samurai armed with rifles, beginning a modern naval force and employing domain (han) officials on merit rather than birth.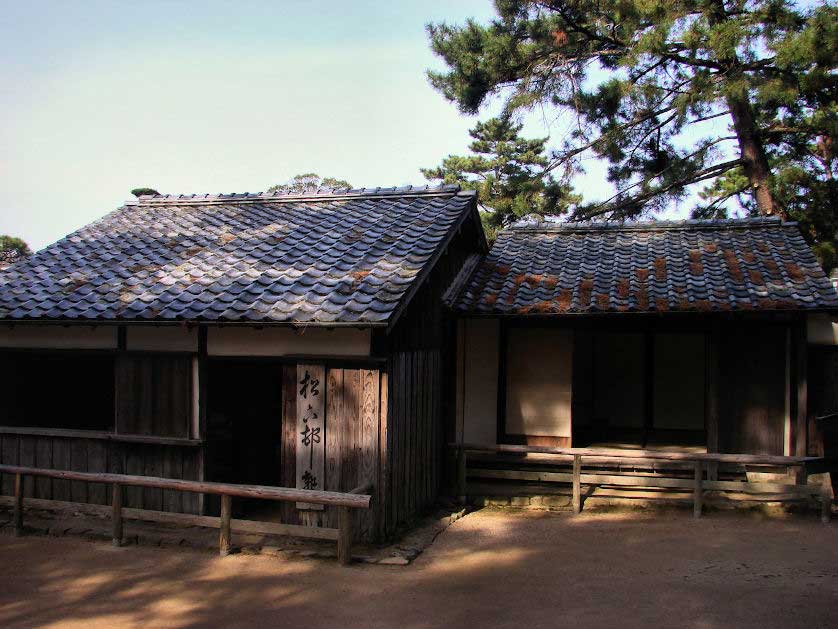 Shoin Shrine, Hagi, Yamaguchi Prefecture, Japan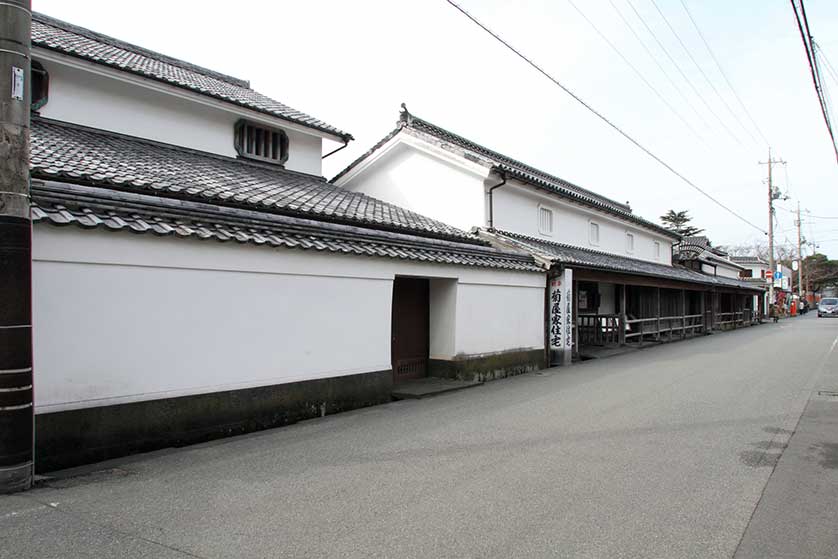 Historic streets of Hagi
Hagi's Attractions
Hagi's main attractions are the preserved samurai and merchant quarters of Horiuchi and Jokamachi, with their beautiful, earthen walls. Horiuchi and Jokamachi occupy the northwest of the "island," from Hagishi Central Park in the center to the site of the former Hagi Castle 1.5 km northwest. The site of Hagi Castle is also of historical interest, but not so much sightseeing interest due to its being only a site, not a castle. The castle is one of five UNESCO World Heritage sites in and around the town.
Jokamachi
On the other side of the park is the Jokamachi district, where a relaxed stroll brings you to the numerous residences of the samurai and merchant classes of the time. The Kikuya-ke Jutaku (Kikuya Residence) (Tel: 0838 25 8282) is the spacious home of a rich merchant family with a beautiful garden, storehouses and with over 500 period pieces on display. Nearby is the Kido Takayoshi Kyutaku, the simple wood and tatami family home of Takayoshi Kido (aka Kido Koin). The Kyu Kubotake Jutaku was the residence of the Kubota family, rich kimono and sake merchants. Aoki Shusuke Kyutaku is the former house of Shusuke Aoki, a clan doctor and student of Dutch studies (rangaku). Also in this area of Jokamachi is Enseiji Temple, which dates from the 13th century and is connected with the childhood of Hirobumi Ito (1841-1909), Japan's first prime minister, who studied here as a child.
Horiuchi
Horiuchi means "inside the moat," indicating the area's proximity to Hagi Castle, just west of Jokamachi. Hagi Museum is here. Takasugi Shinsaku Tanjoji (Tel: 0838 22 3078) is the birthplace of Shinsaku Takasugi, the man responsible for the formation of the Kiheitai - a mixed militia unit of samurai and commoners that fought with such success against the Tokugawa Shogun's forces.The well-preserved Kuchiba Residence with its picturesque well on the property and beautiful garden, offers good views of the Hashimoto River.
The area between Takasugi's birthplace and the Kuchiba residence is known as the Horiuchi Kaimagari, or "Inside-the-Moat Lanes," an example of the area's famous kaimagari alleys. Kaimagari means "twisting at right-angles", and are lanes designed to confuse intruders, with earthen walls either side to obscure landmarks, and twists and turns to disorientate.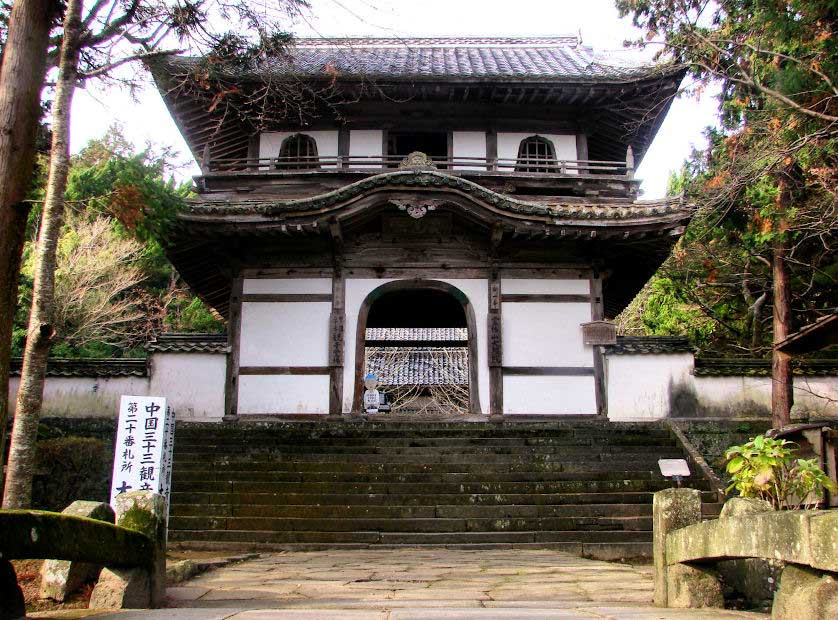 Daishoin Temple, Hagi, Yamaguchi Prefecture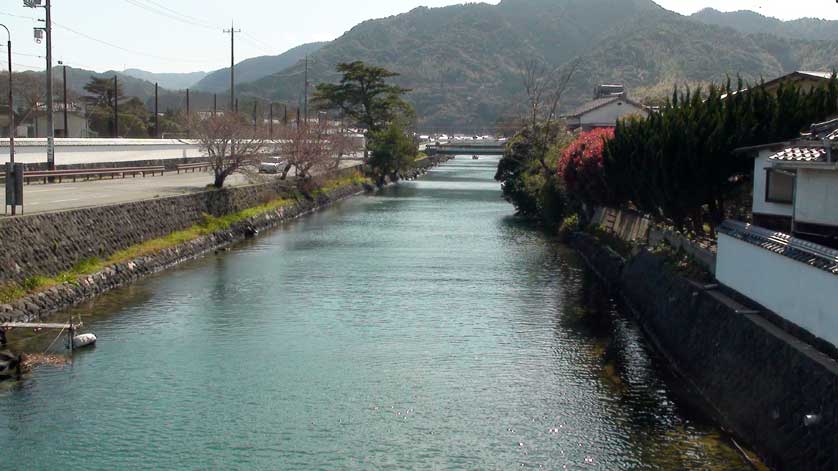 Ride a tour boat on Hagi Castle Canal
Hiyako
The Hiyako Samurai District is another historical district, a little south of Horiuchi and Jokamachi, located on the east bank of the Hashimoto River. Hiyako also has kaimagari, and there is a facility called the Hiyako Kaimagari Koryukan with a garden, open to visitors, that preserves the look of the landscaping of an old samurai house.
Hagi Castle Area
Crossing one of four bridges (the main one being Shizukibashi Bridge at Hagijoshi Entrance intersection) takes you over a moat to the castle area of what is still the Horiuchi district.
Next to the bridge is the pier for the Hagi Hakkei Tour Boat that, between March and November, takes visitors on a 40-minute canal cruise of Hagi's historical sights.
Hagi Castle is now in ruins except for its impressive stone walls and carp-filled moat. Visitors can pay a small admission charge to walk what is now known as Shizuki Park which is an excellent place for a picnic under the cherry trees in season. The park contains Shizuki Shrine where the lords of the Mori clan are enshrined, the ruins of the castle tower and the Hanano-e Teahouse.
Nearby are a number of pottery kilns and pottery shops including the Jozan Kiln (Tel: 0838 25 1666), which has hands-on pottery-making for interested visitors, open every day 8am-5pm. The Hagi Pottery Museum showcases the distinctive ceramics that Hagi is famous for.
Also in this area is the Kyu Asa Morike Hagiyashiki Nagaya, the large, former residence of the Asa Mori clan, which was first built in 1856 and restored in 1968 and the Hagi Old Document Museum (Tel: 0838 25 2132). Just south of here is Hagi Catholic Martyrs' Memorial Park, a cemetery for members of the Kumaya and Amano families, Christian samurai who were killed by Terumoto Mori in a dispute over the construction of the castle.
Just east of the castle is Kikugahama Beach with a view of a line of now uninhabited islands and with fine sunsets. The beach is officially open for swimming from mid-July to mid-August only; at other times beware of stinging jellyfish.
Eastern Hagi
250 meters east of Hagishi Central Park are the old wooden buildings on the premises of Meirin Elementary School. Historical wooden buildings are something of a rarity in Japan, usually having been destroyed by fire, and this one was first established in 1718 in the grounds of Hagi Castle. It was a major feudal domain school, which trained many of the men who would become major figures in the Meiji Restoration of 1868. The large wooden buildings were moved here are still in use today as part of Hagi City Meirin Elementary School, just west of the park and directly opposite Hagi City Hall.
About 2km east of Hagishi Central Park, and across the Abu River, is a cluster of attractions related to two of Hagi's most illustrious sons, Hirobumi ito, Japan's first prime minister, and the legendary modernizing revolutionary, Yoshida Shoin.
The early childhood home of Ito Hirobumi, Japan's first prime minister, (Ito Hirobumi Old Residence) and his later, grander residence from Shinagawa, Tokyo, the Ito Hirobumi's Second Residence are now preserved in Hagi a short walk from Shoin Shrine. The Second Residence is a spacious, traditional-style Japanese home with tatami flooring. Visitors must remove their shoes before entering.
The Aibagawa Waterway was built along the short Aiba River to allow transport by boat in the 18th century. The water was also used in indigo-dyeing and for general use. The low stone platforms called hatoba where women did the dishes and washing can still be seen over the carp-filled stream.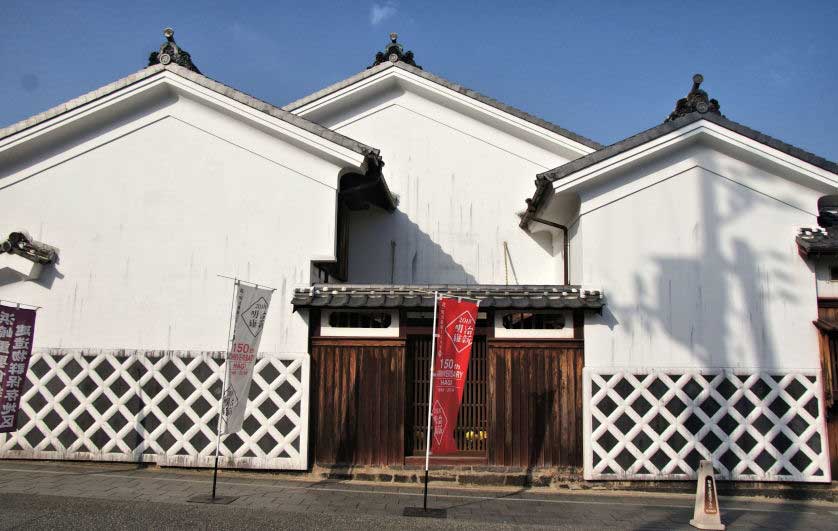 The port town of Hamasaki in Hagi is a Preservation District for Groups of Traditional Buildings, one of three such districts in the former castle town
Hamasaki Port
Hamasaki was the port town that served the town.
The port is situated at the mouth of the Matsumoto River, the castle was near the mouth of the Hashimoto River and Kikugahama Beach stretches between the two.
Hagi's Museums
Hagi has a number of interesting museums including the modern Hagi Museum which opened in 2004. Hagi Museum (Tel: 0838 22 6447) displays important historical documents from the Bakumatsu Period as well as exhibits on astrology, biology and local crafts.
Hagi is famous for its fine ceramics so valued in the tea ceremony. Hagi yaki is a style of pottery that developed from the 16th century under Korean influence, when Korean ceramics masters were brought back to Japan by the invading armies of Hideyoshi Toyotomi.
Fine collections of the local pottery can be seen at the Ishii Chawan Museum (Tel: 0838 22 1211), the Hagiyaki Shiryokan, and the Hagi Uragami Museum (Tel: 0838 24 2400). This was designed by Kenzo Tange.
The Kumaya Art Museum (熊谷美術館; Tel: 0838 22 7547), which is housed in the former salt merchant's house, is another museum with a good collection of local art, painting and calligraphy. It also contains Japan's oldest piano, made in the UK and donated by the Dejima-based, German doctor Von Siebold.
The western wing of Hagi Station, which dates back to 1925, also now contains a small railway museum.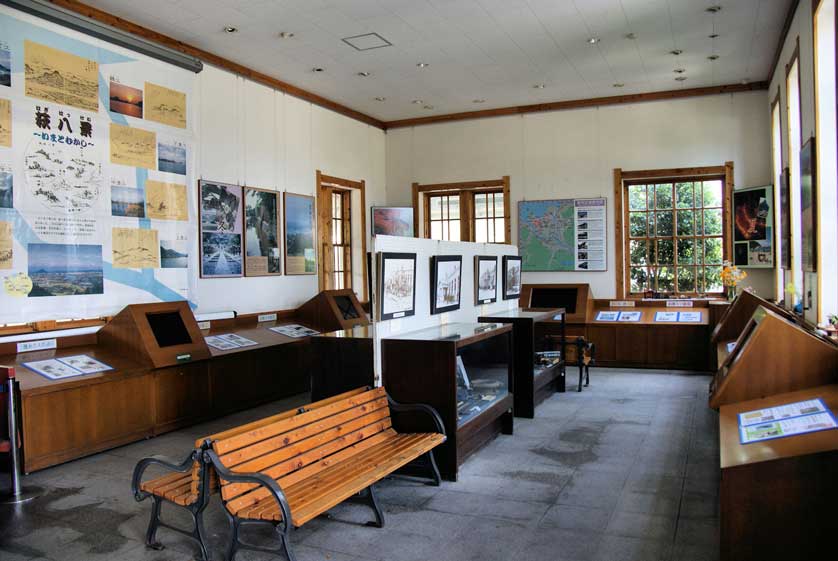 Hagi Station Museum
Hagi's Temples & Shrines
Chief among Hagi's many temples and shrines is Shoin Shrine commemorating the inspirational teacher. The spacious grounds contain a couple of museums dedicated to his life and his old classroom. Other Shoin landmarks scattered around Hagi include the nearby residence where Shoin was imprisoned after he unsuccessfully tried to stow away on one of Commodore Perry's Black Ships in Shimoda, the Yoshida Shoin Memorial Hall on the road to Yamaguchi, and a statue of Shoin where a few paving stones and a well survive from his birthplace. His gravestone is a short walk away from here.
Near JR Hagi Station is Daishoin (Tel: 0838 22 2124) - one of the two temples containing the tombs of the Mori clan, the other is Tokoji Temple (Tel: 0838 26 1052) across town, which like Daishoin has hundreds of stone lanterns donated by samurai of the clan.
Other historic temples and shrines in Hagi include the Jodo-sect temples Chojuji and Jonenji, Kaijoji Temple, Kotokuji Temple and the Rinzai-sect Zenpukuji Temple, which dates from the 15th century.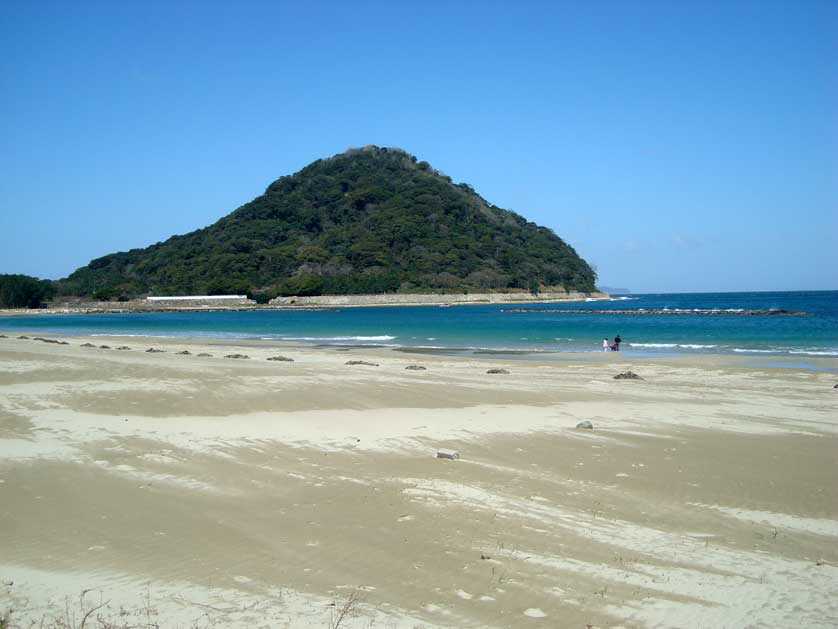 Kikugahama Beach, Hagi with Shizuki Park & Hagi Castle in the background
Accommodation in Hagi
Hagi City has a wide range of accommodation, from budget but comfortable guesthouses, to time-honored ryokan guesthouses serving traditional cuisine. The following is a recommended selection.
Hostel Hagitime is a very centrally located budget hostel with shared bunkbed rooms, just north of Hagashi Central Park. Rooms are separated by male and female, the bathrooms are clean and modern, and washing machines are provided. Spotlessly clean. Free locker per guest.
Resort Hotel Mihagi is by beautiful Kikugahama Beach, is quite new, and offers guests a choice of Western or Japanese (tatami mat) rooms. An idyllic setting in clean, modern comfort, with facilities galore, and even a choice of pillow. Great for couples, in particular.
Hagi No Yado Tomoe a little north-east of central Hagi is a spacious and gracious property that provides big tatami rooms for up to four guests, traditional-style. Enjoy beautifully landscaped grounds and the warmest, authentic Japanese hospitality. Fine food served.
Access - Getting To Hagi
Shin-Yamaguchi Station is on the main shinkansen line to Fukuoka, Osaka and Tokyo. The nearest airports are Yamaguchi Ube Airport and Iwami Airport near Masuda in Shimane Prefecture. A bus takes 70 minutes to and from Iwami Airport. There are also buses to Akiyoshi-dai (55 minutes), Hagi (70 minutes) and Tsuwano from JR Yamaguchi Station.
The JR San-in Line runs along the Japan Sea coast through Matsue, Izumo, Masuda and Hagi. There are trains from Shimonoseki to Higashi-Hagi Station (3 hours).
Hagi is connected by highway bus to both Osaka and Tokyo.
Hagi's two tourist information centers are at Hagi Station and Higashi-Hagi Station.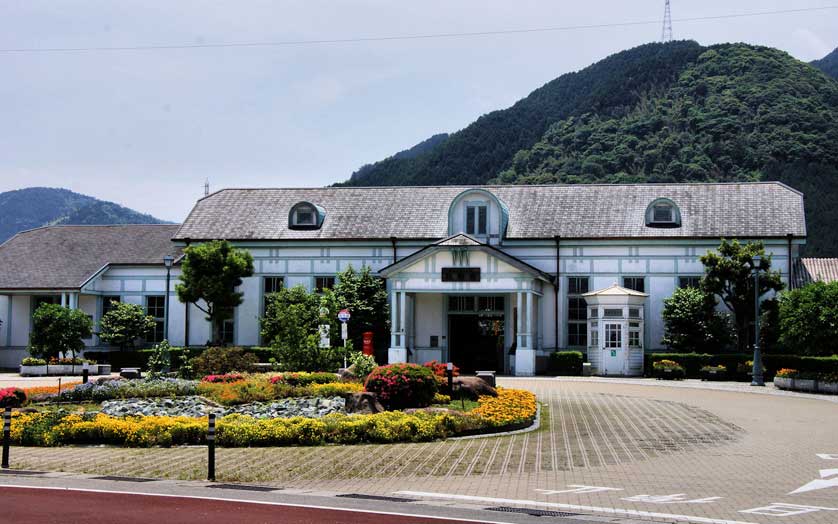 Hagi Station
Getting Around Hagi
There are numerous places to hire a bicycle in Hagi near both tourist information centers. A red loop bus - the Hagi Maru Bus - runs two routes, east and west every 30 minutes from 7am-6pm daily. The bus costs 100 yen. another way to get a scenic view of the town is a ride on the Hagi Sightseeing Boat.
The basic course begins at the Shizuki Bridge near Hagi Castle and proceeds to the castle canal and the Hashimoto River via Tokiwa Island; Kikugahama Beach and the samurai residences of Horiuchi and Hiyako are viewed from the sea. The whole trip takes about 40 minutes in wooden, flat-bottom boats provided with a roof.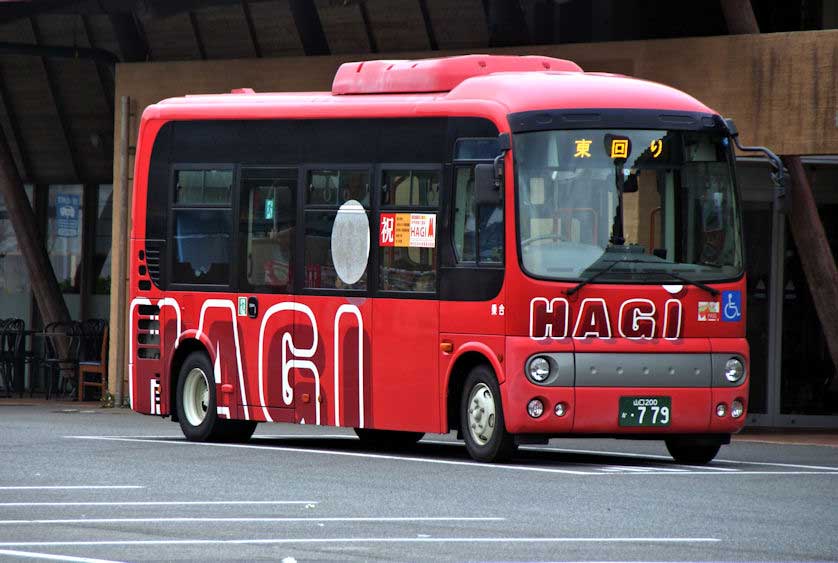 Hagi Loop Bus, Hagi, Yamaguchi Prefecture
Around Hagi
An interesting and fun day trip from Hagi is to take a tour boat to explore the so-called "Marine Alps" - the stunning coastline around Omijima (Omi Island).
Hagi Maps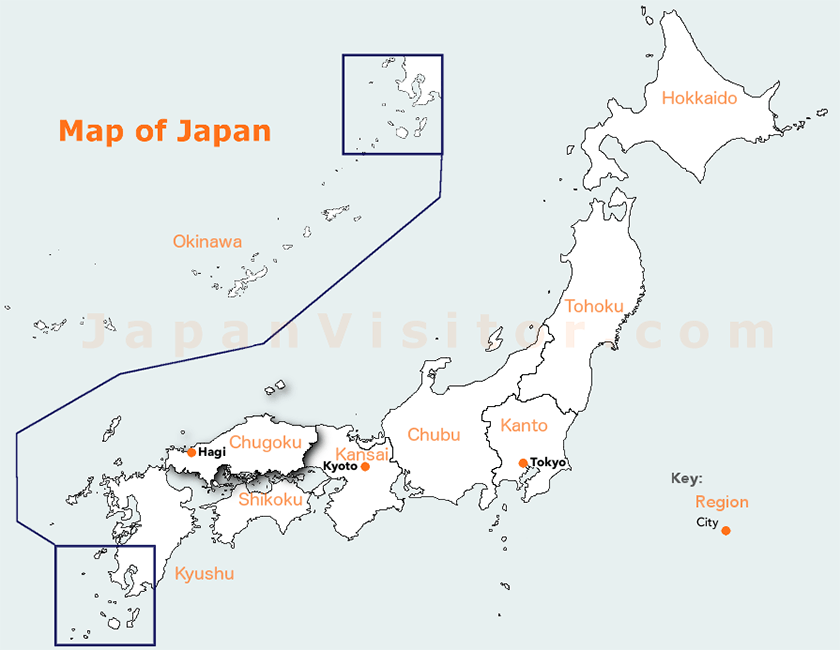 Hagi Sightseeing Map
Hagi Video
Yamaguchi Related
Hagi guide: read a travel guide to the historic town of Hagi in Yamaguchi Prefecture, southwestern Japan.
All the themes of the city