Fushigi-ichi Festival
ふしぎ市祭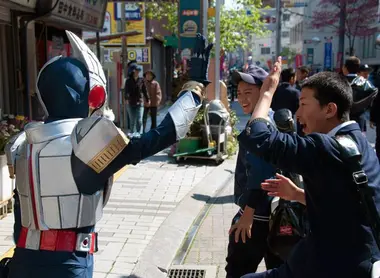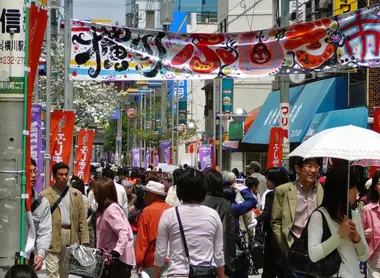 Shinny happy monsters
At Yokogawa Station station on the third weekend of April, the streets are invaded by characters from Japanese cartoons for a unique and popular show.
If Disney does not make you dream, but you still want to see your favorite mascots and those of your children, the Yokogawa festival in Hiroshima will fill those dreams.
On the third weekend of April, the main street and alleys are in full swing for this two part festival.
The first part starts on Saturday morning and celebrates children and their cartoon heroes. Different characters roam the streets, some from famous commercials.
The second part, and probably the most popular, takes place on Sunday and is called Wonder Carnival. It got the name because the street is packed with decked out cosplay enthusiasts. Heros of Dragon Ball, Sailor Moon or Naruto will become your travel companions for the day. If you want to take pictures, you will have to arrive early before the models tire of the paparazzi.
Throughout the festival, shops, bars and restaurants spill onto the streets to offer all kinds of specialties to enjoy on the go.
---
Address, timetable & access
All the themes of the city