Heron Dance Sagimai Tsuwano
The Heron Dance 鷺舞い
Jake Davies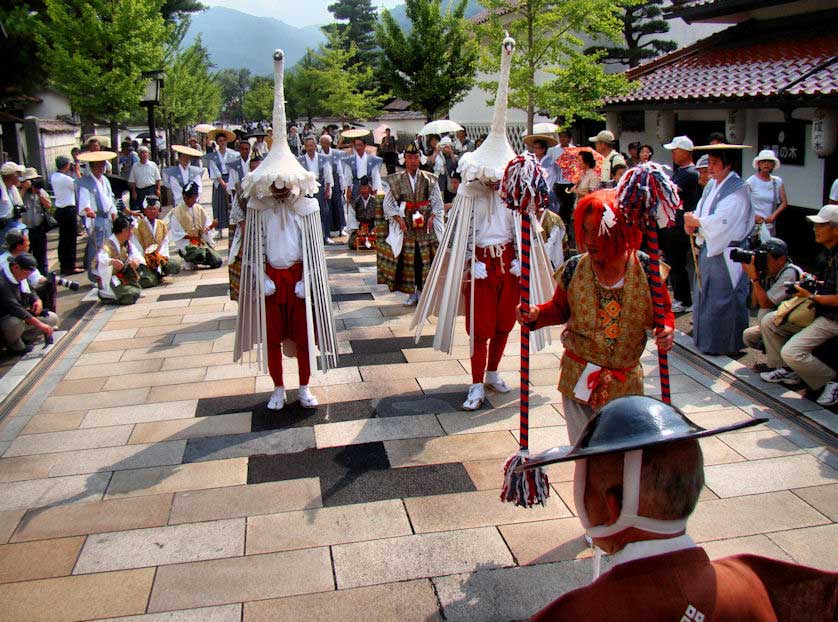 Sagimai Heron Dance Festival, Tsuwano
Sagimai, the heron dance, is a traditional dance that originated in Kyoto, but to see the most authentic version it is best to head to Tsuwano, a small castle town in the mountains of western Shimane, which is one of many places in Japan known as "Little Kyoto".
The dance originated at the Gion Shrine Festival, itself an offshoot of the famous Gion Matsuri, and during the Muromachi Period (1336 to 1573) the festival and dance spread to other parts of the country, including what is now called Yamaguchi city which is where nearby Tsuwano got it from.
Due to periods of war the dance was discontinued in Tsuwano, but reacquired in the middle of the 17th century, this time directly from Kyoto. It has been performed continuously since then.
In Kyoto the dance died out and in other parts of the country it also disappeared or changed, and so Tsuwano became the only place where the original dance was still performed. In 1953 the dancers and musicians went to Kyoto and taught it there.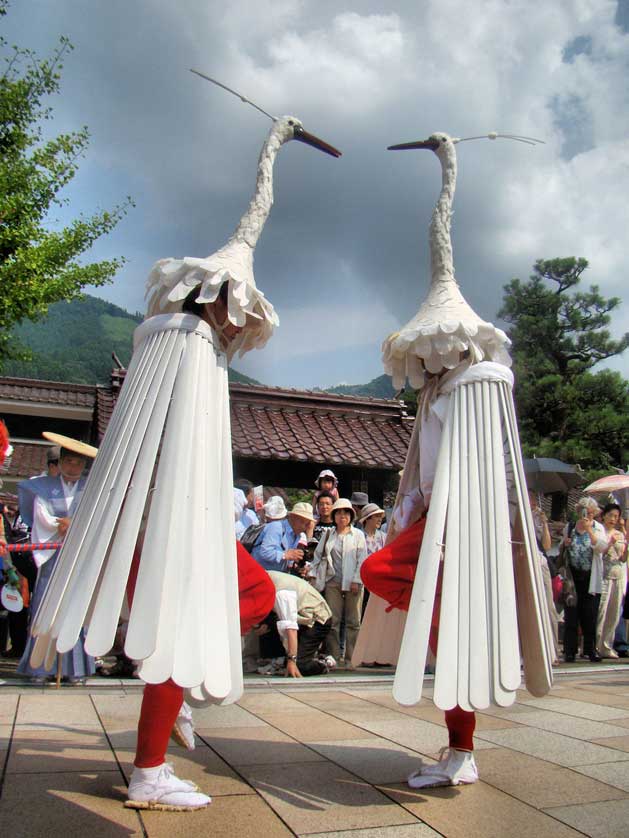 Sagimai Heron Dance Festival, Tsuwano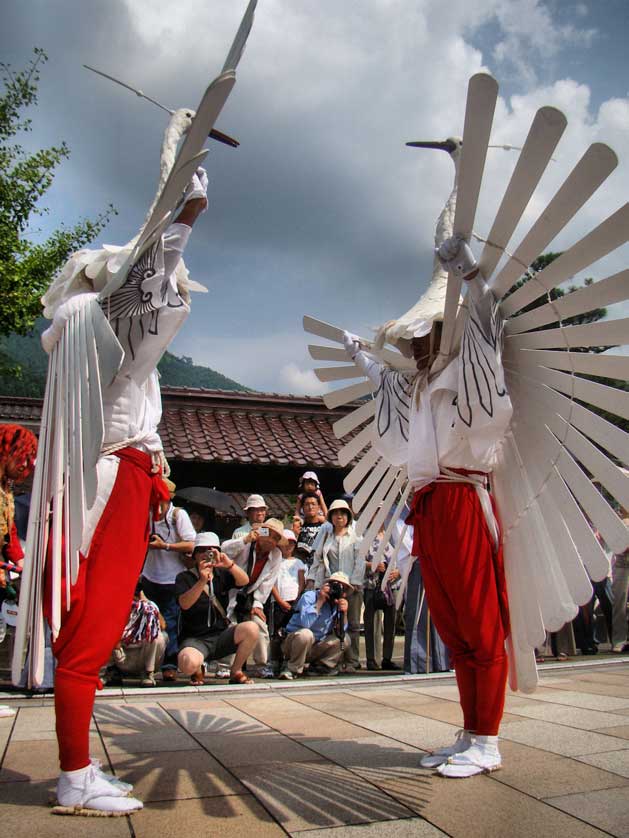 Sagimai Heron Dance Festival, Tsuwano
Mating Dance
The two main dancers, representing a male and a female heron, perform a mating dance, two other dancers wearing bright red wigs circle and twirl batons. Behind two other dancers play small kakko drums. Behind them more musicians play flutes, bells, and more drums. A small chorus sings. All of the musicians and dancers are male.
The headpiece of the heron costume is made of paulownia wood, and the wings are made of 29 slats of cypress. In total the costume weighs 15 kilos.
The dance was until recently performed in the Yasaka Shrine, but in recent years has moved to the main street of the old part of town called Tonomachi. It is then performed at several points along the street. Another recent addition is the Heron Chick Dance performed by local elementary school children.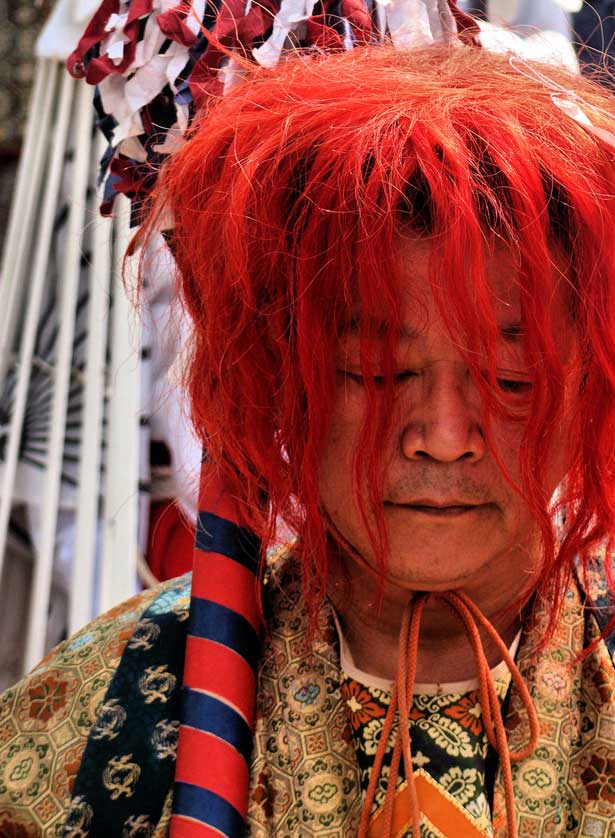 Sagimai Heron Dance Festival, Tsuwano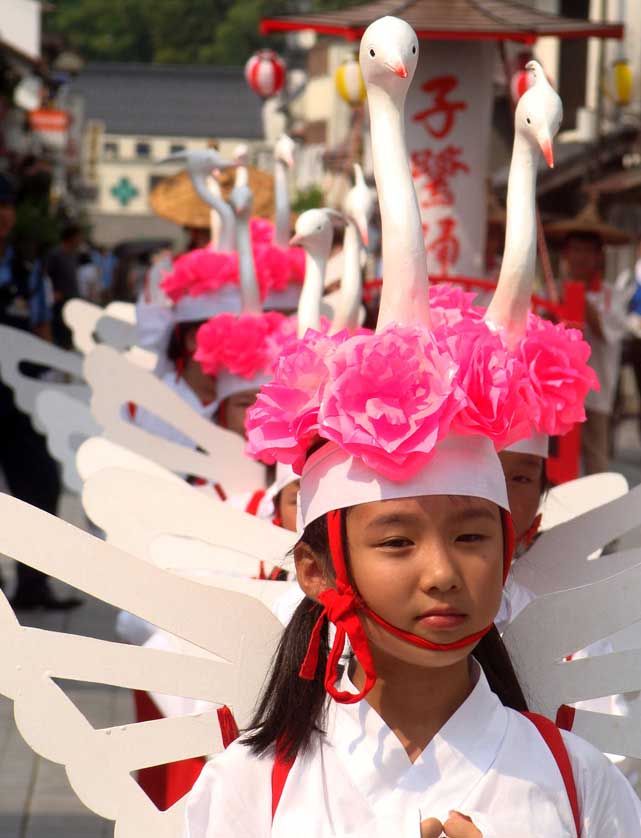 Sagimai Heron Dance Festival, Tsuwano
Sagimai is performed every year on July 20th and 27th. If those dates fall outside of the weekend then the event is not too crowded.
The music and song from the dance is featured on a CD of Shinto Ritual Music available from Amazon.
Heron Dance Sagimai Video
Tsuwano Access
Air
Iwami-Hagi Airport is the nearest airport, and has flights to Tokyo Haneda Airport (85 mins.) and Osaka Itami Airport (65 mins.)
Train
Tsuwano JR station is on the Yamaguchi Line, 40 minutes from Masuda, and 70 minutes from JR Ogori Station (2 hours 30 mins from Shin Osaka or 5 hours 35 mins from Tokyo). The Yamaguchi Line connects Tsuwano with the Shinkansen at ShinYamaguchi.
The most interesting way to arrive in Tsuwano is by the Yamaguchi Go steam train. The train makes one round trip a day from Shin-Yamaguchi Station on Saturdays, Sundays, and holidays from late March through to November. The train features carriages refurbished in a variety of different era styles. The journey takes about 2 hours each way, and stops in Tsuwano for 3 hours. Tickets are much sought after and enquiries should be made to Shin-Yamaguchi or Yamaguchi JR stations.
Bus/Car
By car, Tsuwano which is on Route 9, is about 30 minutes from Masuda, around one hour from Hagi. Express buses take 1 hour, 15 minutes to Hagi while by local bus the journey time is approximately 2 hours.
Book Hotel Accommodation in Japan
The Heron Dance Festival or Sagimai is a unique dance that occurs in Tsuwano in south west Japan in July.
All the themes of the city