Tôkasan festival
とうかさん大祭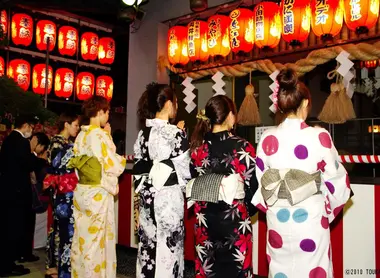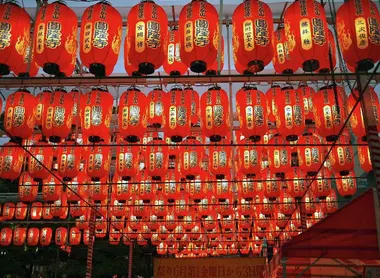 The summer kimono
In Hiroshima, wearing the yukata (light cotton kimono) is an over 400 year old tradition. Each year, to celebrate the return of summer and this outfit, a large festival takes place: the Tôkasan.
Seasonal celebrations are very important in Japan. Popular festivals provide entertainment around the country, and Hiroshima is no exception. Here, one of the three most important events celebrated at the arrival of summer is centered around the yukata. Historically, from the first weekend in June, the light cotton kimonos invade the city, particularly the area around the Enryuji temple.
At that time, the Tôkasan festival animates the streets with stalls and small games like knock-em-over. Hundreds of people parading in yukata roam the outskirts of the temple. Musicians everywhere provide delightful tunes, and locals and tourists alike welcome the new season with dancing.
Obviously, food usually wins the race for popularity at the festival. The most popular stalls? Tasty kebabs to eat on the go, local specialties like baked oysters, ice-cream...the choices are endless.  
The festival takes place near the famous Peace Memorial Park, a great place for a small digestive walk after succumbing to the treats of Tôkasan.
---
Address, timetable & access
All the themes of the city