Shukkei-en
縮景園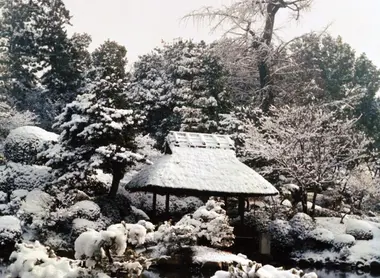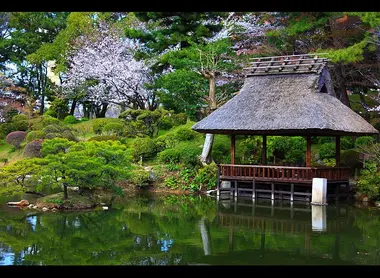 Flowers of remembrance
Water slips over the scales of carp, toddlers play barefoot on the grass, a breeze caresses the trees... In good weather, this garden is truly serene. Yet this green enclave near the Hiroshima Museum of Art was one of the first witnesses to the unspeakable pain of the victims of the bomb.
Completed in 1620 for the Lord Samurai Asano Iwamatsu (1586-1632), the park of Hiroshima was opened to the public in 1940. Its layout mimics the garden Xi Hu in the Chinese city of Hangzhou. "Shukkei" literally means "close to", a clever play on perspectives to replicate natural scenery.
Each bend in the path reveals a different aspect of the greenery, through a unique angle change. Hours pass easily as you wander around the mangroves and bamboo, circling the pond.  Park employees, some speaking English, take time to tell the story of the garden to visitors.
The park was only a few dozen meters from "ground zero", the point of impact of the atomic bomb. The explosion razed its vegetation and valleys, and flattened the hills. Many residents sought refuge in this familiar yet unrecognizable place. However, many did not survive and were buried here.
The tragedy of the past highlights the beauty of this renaissance. Knowing what happened adds a deeper meaning for visitors, whether enjoying iced coffee on the terrace or watching turtles bask in the sun.  To enjoy is to understand why this garden is a small miracle.
---
Address, timetable & access
All the themes of the city