Kyusho Mieku
旧正御影供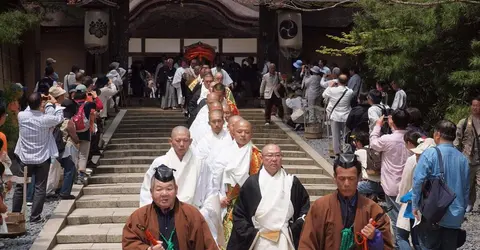 Eternel hommage pour une éternelleméditation<br>
Un 21mars d'une année perdue depuis longtemps, Kôbô Daishi (774-835), fondateur del'école bouddhique shingon et célébré dans la plupart des temples de Koyasan,entra en méditation pour l'éternité.
The legend is only beautiful if it is perpetuated, and in memory of this legendary date, every year the monks of Danjo Garan organize the Kyusho Mieku, during which the doors of the Miedo, the "temple of portraits ", are opened. Once reserved for the meditation of its famous founder, it is accessible one day per year.
The first ceremony is held in the morning at Okunoin, but the thousands of visitors who have come to lay flowers and candles mainly attend the afternoon procession, which leaves from Kongobuji before reaching the "sacred precincts" of the Danjo-Garan.
To enter the Miedo, you need to take a ticket, they are free and unlimited, but the tickets shows that you have participated.
---
Address, timetable & access
All the themes of the city