Dai Mandara Ku Festival
大曼荼羅供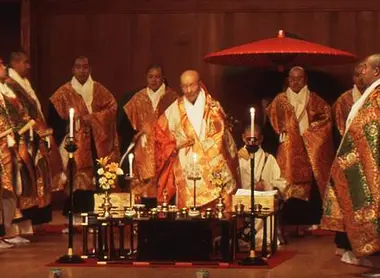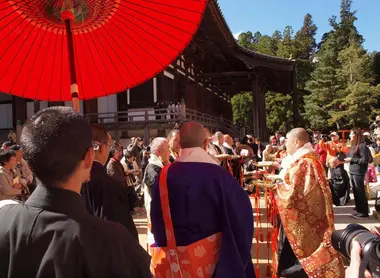 Marche pour l'éveil<br>
Si vous passez par Koyasan au mois d'avril, vous risquez de tomber face à une curieuse procession en visitant le temple Garan : le 10 se déroule la cérémonie du Dai Mandara Ku, l'une des plus importantes de la montagne sacrée.
If you travel through Koyasan in April, you may come face to face with a curious procession when visiting Garan Temple: on the 10th of the most important ceremonies of the sacred mountain is held, the Dai Mandara Ku.
This is one of the oldest spiritual events in Koyasan. It is said that the Kobo Daishi (also known as Kukai, founder of the Shingon sect of Koyasan) celebrated it in the early ninth century. The procession takes place between Daie-do and Kondo hall, where the ceremony comes to a close with enchanting shomyo (Buddhist chanting).
It has quickly won the hearts of visitors with its beauty and its atmosphere. Indeed, for the occasion, the most important monks put on their finest regalia: brocade embroidered jackets. And their hymns resound as far  the nearby Kongobu-ji Temple (the official headquarters of the Shingon sect).
The purpose of the Dai Ku Mandara is twofold: to pray for the happiness of the souls of the sacred mountain, and honor mandala, these pictorial diagrams used as supports for meditation, containing the principles of the teachings the Shingon sect.
---
Address, timetable & access
All the themes of the city