Kii Peninsula
The rural Kii Peninsula is western Honshu is an area rich in sacred mountains, hiking trails, temples, shrines and onsen.
Japan's Regions: Kii Peninsula 紀伊半島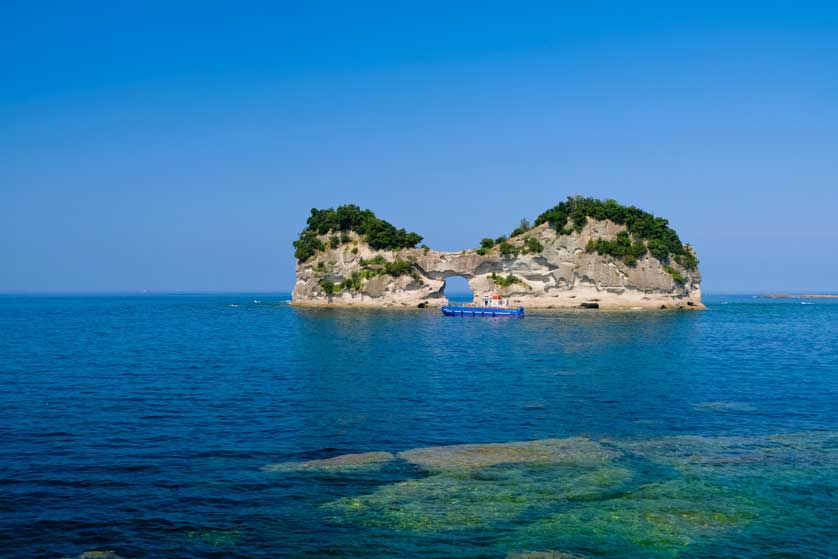 Engetsu Island, Kii Peninsula
The Kii Peninsula, part of the Kansai region, is a large peninsula in south central Honshu. The Kii Peninsula juts southwards into the Pacific Ocean, with the Inland Sea to its west.
The area of the Kii Hanto includes the prefectures of Mie, Nara, and Wakayama and the southern part of Osaka.
The Kii Peninsula has the Yoshino-Kumano National Park and Ise-Shima National Parks, offering remote high mountain trails, sacred sites, waterfalls, gorges, beaches and onsen. The peninsula also has the UNESCO World Heritage sites of Koyasan and Kumano Sanzan in Wakayama, and Yoshino-Omine in Nara, and is home to Ise Jingu, Japan's most important shrine. Japan's cultured pearl industry is also located here.
Lower temperatures on the Kii Peninsula in summer attract visitors from the nearby urban areas of Osaka, Kyoto and Nagoya to its north and east. The southern part of the Kii Peninsula is one of the wettest places on earth - thus the large number of waterfalls, is particularly susceptible to typhoons, and has too much rainfall to make agriculture viable.
The Kii Peninsula's most popular mountain trail is a network of trails known as the Kumano Kodo, which was and still remains a pilgrimage route to "Kumano Sanzan" (熊野三山), the Three Grand Shrines of the Kumano area: Kumano Hongu Taisha in Hongu, Kumano Nachi Taisha at Nachi Waterfall and Kumano Hayatama Taisha.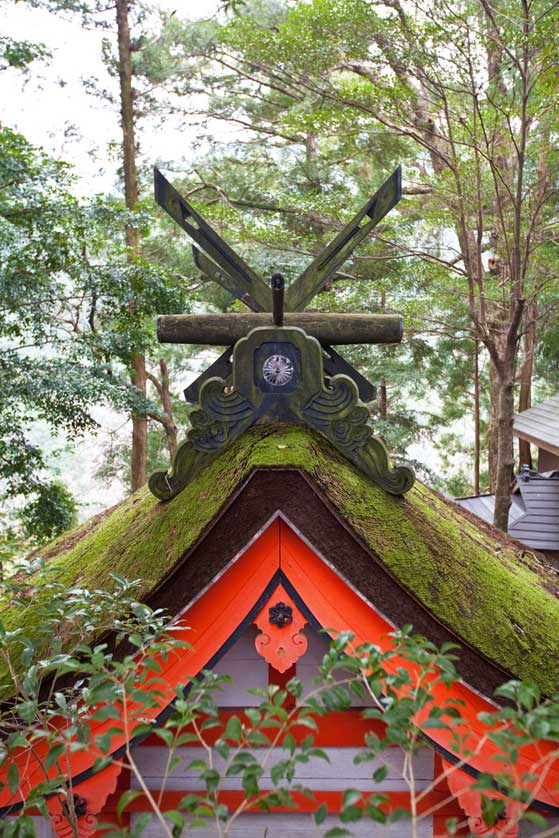 A moss-covered forest shrine in Kumano Kodo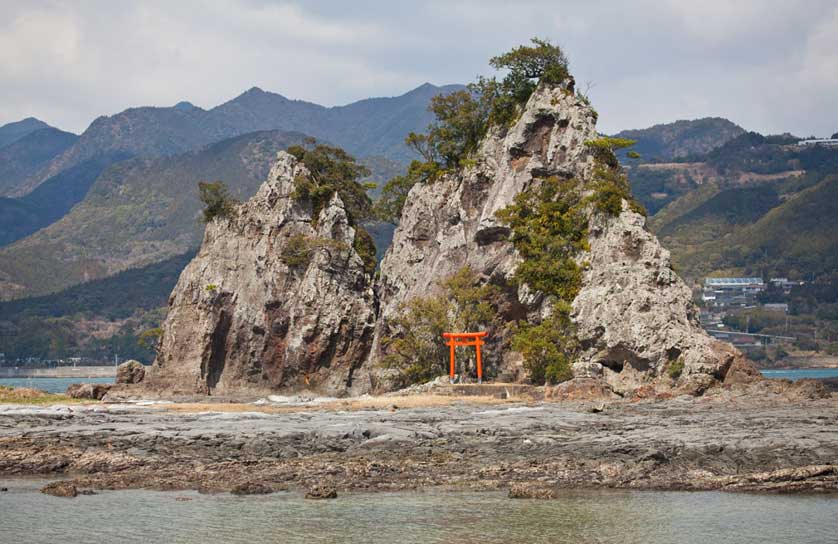 A vermillion torii gate at the foot of a picturesque crag on the Kumano Kodo trail in the Kii Peninsula
Kii Peninsula Attractions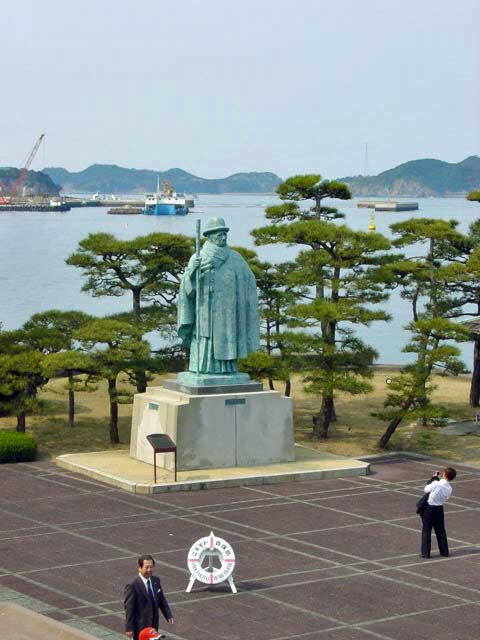 Mikimoto Pearl Museum, Toba
The Kii Peninsula's main places of interest are:
Nara, Japan's ancient, historic capital and home of some of Japan's most ancient temples.
Ise & Toba, Ise Jingu is Japan's most important shrine dedicated to the Sun Goddess and nearby Toba the center of the nation's pearl industry.
Mount Koya, Buddhist temple complex, UNESCO World Heritage Site and headquarters of the Shingon sect of Buddhism.
Mount Omine, holy mountain trails in Nara prefecture.
Iga-Ueno - home of the Iga ninja, and the poet Basho's birthplace.
Matsusaka - an historic castle and merchant town famous for its striped, indigo kimonos.
The Kumano Shrines (Hongu, Nachi & Shingu) and nearby Nachi Waterfall.
Yoshino is probably Japan's most popular cherry blossom viewing site with over 100,000 cherry trees. The area was home to the exiled Emperor Godaigo during the Namboku-cho period of northern and southern imperial courts (1336-1392). Kimpusenji Temple in Yoshino is the second largest wooden edifice in Japan after the Daibutsuden Hall in Nara.
Wakayama is a pleasant town and transport hub on the west coast of the Kii Peninsula.
Shirahama, south of Wakayama, is known for its beaches and seaside onsen.
Access - Getting to the Kii Peninsula
Air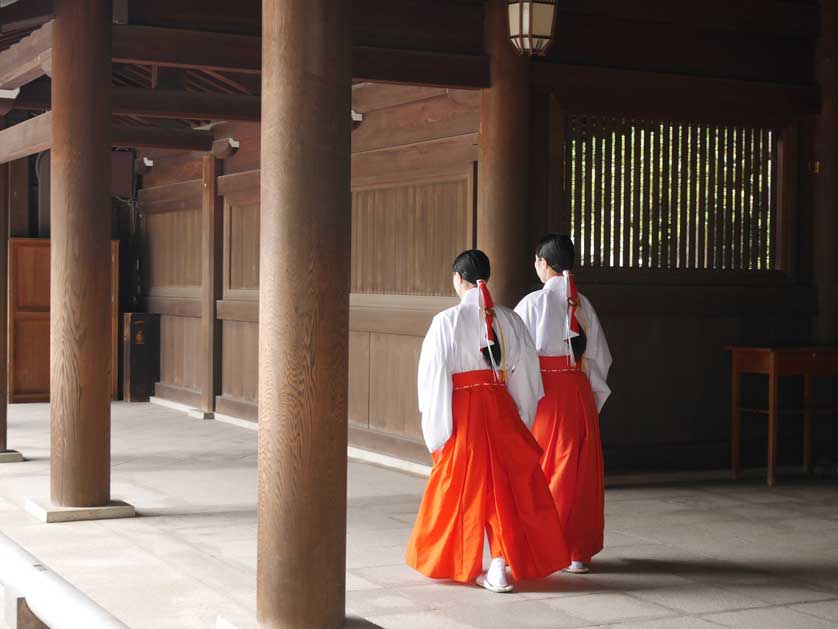 Ise Jingu
There are airports at Kansai International south of Osaka, which has many international connections to destinations around the world including Beijing, Shanghai and Seoul in East Asia and direct flights to many cities throughout Japan.
Osaka's Itami Airport has flights to mainly domestic destinations. There are other regional airports in Nanki-Shirahama and Chubu International Airport near Nagoya is also easily accessible for the region.
Kintetsu and JR trains from Nagoya Station both connect to Toba and run east across the top of the Kii Peninsula to Osaka. Shinkansen bullet trains connect Nagoya Station and Shin Osaka in less than an hour. Kintetsu Urban Liner trains take two hours from Nagoya Kintetsu Station to Namba and pass through some lovely countryside.
Forested hills and paddy fields along the Kumano Kodo ancient pilgrimage route, Kii Peninsula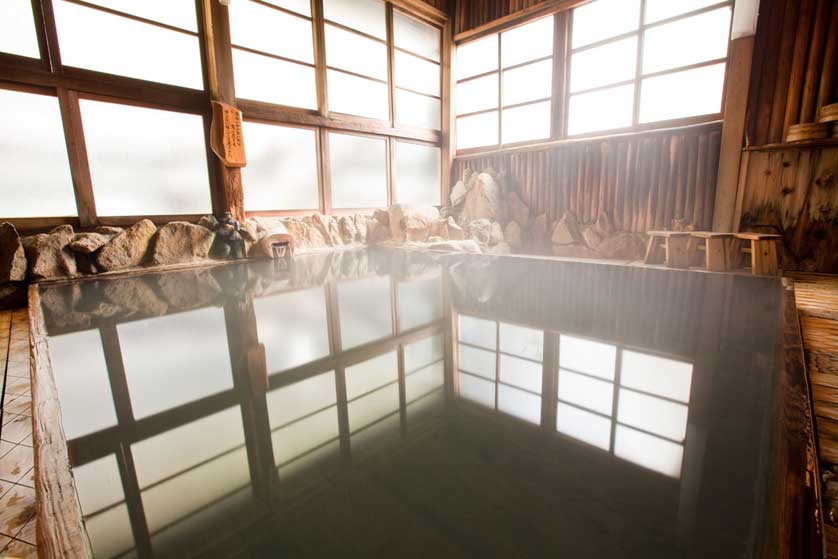 One of the many rustic onsen hot springs in Kumano Kodo in the Kii Peninsula in the Kansai region of central Japan
Ferry
There are a number of ferry services operating to and from various ports on the Kii Peninsula.
There is a ferry across Ise Bay from Toba to Tokoname on the Chita Peninsula for Chubu International Airport (100 mins) with train connections to Nagoya and also a crossing to Irako on the Atsumi Peninsula in Aichi Prefecture (55 mins).
Wakayama to Tokushima (Shikoku)
Kashikojima to Goza ferry across the Ago Bay.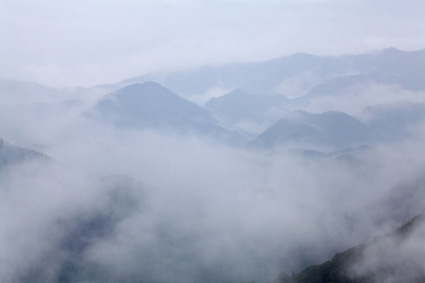 A pale view of hills in the Kii Peninsula
Train
Osaka, Kyoto and Nagoya are the best access points for rail travel to the Kii Peninsula. The JR Ocean Arrow runs from Kyoto Station to Shingu in Wakayama Prefecture stopping at Shin Osaka, Tennoji Station and Wakayama. The Kintetsu Ise Shima Liner runs from Nagoya to Kashikojima (1 hours, 50 minutes) via Toba (1 hour, 20 minutes).
Bus
There are buses from Osaka to Wakayama and Shirahama and Wakayama has local buses to many towns in the area.
Kii Peninsula Video
Book Hotel Accommodation in Japan
All the themes of the city