Tôei Uzumasa Eigamura (Kyoto Studio Park)
東映太秦映画村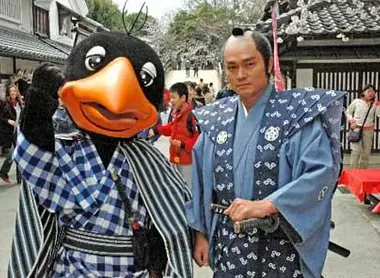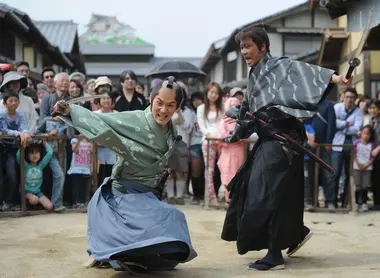 On the other side of the screen
Japanese-style amusement park, Kyoto Studio Park takes you back in time to the Edo period, renewing the sense of fun with a touch of history.
From the outset, you are no longer quite in the same space or time... A samurai guide takes care of the welcome and invites you to become "the jidaigeki star (historical films or series) of your dreams". The public's favorite characters can also be encountered while strolling through streets reproducing Edo (the old name of Tokyo). The sets are still used today for filming, possible to attend as a silent spectator. But young and old alike much prefer ninja shows or the haunted house, reputed to be the most terrifying in the country. To get in the spirit, it is advisable to put on a period outfit, whether it is simply to strut the alleys or to participate in the marathon fitting of more than thirty different costumes, from samurai armor to elegant ones, and geisha kimonos, a great photo opportunity!
High-tech and postmodern, ancient Japan is never far away, The 360-degree 3D movie theater allows you to reconnect to reality, for time adventurers who may have strayed along the way. Kyoto Studio Park remains an amusement park with multiple restaurants and souvenir shops. However, it differs from its American models by the presence of educational centers called "edutainment " (education and fun) where children are introduced to martial arts or local crafts and produce their handmade kaleidoscope! A great venue to learn and have fun for the whole family! 
---
Address, timetable & access
Address

Phone

+81(0)75 864 7716.

Timetable

Station Keifuku Uzumasa Koryuji of the Hankyu train line, JR Hanazono or Uzumasa stations of the JR train line, Uzumasa-Tenjigawa metro station by the Karasuma then Tozai subway lines or Uzumasa Eigamura-michides bus stations, lines #75 and 91, Tokiwa Nakanocho on lines #81 and 83, Uzumasa Koryuji-mae on lines #11 and 71, 72 and 73 and Uzumasa Eigamura-mae on lines #61, 62, 63 and 65.

Price

2,200 yen for adults, 1,300 yen for middle and high school students, and 1,100 yen for children over four years old. Reductions for the disabled and groups of more than 25 people. Note 50% reduction for people who come dressed in a traditional kimono except jinbei (casual robes in two pieces, the top consisting of a jacket and the bottom of wide pants)! Strollers and wheelchairs are available free of charge.

Access

Open every day from 9:30 am to 4:30 pm (last admission 1 hour before closing).

Website

http://www.toei-eigamura.com/
All the themes of the city