Izuju
いづ重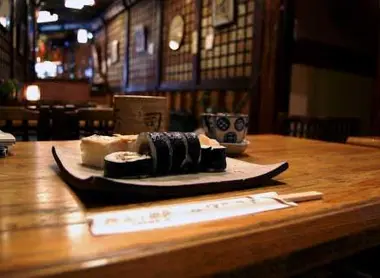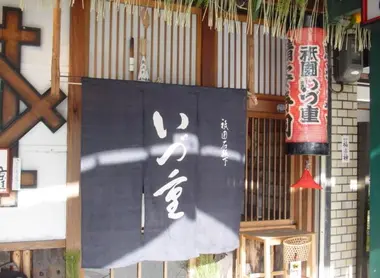 Sushi a la "kyotoïte"
Established in the heart of Kyoto, this wood-fired and sushi restaurant stands out for its taste and quality products.
Follow the scent. Located right in front of the main gate of Yasaka Shrine, Izuju is a restaurant on a human scale. Founded in 1892, this establishment in the Gion district offers legendary sushi in a cramped room. The dim light mixed with the wood-paneled walls creates an intimate atmosphere. The perfectly preserved interior, with cobblestone floors and old tables, succeeds in making this restaurant an exceptional place and a haven for demanding gourmets. At the back, a terracotta stove is the centerpiece of an ancestral wood-fired kitchen.
A family story for a third-generation owner, Chef Kitamura. Very friendly and engaging, enthusiastically tells the story of the city's sushi. Without a seafront, making bites of fresh and raw fish has often turned into a race against time!
The secrets of a century-old confection
Since its foundation, Izuju has always offered the same recipes. The menu has not undergone any noticeable change, except for the post-war American occupation period where the law required the addition of ingredients. The rice and the seaweed give a taste of the past to the kitchen. The chef's specialty, mackerel sushi, can be enjoyed without protest, a legacy of a period when only certain fish still arrived freshly caught in the imperial capital. Lightly vinegared, the fish fillet is delicately placed on top of a bite of rice.
Another taste wonder, inari-zushi, fried tofu fritters topped with simmered vegetable rice and fish, are said to be the best in all of Kyoto. The content would not be so appreciated, however, if it were not served in such beautiful containers, dishes, and typically local bowls, which add an authentic flavor to a cuisine already reaching haute cuisine. Alliance of know-how and benevolence, the fish flesh on a bed of soft Izuju rice leaves an unforgettable taste that the emperor himself would not have disdained.
---
Address, timetable & access
Address

Phone

+81 (0)75561 0019.

Timetable

Gion Shijo station of Keihan train lines or Gion station of bus lines 1, 46, 100,201, 202, 203, 206, and 207. With the entrance of Yasaka Jinja behind your back, Izujuse is located to the right on Higashi-oji street.

Price

count at least 1,500 yen ($5.25/4.50€) for six pieces of inari-zushi and up to 5,000 yen ($43.50/38.25€) to taste the best specialties of the house.

Access

open every day except Wednesday from 11:30 am to 8 pm
All the themes of the city