Katsukura
かつくら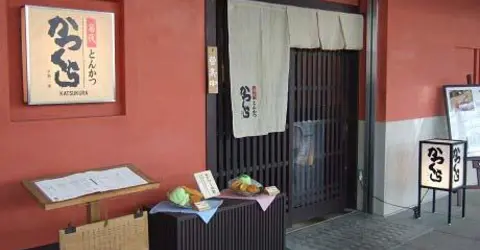 The perfect fried pork
Don't let the thought of a chain of restaurants fool you... Here, the quality is superb and authentic as one can expect from a generation of family-owned establishments.  
Katsukura is the best at tonkatsu, a tender and deliciously fried pork tenderloin. This dish often served with miso soup and a bowl of rice is one of the many culinary adaptations that have originated from Europe and adapted by the Japanese chefs.
A little chopped raw cabbage accompanies each plate, to facilitate digestion. The weight of the meat fillet is your choice: 80 grams, 120 grams, or 160 grams. There are five Katsukura restaurants in Kyoto, all having the same unique atmospheres and large tables that can accommodate a large group, up to a party of 10.
---
Address, timetable & access
Address

Phone

+81(0)75 221 5261.

Timetable

the Katsukura which is located in the basement, at the very beginning of the Teramachi covered shopping arcade, next to the Lipton store, Sanjô station on the Toozai line. Another Katsukura is next door to the Italian restaurant Santa Maria Novella, and you can eat there while passing through Kyoto station, on the 11th floor of The Cube building.

Price

from 890 yen. Count 1000 yen for a softer piece called Ross Katsu.

Access

open every day from 11 a.m. to 10 p.m.
All the themes of the city