Nishiki
錦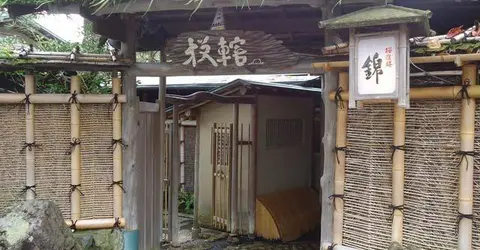 The island of temptation
Famous and highly prized for longevity, this gourmet brand combines the delights of cuisine in an idyllic setting.
At the foot of the western mountains, Arashiyama and its river spanned by the Togetsukyo, literally "the bridge that crosses the moon", set the scene. In the middle, a small island, the setting, and decor of a restaurant that welcomes and serves its customers like royalty.
The sign, Nishiki - not to be confused with the Nishiki market! - prepares kaiseki cuisine, an exceptional meal consisting of an assortment of luxurious dishes served together. From eight to twelve courses, the meal can be enjoyed in private rooms, on a coffee table, and tatami mats. Vegetables, herbs, and tofu occupy the greatest place. A little fish, sometimes seafood, but never meat. Concert of foods highlighted in plates, bowls, or boxes with drawers, adorned with painted seashells ...
At Nishiki, the menu changes every month to match seasonal products. At lunch, the smaller meal is served in a more classic style. Better to go there in the evening, where the crossing of the Togetsu bridge is adorned with a particular nocturnal charm.
---
Address, timetable & access
Address

Phone

+81 (0)75 881 8888.

Timetable

Hankyu line, Arashiyama station.

Price

3,800 yen ($26/23€) for lunch, menus between 5,000 ($43.50/38.25€) and 14,000 yen ($122/107.50€) for dinner. Reservations recommended.

Access

Open from 11 am to 3 pm and 6 pm to 9 pm in the evening (last service at 7:30 pm). Closed on Tuesdays.

Website

http://www.kyoto-nishiki.com/
All the themes of the city