Tachinomi In
立ち飲み IN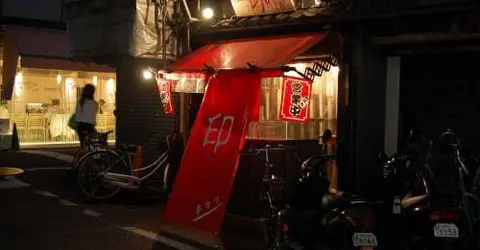 Upright !
At the western entrance to the Nishiki covered market, it doesn't look like much with its few lights and its tiny entrance. Tachinomi, which means " drinking while standing ", is part of the tradition of Japanese daily life.
Many colleagues are used to going to this bistro at the end of the day, a friendly place to start the evening. Leaning on the bar, some stay for hours chatting over a beer and skewers of fish , meat or fried vegetables, others just stop for a beer before returning home.
Narrow and open to the outside, IN has a simple plastic sheet that separates the inside from the street, a breath of freshness in the heat of a summer twilight, or a little barely perceptible draft in winter. Beer or sake?
---
Address, timetable & access
Address

Phone

+81 (0)75 213 5050.

Timetable

Karasuma line Shijo station or Hankyu line Karasuma or Kawaramachi station. From the Shijo-Karasuma junction go up Karasuma north, turn the first right. IN is a five minute walk away.

Price

about 1000 yen for a meal.

Access

open everyday from 4 p.m. to 11 p.m.
All the themes of the city