Udon Omen restaurant
おめん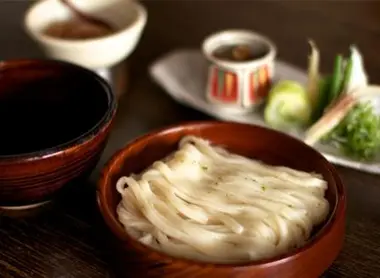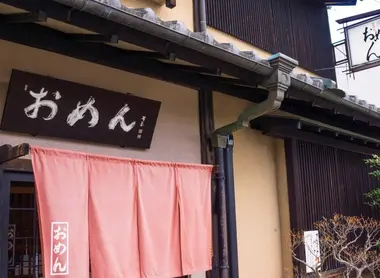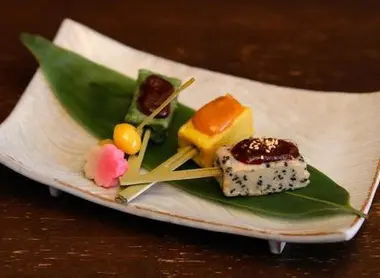 Take off the masks!
A string of thick and elusive noodles, the no less delicious udon , Omen plays on the quality and sincerity of its popular dishes.
Udon is white, very thick, and chewy noodles made from wheat flour and salted water.
Kyotoite Specialty
Even closer to the Golden Pavilion than the Masutani ramen restaurant, this is the place to stop before embarking on the nearby Chemin de la Philosophie. Very popular for its homemade udon noodles, the restaurant known as "des masques" (O-men) serves its specialty, the aptly named Omen udon (1000 yen; $8.75/7.75€). Served with broth, a plate of freshly cut organic vegetables, and toasted sesame seeds. 
Read: Kinkakuji, the golden pavilion
The vegetables must simmer in the broth, accompanied by the seeds, while the hungry must soak the famous unbleached udon. Without releasing the chopsticks, the udon sucks in Japanese style: making a delightful sucking noise means that the dish is appreciated. As for the decoration, simple and friendly, it goes perfectly with the dishes served.
Bowls and cups have been shaped by hand by craftsmen. Considered by some to be the best and most nutritious of Japanese dishes, udon remains an essential flavor of everyday cooking, which delights the most demanding palates, as far as New York, where the establishment has recently established itself.
---
Address, timetable & access
Address

Phone

+81 (0)75 771 8994.

Timetable

Kinrin Shako-mae bus station on lines 5, 17, 32, 93, 100, 102, 203 and 204. Omense is located on Shishigatani Street, south of the Silver Pavilion, near the large bus parking lot.

Price

from 1,250 to 2,500 yen.

Access

open every day except Thursday from 11 a.m. to 9 p.m. (last order at 8:30 p.m.).
All the themes of the city