Vegetarian Restaurants in Kyoto
京都のベジタリアン料理のお店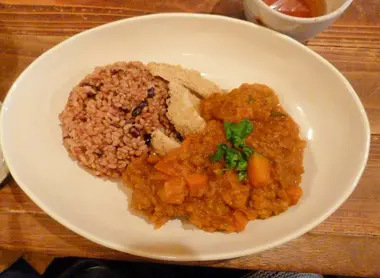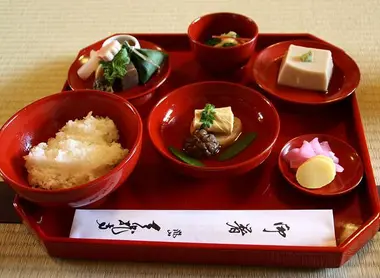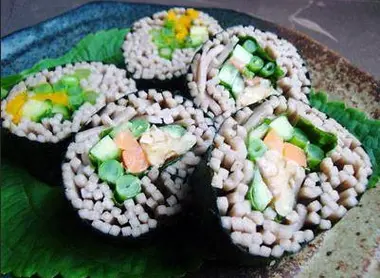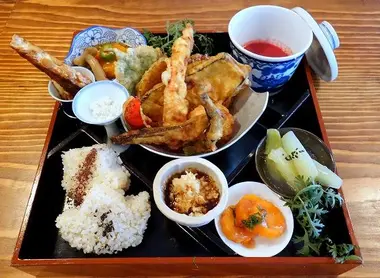 Veggie paradise
Kyoto is the Japanese capital of vegetarianism. Japan Guide has selected the four most popular vegetarian restaurants in the old capital.
Sunny Place
Located between the Imperial Palace and the Chion-ji in central Kyoto, this small restaurant (with a maximum of eight seats) offers very good vegetarian cuisine. The place has a friendly atmosphere, and you eat at the counter. They serve traditional typical Japanese dishes (such as kare or korokke). About ¥1,000 per person.
Details: 168-2, Hyakumanben (Imadegawa Higashioji), open every day except Tuesday, 12:00-14:00 and 18:00-22:30 + 81 (0) 75 711 7617
Shigetsu
This is the best-known vegetarian restaurant in Kyoto, and its location is not for nothing: it belongs to Tenryuji temple, in the neighborhood of Arashiyama. It serves shojin ryori, hearty and completely vegetarian Buddhist cuisine, in a Zen atmosphere. About ¥3,000 per person. Reservations required.
Details: 68 Sagatenryujisusukinobabacho, Ukyo-ku, no official closing days, 11:00-14:00, + 81 (0) 75 882 9725
Prunus
Also in the area of ​​Arashiyama, just opposite the train station, Prunus is distinguished by its gluten free menu! They serve tasty and plentiful macrobiotic cuisine,. About ¥2,000 per person.
Details: 9-4, Kurumamichi-cho, Saga Tenryuji, Ukyo-ku, Tuesday-Wednesday and Friday-Sunday, 12:00-18:00, + 81 (0) 75 862 2265
Padma
Zen, organic and vegetarian, this small restaurant serves traditional, hearty, and very inventive food. It primarily serves trays featuring many small dishes. You can also do yoga there on Sunday mornings! About ¥1,000 per person.
Details: Next to 25-13 Yoshidaushinomiyacho, Sakyo Ward, you'll see the green poster and windows that mark the entrance, lunch: 11:30-15:00 every day (last service at 14:00), dinner: Monday-Wednesday, Friday-Saturday 18:00-23:00 (last service at 22:00), + 81 (0) 75 708 7707
All the themes of the city