Adashino Nenbutsu-ji Temple
化野念仏寺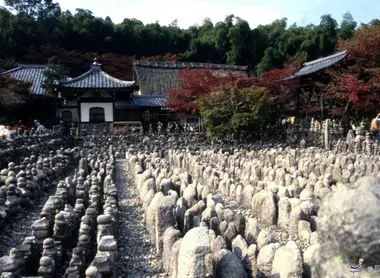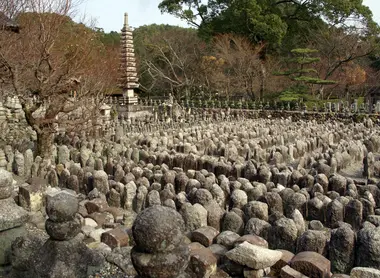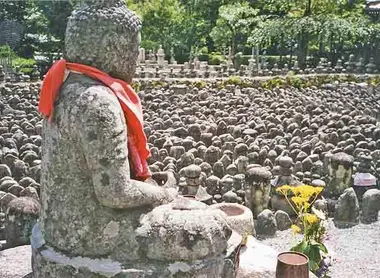 8000 Statues
Imagine: 8000 small stone statues for 8,000 abandoned souls. If the temple Adashino Nenbutsu-ji is not among the most beautiful in Kyoto, its field, bristling with more than 8,000 statues, is impressive. Away from the crowds of tourists, perched on a hill at the edge of a bamboo grove, the site and its surroundings reveal a different aspect of the ancient capital.
Just before the temple, do not miss the steep street, Saga-Toriimoto with its famous torii (sacred gate) and its traditional houses, machiya (townhouses), dating from the Meiji period (1868-1912). Souvenir shops and traditional restaurants have replaced the people, but old residences and thatched houses give an idea of Japan of yesteryear.
For the souls to rest
In ancient times, the area called Adashino, located in the Sagano area, the northern reaches of the city of Kyoto, served as a huge cemetery. Not only were the dead were buried, but some graves were open. Corpses were abandoned, usually poor and without family, without burial. About 1200 years ago, Kobo-Daishi (also known as Kukai, 774-835) the famous founder of the Buddhist sect Shingon-shu, had the bones of corpses buried, and erected a temple, the Nyorai-ji.
Later, the revered monk Honen (1133-1212) built a dojo for reciting Buddhist prayers (Nenbutsu) for the souls to rest. The place was then called Nenbutsu-ji. Thus for many centuries, people continued to bring the dead here or bury them in this part of town. Steles, statues and mini stupas covered the lands of Adashino, making the place a vast burial ground.
Finally in peace
In the Meiji era, in the early twentieth century, authorities and residents gathered all these tombstones inside the Adashino Nenbutsu-ji Temple, hence its name. These thousands of souls finally had a place to rest in peace and are honored each year on the 23rd and 24th of August at a commemorative ceremony called Sentō Kuyo. For two nights, while a monk chants sutras, over a thousand candles (Sentō) illuminate the stone statues. Already strange by day, during the ceremony the temple takes on a supernatural atmosphere.
---
Address, timetable & access
All the themes of the city