Imamiya Shrine Kyoto
Imamiya Shrine: Imamiya Shrine in Kyoto near Daitokuji is dedicated to the gods of good health, longevity and match-making.
Imamiya Shrine 今宮神社
Imamiya Jinja is an historic Shinto shrine in the north west of Kyoto very close to Daitokuji Temple.
Imamiya Shrine is said to date from 994 and enshrines various kami including deities of long life, good health and match-making.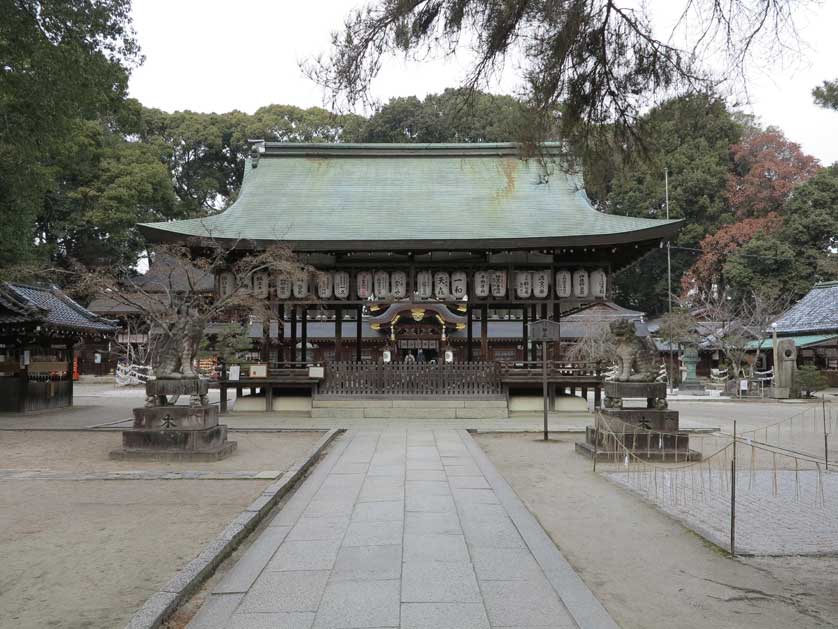 Hall of worship, Imamiya Shrine, Kyoto
Imamiya Shrine History
Imamiya Shrine was first located on Funaokayama, a little to the south in 994, during the Heian Period but moved to where it stands today in 1001.
Imamiya Shrine was established to ward off one of the many plagues that affected Kyoto at this time. The three main deities of Imamiya Shrine are Okuninushi, Kotoshironushi and Kushinadahime - three kami associated with the area of Izumo in present-day Shimane Prefecture.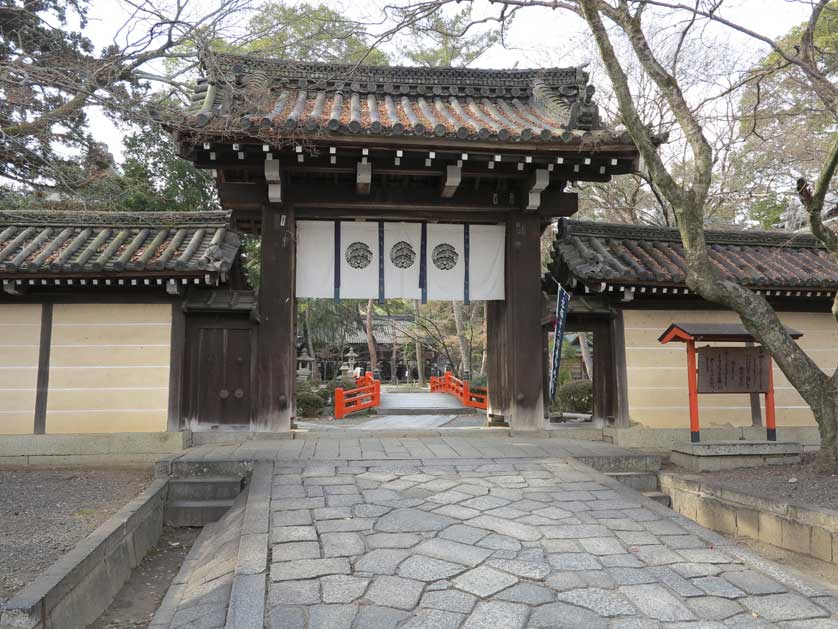 East Gate, Imamiya Shrine, Kyoto
Imamiya Jinja Festivals
The main festivals at Imamiya Shrine recreate the earlier rituals to placate the ancient gods. The Yasurai Festival, held on the second Sunday in April, involves a colorful parade and a dance including red- and black-haired oni (devils) accompanied by drummers.
Large red canopies shaped like umbrellas are part of the parade and it is thought if you pass under one, you will be free of disease. Over a thousand years ago the locals believed pestilence was spread by falling cherry blossoms, as the protecting kami neglected his duties in favor of hanami (cherry blossom viewing).
The Imamiya Festival lasts roughly from May 5-15 and includes Shinko-sai, a parade of mikoshi portable shrines and eight young girls in costume on May 5, Yutate-sai featuring a traditional kagura dance and the closing Kanko-sai, with the portable shrines this time carried by women on the nearest Sunday to May 15.
The Autumn Festival takes place October 8-9 with ceremonial dances on the evening of October 8 and during the day on October 9.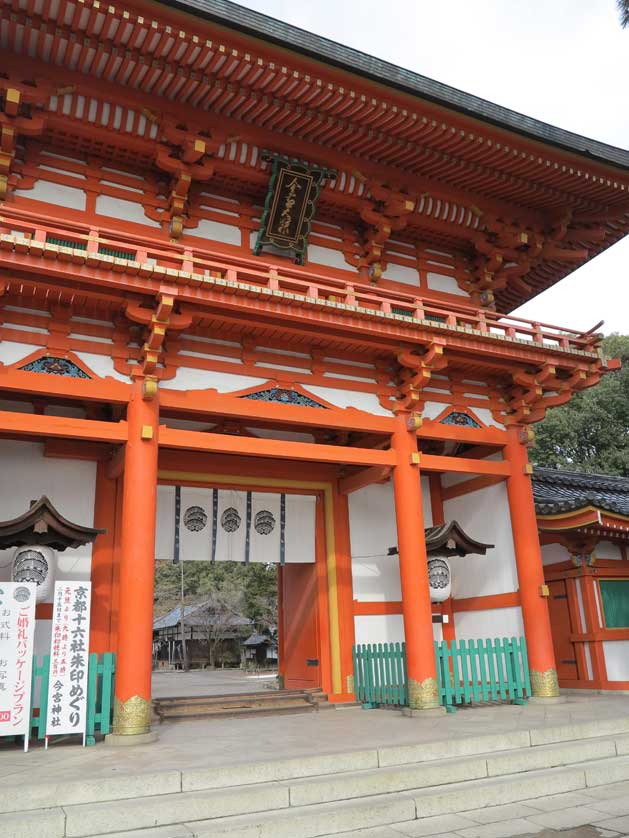 Main Gate of Imamiya Shrine, Kyoto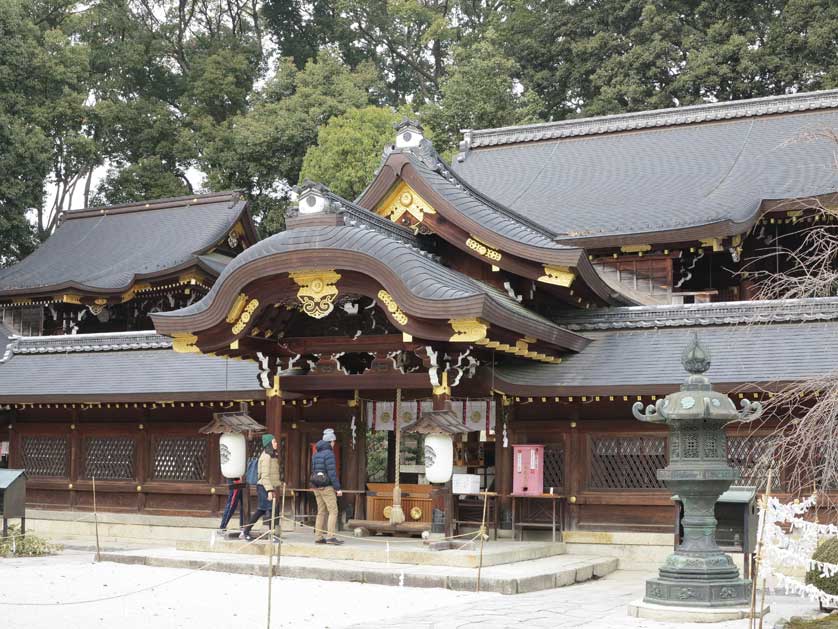 Imamiya Shrine in north west Kyoto is dedicated to long life and good health
The impressive vermilion, main gate at Imamiya Jinja and the other shrine buildings are Edo Period in style but were actually reconstructed in the 1920's.
Imamiya Shrine has a number of interesting features including the Ahokashi-san - a magic stone which if tapped three times and lifted up, then rubbed three times has wish-fulfilling properties for good health.
The shrine precincts include a number of sub-shrines including a row of the 8 great shrines of Japan (Hassha): Atsuta, Daikoku & Ebisu, Hachiman, Katori, Kagamitsukuri, Sumiyoshi and Suwa, to save you the bother of visiting them one by one. There is also a shrine dedicated to Oda Nobunaga, and a shrine dedicated to the deity of Heian Palace - Taishogunsha.
Just outside the east exit are two shops selling aburimochi rice cakes grilled on skewers over charcoal fires. Ichiwa has been in existence since 1002 and Kazariya since 1656!
Imamiya Jinja Access - Getting To Imamiya Shrine
Imamiya Jinja is next to the Imamiya Jinja-mae bus stop for bus number #46 from Kamigamo, Gion and Heian Jingu. Buses #204, #205, #206, #12 and #北8 stop at nearby Kenku Jinja-mae. The nearest station on the Kyoto subway is Kitaoji Station on the north-south Karasuma Line.
Imamiya Shrine21 Murasakino Imamiya-cho, Kita-ku, Kyoto, 603-8243
Tel: 075 491 0082Free Admission.
A visit to Imamiya Jinja can be combined with seeing nearby Daitokuji Temple, Kenkun Shrine, and Kyoto Botanical Garden. Kinkakuji Temple and Waratenjin Shrine are also a short cycle away.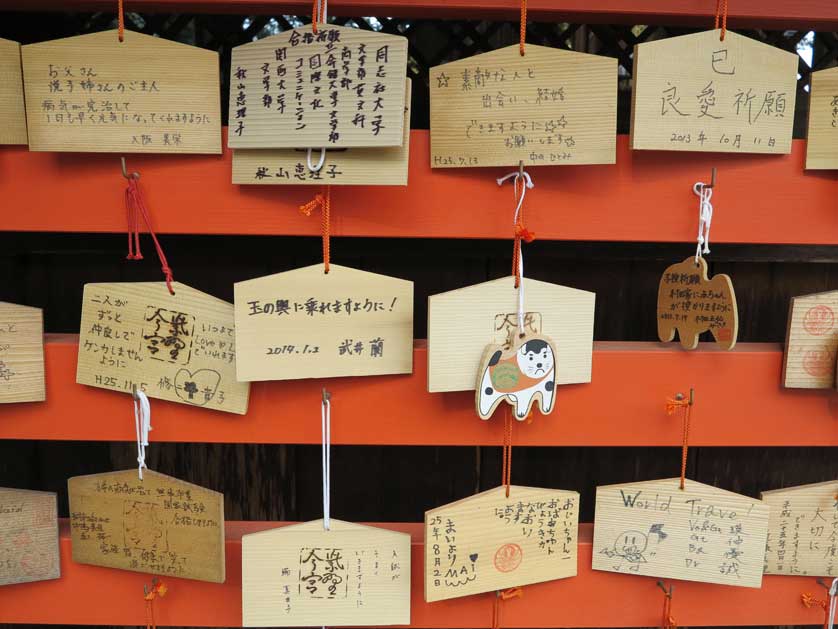 Ema votive plaques, Imamiya Shrine, Kyoto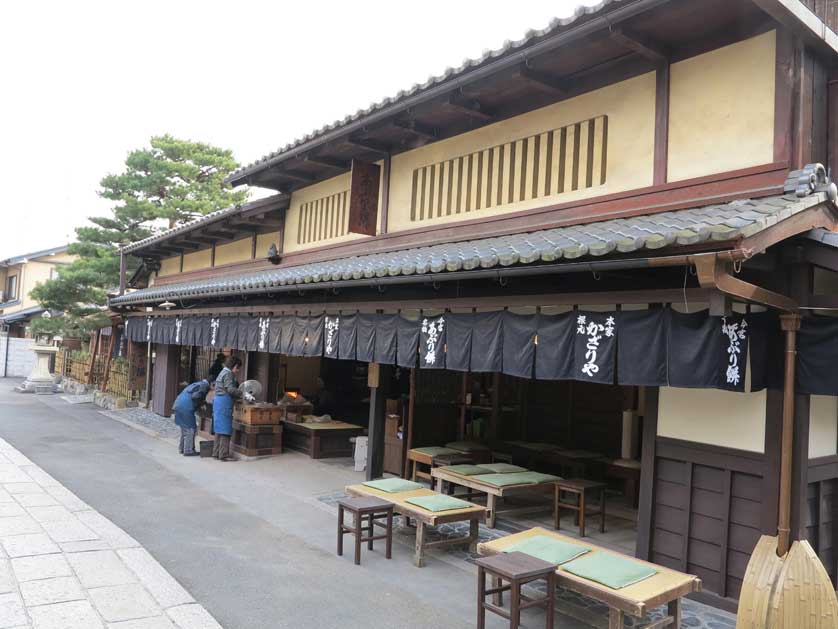 Kazariya aburimochi store is over 1000 years old, Imamiya Shrine, Kyoto
Book Hotel Accommodation in Kyoto Japan
All the themes of the city