Iwashimizu Hachiman-gū Shrine
石清水八幡宮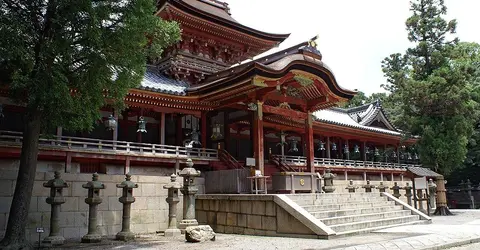 The huge complex of Mount Otokoyama
South of Kyoto is the Iwashimizu Hachiman Shinto shrine, built in the town of Yawata on Mount Otokoyama. Classified as a National Treasure, it is worth a visit if you are visiting Kyoto or Osaka.
The Grand Sanctuary of the Emperors
Due to its outlying position, the Iwashimizu Hachiman shrine remains relatively unknown, and therefore spared from mass tourism. Nestled in the heart of a huge forest at the top of a mountain , it nevertheless promises a rich discovery for an afternoon. It is also of great importance in the Shinto shrines of the country, because it is one of the three great shrines dedicated to Hachiman , kami of war and protector of the country.
Its foundation dates back to 859, by order of Emperor Seiwa Tenno, following an oracle in which Hachiman had expressed the desire to be near Kyoto in order to watch over the city and the imperial family. The place will be frequented regularly by the various emperors who will come to pray there to ask for the protection of Hachiman, especially during the festivals. Until 1868, Iwashimizu was also a "shrine-temple" , that is to say a place dedicated to both the Shinto religion and Buddhism. The kami Hachiman indeed possesses a syncretic character, being named Bodhisattva Hachiman in the Buddhist religion.
The shrine reached its present size in 1634 , thanks to donations from feudal-era shoguns, notably Tokugawa Iemitsu. Since then, the buildings have been regularly restored, every 30 to 40 years. This is why the sanctuary is perfectly preserved, allowing visitors to admire buildings in brilliant colors, identical to their heyday...
The on-site visit
It is possible to access the shrine from several sides, including the south gate (long approach) or the east gate (short approach). It is thus possible to climb the mountain on foot, to enjoy a walk under the trees and cross the various torii , but a funicular has also been installed, leading to the top of the mountain.
The various enclosures and buildings all display splendid colors, as well as a beautiful sculpted bestiary (dragons, doves, tigers...). The highlight of the show is the current main building, built by Tokugawa Iemitsu in 1634, in the "Asuri Momoyama" style.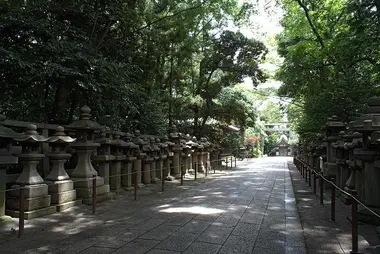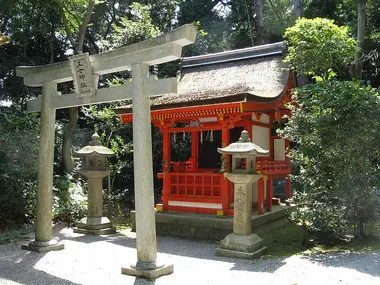 If you visit the shrine in the spring, be sure to take advantage of the sakura alley which is near the observatory. From this place, you can also admire a beautiful panorama of the region.
---
Address, timetable & access
Address

Timetable

On the Keihan line, get off at the Yawatashi stop (35 minutes from Gion-Shijo in Kyoto or Kyobashi in Osaka) Then take the funicular to Otokoyama Sanjo or 40 minutes on foot to the shrine.

Price

Free access

Access

Open daily: April to September: 5:30 a.m. to 6:30 p.m. October: 6 a.m. to 6 p.m. November to March: 6:30 a.m. to 6 p.m.
All the themes of the city