Kennin-ji temple
建仁寺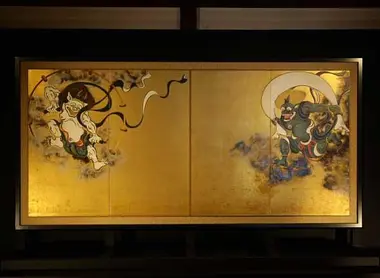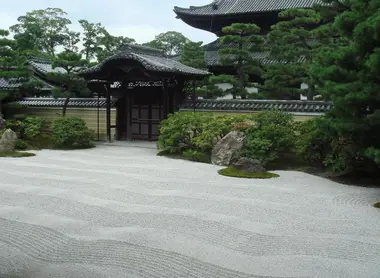 On track tea
Around a street corner in Gion, the Kenninji invites you to meditate. A temple with beautiful gardens, in April it hosts a celebration in in honor of a Zen master.
On April 20th, the day of Yotsugashira Chakai, the visitors that come for the tea ceremony are more numerous than usual. The monks offer a cup of the beverage prepared according to an immutable method, in honor of Myoan Eisai (1141-1215), who brought his production methods to Kyoto after a trip to China. The hedges of tea plants that line the aisles of the temple are the stars. A festival dedicated to a year of contemplation in this high place of Zen Buddhism and the oldest temple in the city, built in 1202 by Eisai Myoan, himself the founder of the Rinzai sect, one of the three main Buddhist  Zen sects in Japan with Soto and Obaku.
Zen, Zen and Zen ...
In the main room of the temple, above the parquet is prevailed by a painted dragon by Junraku Koizumi in 2002 with the nihonga technique of traditional Japanese painting. Recently become the master of the place, he guards over the temple, with its beautiful representations of Fujin and Raijin and the gods of wind and thunder, represented by the artist Sôtatsu Tawaraya (1600-1640) in the seventeenth century.
Coming out of the darkness of Kenninji, the purity of karesansui (dry garden) grabs you. Starkness fills this haven of astounding solemnity and the splendor of the moss garden dedicated to art of mastering nature.
---
Address, timetable & access
All the themes of the city