Kumano Shrine Kyoto
Kumano Shrine Kyoto: read a guide to Kumano Shrine on the intersection of Higashiyama and Marutamachi streets in the north east of Kyoto.
Kumano Shrine 熊野神社
Kumano Shrine is located on the north west corner of the intersection of Higashiyama and Marutamachi streets in the north east of Kyoto close to Kyoto University, the Kyoto Handicraft Center and Heian Shrine.
History of Kumano Shrine
Kumano Shrine was founded in 811 by the monk Nichiren, the founder of Nichiren Buddhism. The shrine is dedicated to various deities from the Kumano region of Japan in present day Wakayama and Mie prefectures. The shrine was established to serve as protection for the country. Izanagi and Izanami, who in Japanese mythology gave birth to the islands of Japan, are also enshrined here and bring supplicants to pray for a safe birth and success in marriage.
Badly damaged during the Onin War (1467–1477) during the Muromachi Period, Kumano Jinja was restored in 1666 during the Edo Period. A further restoration took place in 1835 with with buildings relocated from Shimogamo Shrine. Kumano Shrine has long been patronized by the Imperial family based in the nearby Imperial Palace (Gosho).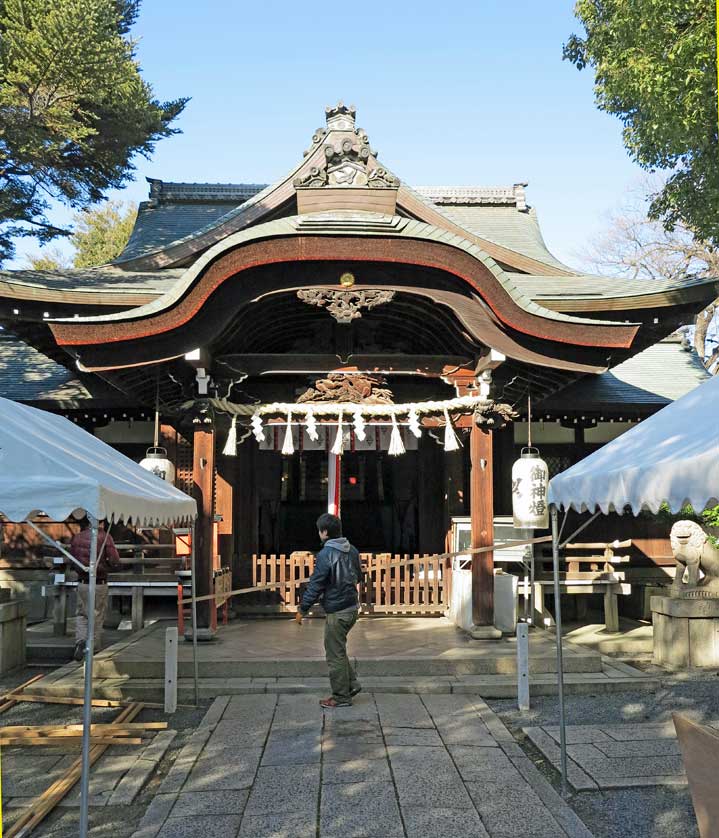 Kumano Shrine, Kyoto
Kumano Shrine's main festivals take place on April 29 and May 16. There are over 3,000 Kumano shrines throughout Japan with three of them also in Kyoto, another one being near Eikando Temple in the Higashiyama district of the city.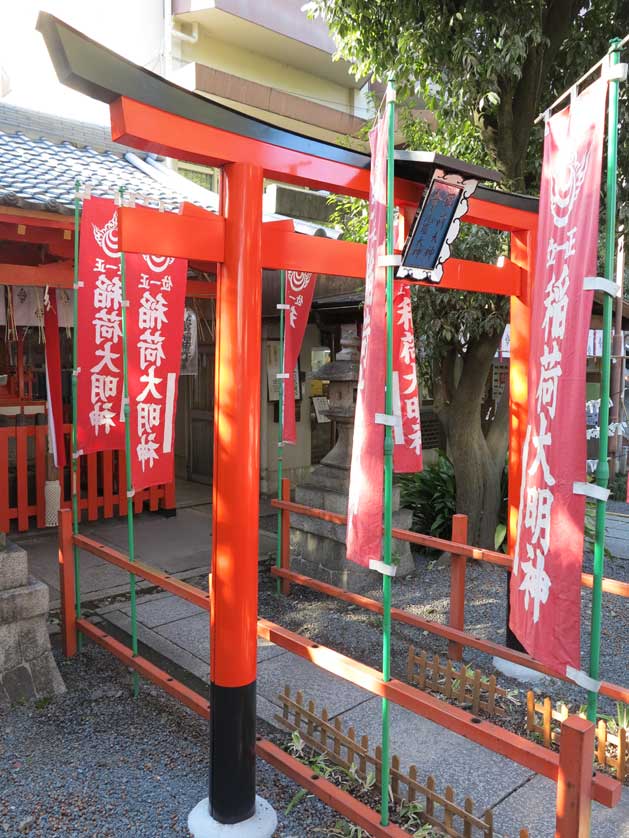 Torii gates, Kumano Shrine, Kyoto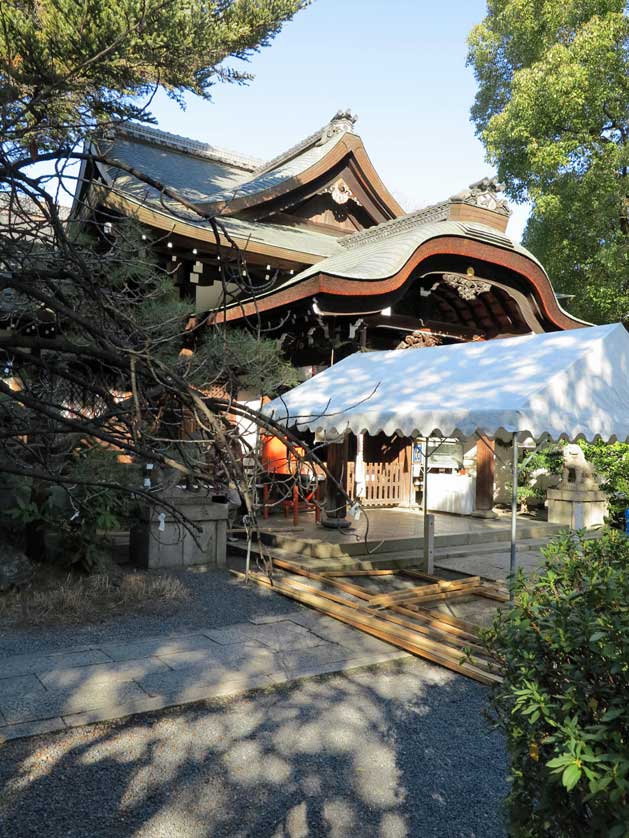 Honden, Kumano Shrine, Okazaki, Kyoto
Kumano Shrine Access
Kumano Shrine43, Shogoin SannochoSakyo-ku Kyoto-shiKyoto, 606-8392Google Map
Kumano Shrine is on the #206 bus route from Kyoto Station and Kitaoji Bus Terminal. Alight at Kumano-jinja-mae bus stop. Other buses that stop at Kumano-jinja-mae bus stop are the #93, #201, #202, #203, and #204 services.
The nearest Kyoto subway stop is Higashiyama Station on the Tozai subway line. Marutamachi Station on the Keihan Line is even closer.
Bus #5 to Kyoto Kaikan Bijutsu-mae stop or the Raku Bus #100 go to nearby Heian Shrine.
Kumano Shrine is near the Kyoto Municipal Museum of Art, the Hosomi Museum, the Kampo Museum, the Kanze Kaikan Noh Theater, the Namikawa Cloisonné Museum of Kyoto, Kyoto Zoo and the Kyoto Museum of Traditional Crafts.
Shogo-in Temple is north again of Kyoto Handicraft Center. East along Marutamachi from Kumano Shrine is Okazaki Jinja and the entrance to Kurodani Temple. Just beyond the junction of Marutamachi (east-west) and Shirakawa (north-south) is the Philosopher's Walk.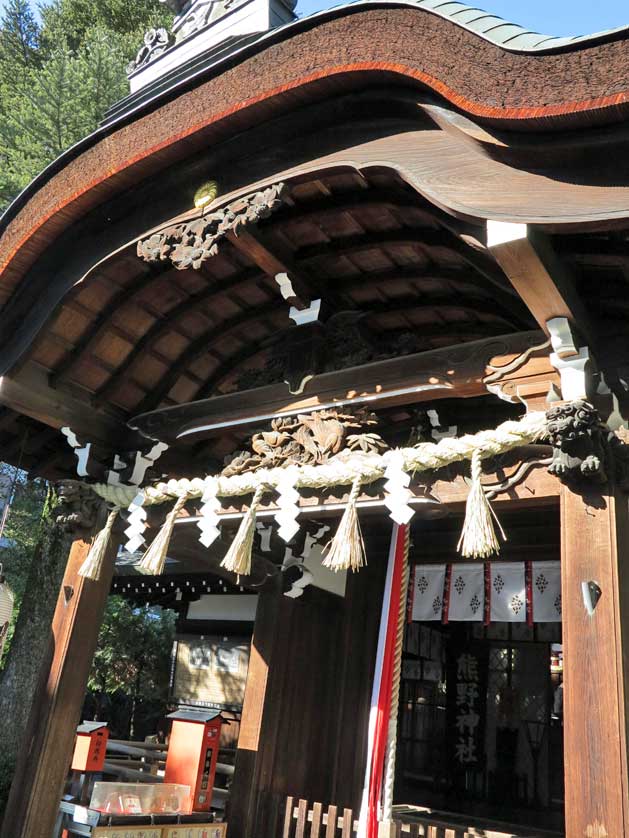 Kumano Jinja, Okazaki, Kyoto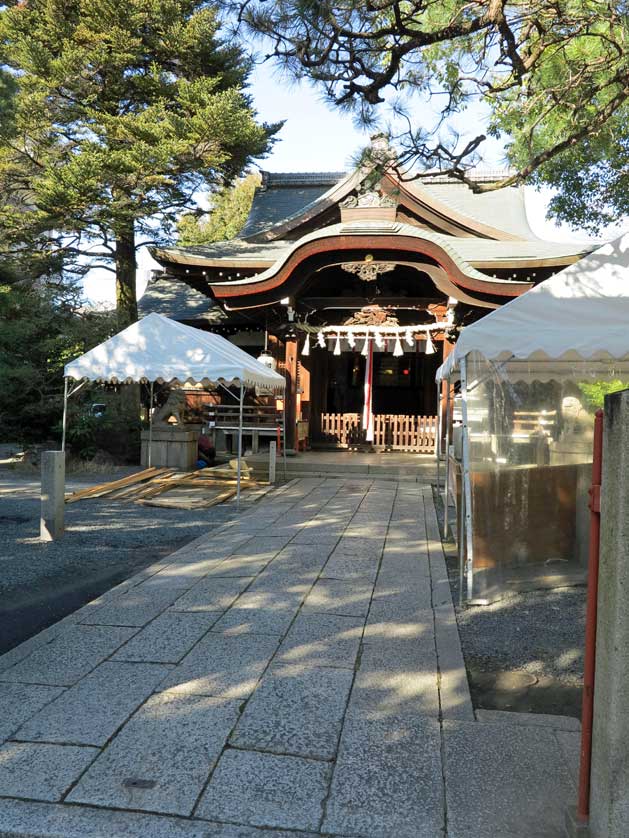 Main Hall (Honden), Kumano Jinja, Kyoto
Book Hotel Accommodation in Kyoto Near Kumano Shrine
All the themes of the city