Nanzenji Temple
Nanzenji Temple: read a guide to Nanzenji Temple in Kyoto. Read about Nanzenji Temple's history, location, and other features of this Kyoto temple.
Nanzenji Temple 南禅寺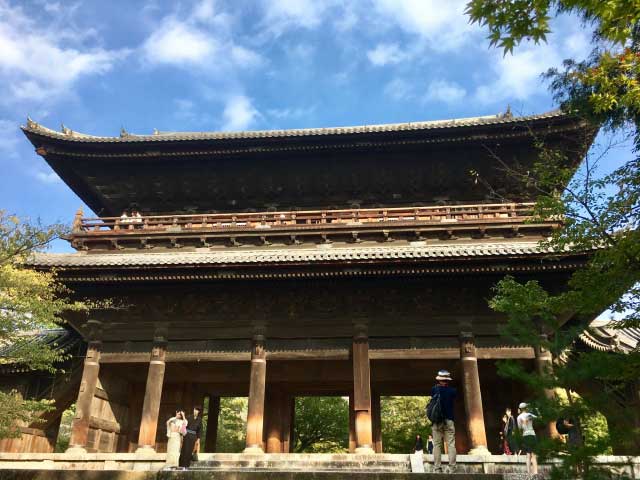 Established in 1291.
Located in east Kyoto.
Rinzai Zen.
Spectacular fall foliage.
A must see.
Zuiryusan Nanzen-ji is a Zen Buddhist temple in Kyoto. Nanzenji Temple was established in 1291 by Emperor Kameyama.
Nanzenji is is one of the Five Great Zen Temples of Kyoto. It is also the head temple of the Nanzenji branch of Rinzai Zen.
Rightly famed for its autumn colors on the hills of Higashiyama, the Nanzen-ji Temple complex can be extremely busy with visitors in the fall.
The approach to this Zen temple is lined with cedars and vegetarian tofu restaurants. One of Nanzen-ji's many sub-temples, Konchi-in, contains a beautiful dry stone garden by Kobori Enshu. It is possible to eat shojin-ryori Buddhist vegetarian cuisine, complete with beer, in some of the temples.
Admission Fee; 8:30am-4:30-5pm.
Read more on Nanzenji Temple - including the temple's history and cultural influence on tea in Japan and vegetarian tofu-based cuisine (shojin ryori).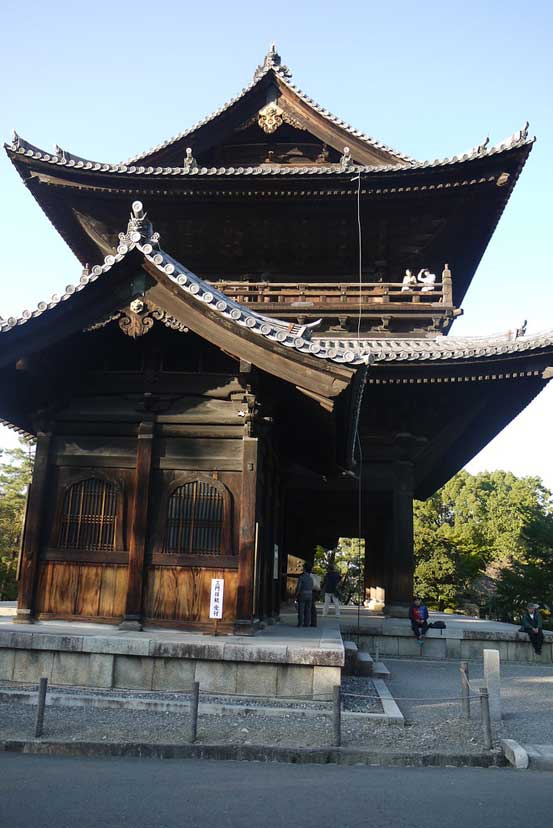 Sanmon Gate, Nanzenji Temple, Kyoto, Japan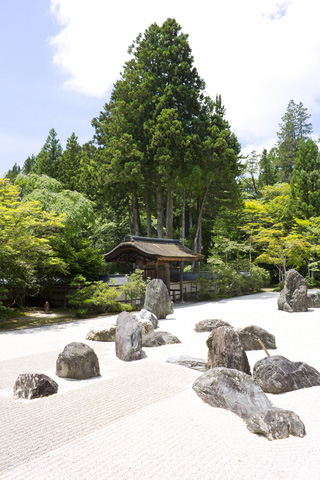 Nanzenji Temple Rock Garden, Kyoto, Japan
The Origins of Nanzenji Temple
Nanzenji (lit. "South Temple of Enlightenment") and its 12 sub-temples now occupies a large piece of real estate of some 10 hectares east of downtown Kyoto. Nanzenji, like other temples in Kyoto, began life as a retirement villa for a Japanese emperor, Kameyama in 1274. The Zen priest Fumon persuaded the emperor to grant him some land to build a temple and the present Nanzen-in became the first part of the present Nanzenji complex.
The temple was burnt down in 1393 by the envious monks of Enryakuji, again destroyed by fire in 1447 and was then leveled again in the Onin War of 1467. Toyotomi Hideyoshi, the Emperor Go-Yozei and Tokugawa Ieyasu all helped in the rebuilding of the temple, the latter donating part of Hideyoshi's grandiose Fushimi Castle for the abbot's quarters. Nanzenji prospered during the Edo Period until its grounds were cut back by the reformist Meiji state in the 1870's.
The huge two-story Sanmon Gate (Tenka-no-ryu-mon) was built to commemorate the dead at the siege of Osaka Castle by Ieyasu's general Todo Takatora and includes a balcony with views of Kyoto city, Buddhist statues, ceiling paintings by Kano Tanyu and images of Ieyasu and his general Takatora. Nanzenji's Sanmon gate is well known throughout Japan for featuring in the classic Kabuki tale of "Sanmon-gosan-no-kiri" about Ishikawa Goemon, Japan's Robin Hood.
The Dai Hojo (Abbot's Large Quarters) of Nanzenji was brought from Kyoto's Imperial Palace (Gojo) and dates from the 1590s. The Sho Hojo (Abbot's Small Quarters) is known for its dry stone garden and painted fusuma. The building was transferred from Fushimi Castle. The rooms of the Sho Hojo have paintings by artists of the Kano School including a series of tigers in a bamboo grove by Kano Eitoku (1543-1590) and the beams are carved by the wood master Hidari Jingoro (1594-1634). The Nyoshintei dry landscape garden (karesansui) and its teahouse is credited to Kobori Enshu.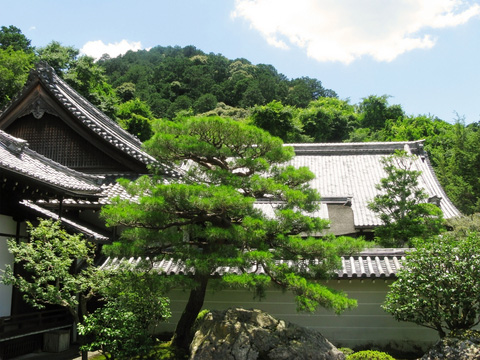 Nanzenji Temple in high summer, Kyoto, Japan
Nanzenji Sub-temples
Nanzenji has 12 sub-temples but not all of them are open to the public on a regular basis. However Nanzen-in, Tenju-an, Konchi-in and Choso-in can be visited.
Nanzen-in
Nanzen-in is located near the brick Lake Biwa aqueduct built in the Meiji Period. Nanzen-in is a 1703 reconstruction of the original retirement villa of Emperor Kameyama, which was the first building at the Nanzenji complex. The temple contains a garden with a heart-shaped pond.
Tenju-an
Open only in the spring and fall, Tenju-an was founded in the 14th century in honor of the priest Fumon but the present buildings date from two centuries later. There are painted fusuma by Hasegawa Tohoku and some beautiful gardens. The cemetery has the grave of Hosokawa Yusai aka Hosokawa Fujitaka (1534-1610), the poet daimyo who became a priest in later life and was responsible for rebuilding the temple.
Konchi-in
Konchi-in's Abbot's Quarters were transported from Hideyoshi's Fushimi Castle. Konchi-in is most noted for a dry garden by Kobori Enshu and a memorial to Ieyasu Tokugawa built in a mix of Buddhist and Shinto styles.
Choso-in
Choso-in has a garden noted for its azaleas and a statue of Marishi-ten (The Queen of Heaven) brought from China by the monk Seisetsu. The Okutan restaurant serves vegetarian tofu lunches either inside or on decks overlooking the garden and pond.
Nanzenji Temple Moss Garden & Rock, Kyoto, Japan
Nanzenji Access
Nanzenji Temple is a short walk from the Keage subway station (Tozai Line). By bus, take city bus #46 to the Kyoto Kaikan Bijitsukan-mae stop or bus #5 or Raku Bus #100, to the nearer Nanzenji/Eikando-mae stop.Nanzenji-Fukuchi-cho, Sakyo-ku, Kyoto-city
Tel: 075 771 0365
Bicycle is a good way to see Nanzenji and the temples and shrines heading north along Philosopher's Path: Eikando/Zenrin-ji, Kumano Nyakuoji Shrine, (Nomura Museum), Reikanji Temple, Anrakuji, Honen-in and finally Ginkakuji. Allow 20-25 minutes at a leisurely speed as you ride slightly uphill. Also close by are the sub-temples of Nanzen-in, Tenju-an and Konchi-in to the south and south west.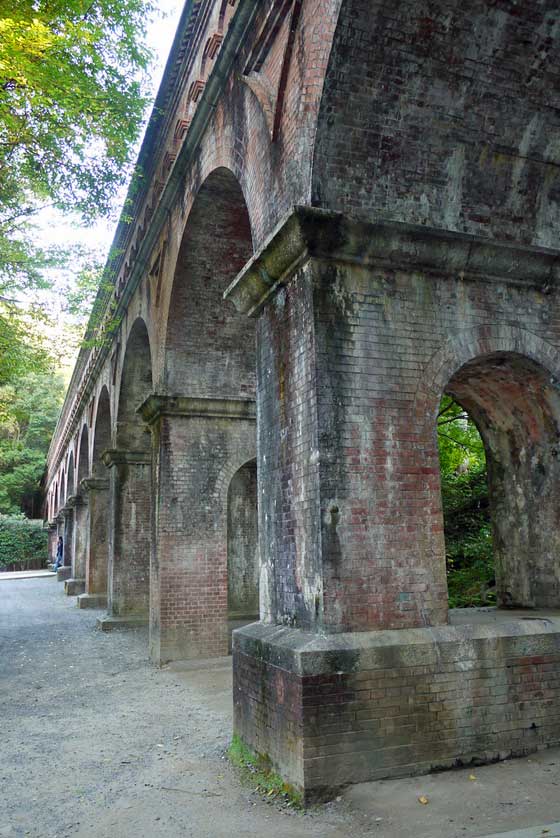 Lake Biwa Aqueduct in the grounds of Nanzenji Temple, Kyoto, Japan
Nanzenji Map
Hotels in Kyoto
All the themes of the city