Oharano Shrine
Oharano Shrine 大原野神社
Oharano Shrine is a spacious, ancient, historic Shinto Shrine in the Oharano district, located to the south west of Kyoto city and easily reached by Hankyu train and then Hankyu bus.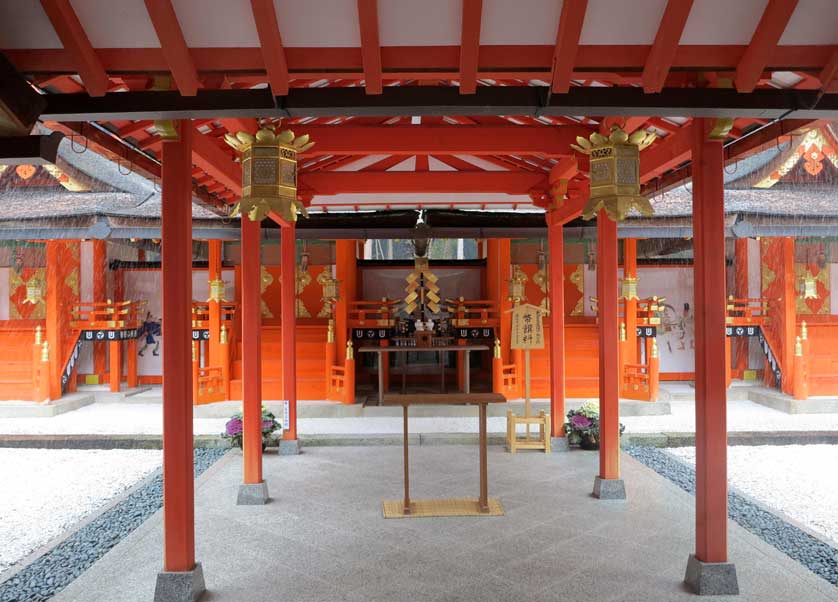 Oharano Shrine, Oharano, Kyoto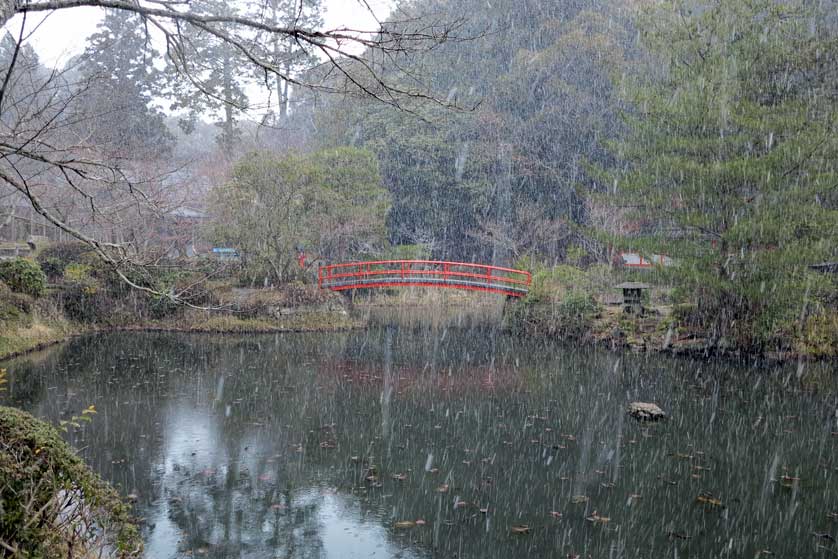 Oharano Shrine in a snowstorm, Kyoto
History of Oharano Shrine
Oharano Shrine was founded in around 784 when the imperial capital was moved from Nara to Nagaoka. Making the move along with the Emperor Kammu was the powerful Fujiwara clan, many of whom had positions of influence at court.
According to myth, the tutelary deity of the Fujiwara clan, Amenokoyane, also moved with them on invitation, riding into the new capital on the back of a deer, hence the several symbolic statues of deer in the shrine's large grounds.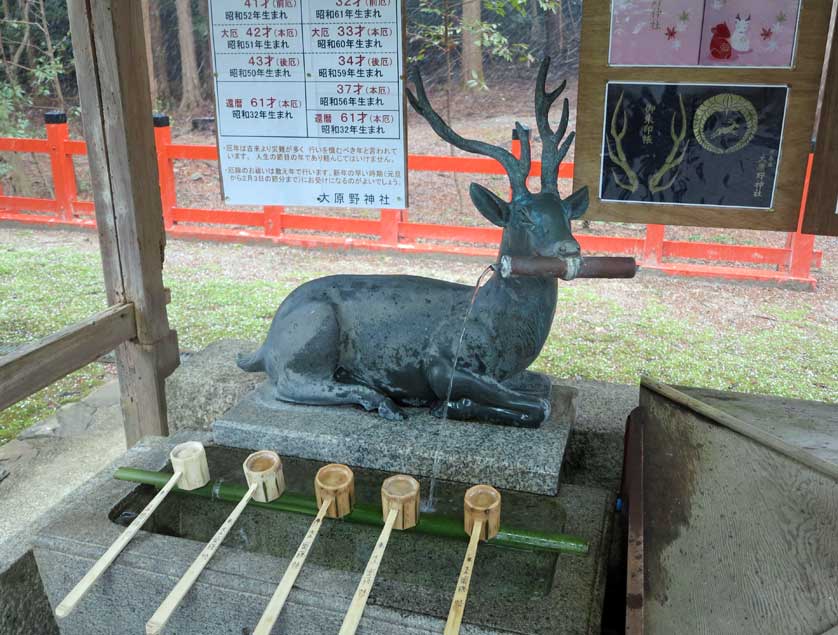 Deer Statue, Oharano Shrine, Kyoto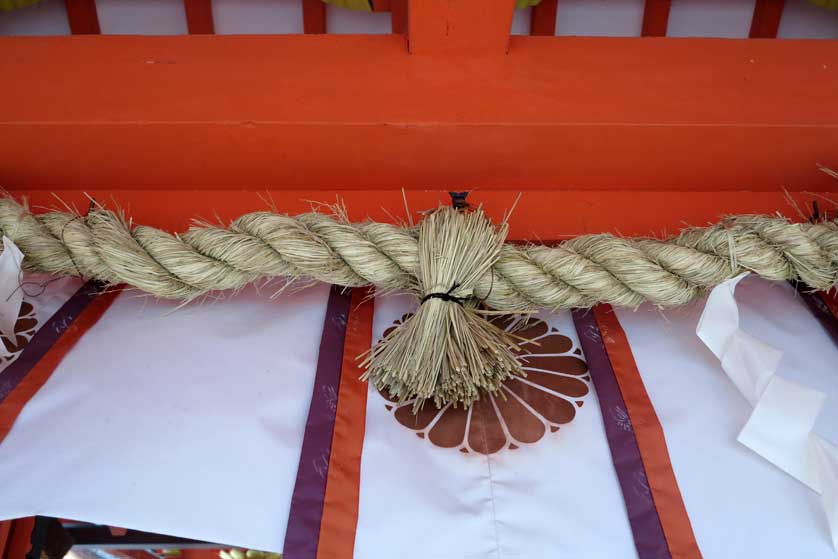 Shimenawa sacred rope and imperial chrysanthemum crest, Oharano Shrine Temple, Kyoto
The precincts of Oharano Shrine contain a large pond, vermilion bridge and several ancient trees, including a tall fir tree, said to be over 450 years old.
A spring on the site is said to be where the infant Emperor Seiwa (850-878) was given his first bath.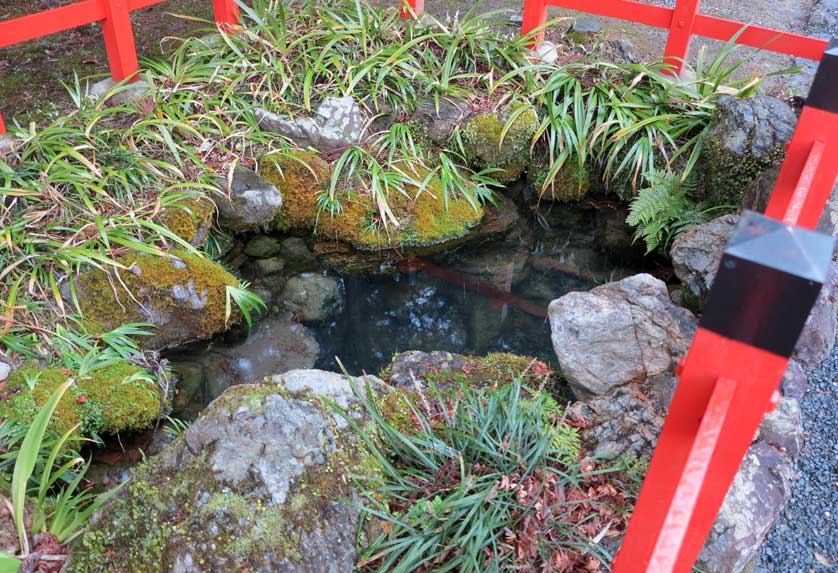 Spring, Oharano Shrine, Kyoto
Oharano Shrine is also known for a famous cherry tree called Sengan-zakura on its grounds as well as its spectacular autumn foliage.
The Oharano area is also mentioned in the classic Tale of Genji.
The rustic Kasuganochaya restaurant in the shrine serves hearty soba noodles and mochi rice cake desserts in season.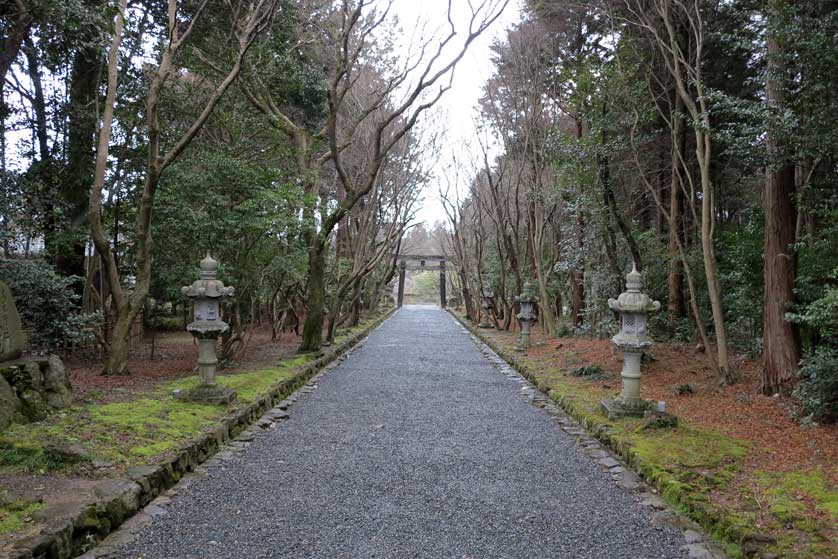 Torii gate and stone lanterns, Oharano Shrine, Kyoto
Oharano Shrine (oharano-jinja.jp)
1152 Oharano Minamikasugacho
Nishikyo-ku
Kyoto 610-1153
Tel: 075 331 0014
Admission: Free.
Oharano Shrine Access - How to get to Oharano Shrine
From Kyoto Station take a JR Kyoto Line train to Mukomachi Station (180 yen, 7 minutes) or a Hankyu Line train from Shijo Kawaramachi Station, Shijo Karasuma or Shijo Omiya to Higashi-muko Station (20 minutes, 220 yen). From both stations take the #63 or #65 bus to Minami Kasugacho, the last stop. The bus journey takes 20 minutes and costs 270 yen.
If you miss the last bus back, it is a fair walk to the station, or call a taxi. (Tel: 075 922 3156). The #65 bus runs later on weekends and public holidays.
Nearby Oharano Shrine
It is possible to visit Yoshiminedera and Jurinji temples to the south west in the same day but it means returning to Higashi Muko and taking another bus.
Other places to visit in the Oharano district include the adjacent Shoboji Temple, Hana no Tera (Shojiji), Gantokuji and Saikoji Temple.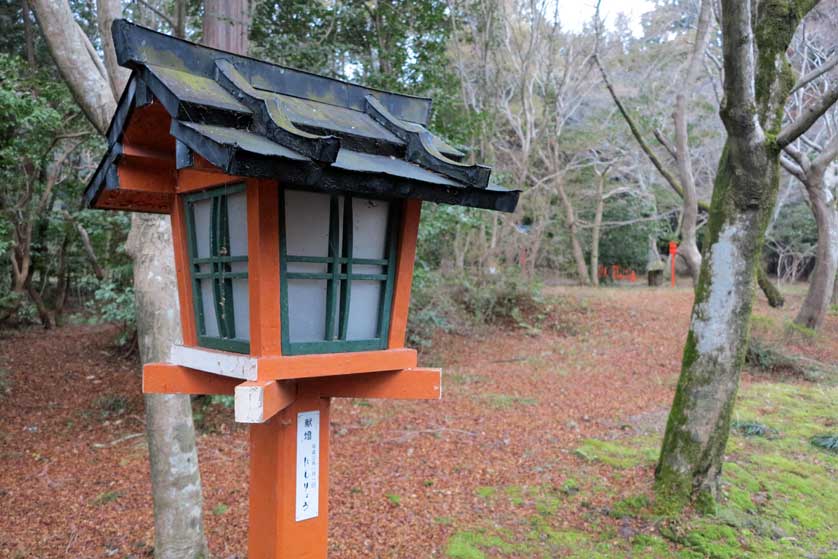 Oharano Shrine, Kyoto
Book Hotel Accommodation in Kyoto Near Oharano Shrine
Oharano Shrine in the Oharano district of south west Kyoto is an ancient shrine connected with the tutelary deity of the Fujiwara clan and mentioned in the Tale of Genji.
All the themes of the city