Otatsu Inari Shrine
Otatsu Inari Shrine, Kyoto 御辰稲荷神社
Otatsu Inari Shrine is a small Inari shrine located north of the Okazaki district of Kyoto close to Shogoin Temple, Kyoto University, the Kyoto Handicraft Center and Heian Shrine.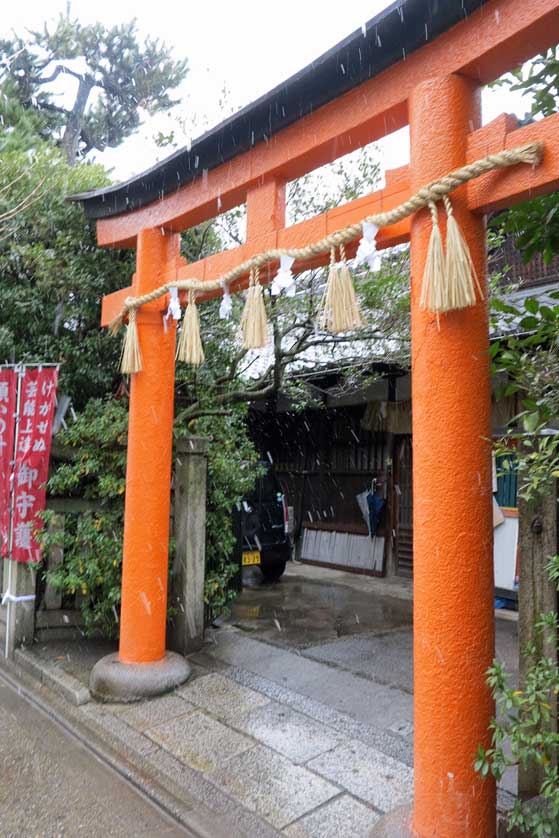 Entrance torii, Otatsu Inari, Kyoto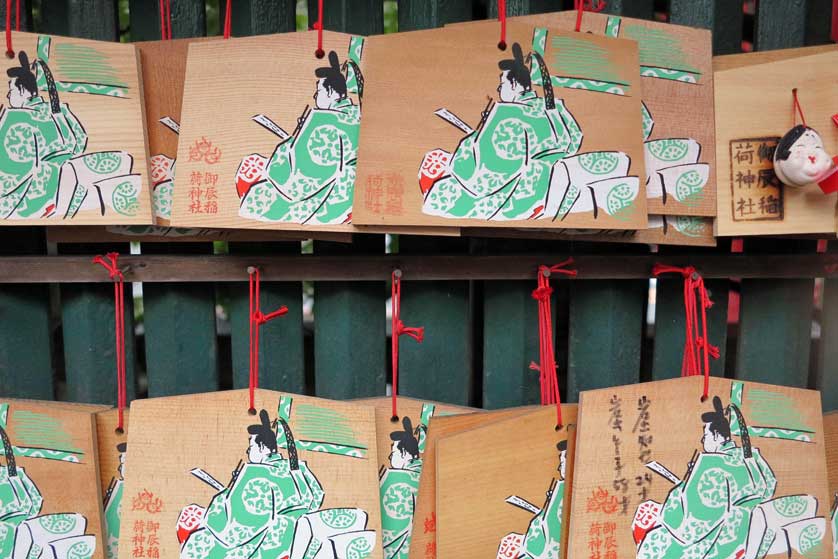 Ema votive plaques, Otatsu Inari Shrine, Kyoto
History of Otatsu Inari
Japan has thousands of Inari shrines with one of the most famous being Fushimi Inari Taisha in the Fushimi district of south east Kyoto.
This small Inari shrine dates from the Edo Period of Japanese history.
The tiny, cramped grounds are like a little maze. It is fascinating to step in and look at the inari fox masks left as offerings and the stone statues of foxes.
The shrine is believed to have been built after the Emperor Higashiyama (1675-1710) had a vision of a white fox. The Emperor Higashiyama, like the Emperor Heisei more recently, was an emperor who abdicated. Higashiyama left the throne in 1709 and was succeeded by his son.
The shrine holds a small Setsubun festival from February 2-3, its annual festival on May 3 and a fire festival on November 15.
Like most shrines in Japan it is visited to pray for protection from illness and success in financial matters.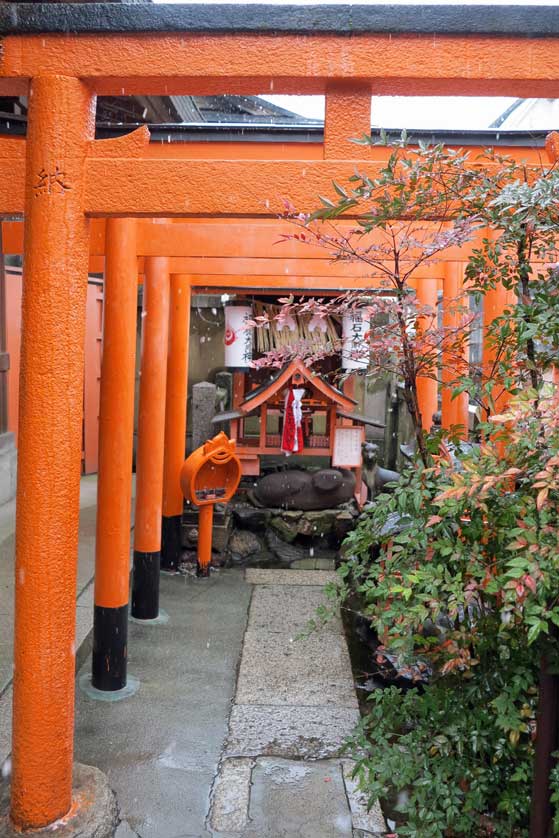 Shrine interior, Otatsu Inari, Kyoto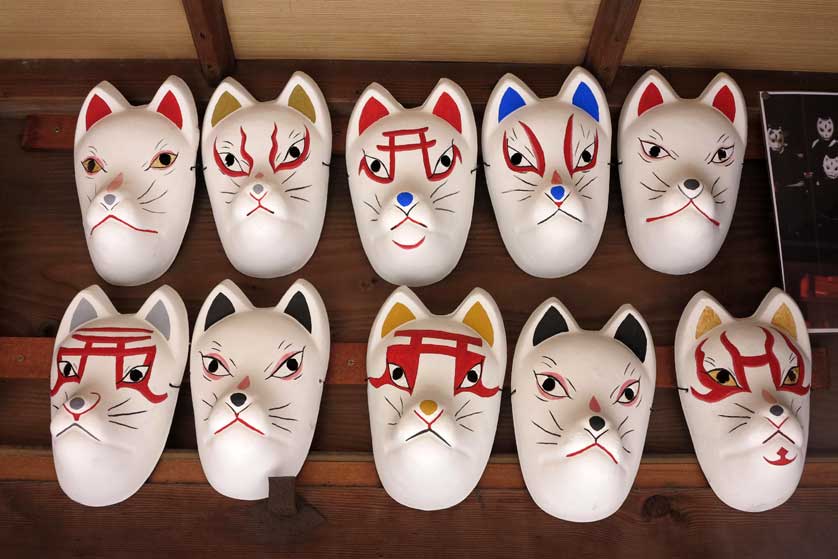 Fox masks on display, Otatsu Inari Shrine, Kyoto
Otatsu Inari Shrine Access
Otatsu Inari Shrine
Shogoin, Entomi-cho 29-1
Sakyo-ku, Kyoto 606-8323
Tel: 075 771 9349
The shrine is on the #206 bus route from Kyoto Station and Kitaoji Bus Terminal. Get off at Kumano-jinja-mae bus stop.
Other buses that stop at Kumano-jinja-mae bus stop are the #93, #201, #202, #203, and #204 services.
The nearest Kyoto subway stop is Higashiyama Station on the Tozai subway line, south of Heian Shrine. It is a 20-25 minute walk from here.
Marutamachi Station on the Keihan Line is also convenient, as is Demachiyanagi Station on the Keihan and Eiden lines. Walk east from both stations.
Nearby
Otatsu Inari is close to Kumano Shrine and Kyoto University Museum as well as Kurodani Temple. The long-running jazz bar Zac Baran, popular with Kyoto University students, is just a few meters away.
Places to stay in this area of Kyoto include Kyo-Machiya Shogoin, a private Japanese-style house to rent, as is Neneko House and Zen House. The ryokan Sawaya Honten is also close by.
Goten-so (Tel: 075 771 4151) is an upmarket ryokan situated on the temple grounds of Shogoin with tatami-style rooms, a bath and beautiful garden.
Book Hotel Accommodation in Kyoto Near Shogoin Temple
Otatsu Inari Shrine (御辰稲荷神社) is a small Inari (fox) shrine just north of Heian Shrine in the Okazaki district of central Kyoto. It dates from the Edo Period.
All the themes of the city