Tojiin Temple
Tojiin Temple: read a guide to Tojiin Temple in the west of Kyoto. Find Tojiin Temple's history, location, and nearby Kyoto temples.
Tojiin Temple 等持院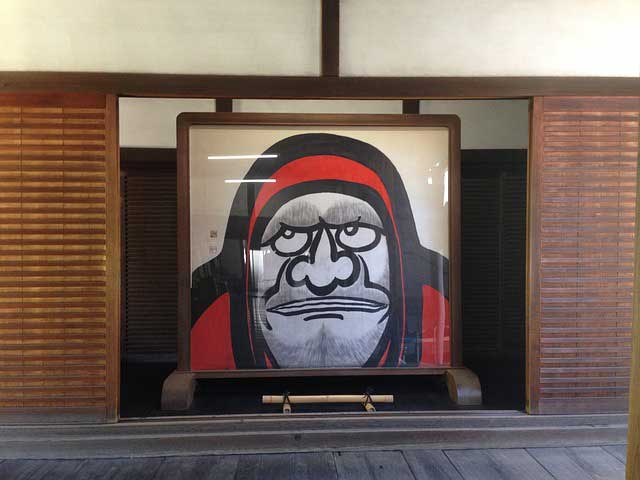 Founded in 1338.
Located in northwest Kyoto.
Beautiful Japanese garden and tea house.
Temple of the Ashikaga shoguns.
Tenryuji School of Rinzai Zen
Located at the foot of Mount Kinugasa in the northwest part of Kyoto, Tojiin Temple was the ancestral temple of the Ashikaga shoguns.
Tojiin was founded in 1338 by Lord Takauji Ashikaga (1305-1358), who had the renowned landscape designer Soseki Muso (1275-1351) create the gardens and ponds on the grounds. Ashikaga's grave is contained within the property.
The garden at Tojiin Temple is divided into an eastern part ("Shinji-chi") and western ("Fuyo-cho, or Lotus Pond).
At the northern end is a tea house (Seiren-tei) with a thatched roof, which was built by the shogun Yoshimasa. The garden contains many azaleas, camellias, Japanese maples, pines and other species to mark the seasons.
The lovely, serene, carp-filled Heart -Shaped Pond is laid out in the shape of the kanji character for shin (心; heart-mind) with a flat stone bridge leading to Mount Horai, the mythical Isle of the Immortals.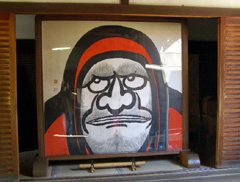 The present buildings seen at Toji-in date from 1818.
The Main Hall of Toji-in contains an image of Jizo-Bosatsu, thought to be the work of Dengyo Daishi (aka Saicho 767-822), the founder of the Tendai sect of Japanese Buddhism, as well as statutes of all the Ashikaga shogun except the fifth and tenth.
The fusuma (sliding screens) in the hall were painted in Indian ink by Sanraku Kano (1559-1635).
Pictured above right is a screen painting at Toji-in of the priest Daruma, or Boddhidharma, the legendary monk who supposedly carried the secrets of Zen from India to China, and whose image is found in the eponymous Daruma dolls in Japan.
Legend has it that Boddhidharma tore off his eyelids to prevent him falling asleep while meditating, hence his rather bug-eyed look and also lost the use of his legs from his long Zazen meditation sittings.
This modern rendering of Boddhidharma is by Seki Bokuo (1903-91), a former abbout of Tenryuji Temple in Arashiyama, which Toji-in is affiliated with.
The Reikoden (Hall of Sacred Light) has a collection of sitting, cross-legged mortuary statues of Ashikaga shoguns holding scepters (shaku).
Toji-in Temple
Kitamachi 63, Tōji-in, Kita-ku, Kyoto
Admission Fee: 500 yen; 5.30 am-4-30 pm; matcha tea set 500 yen.
Tel: (075) 461 5786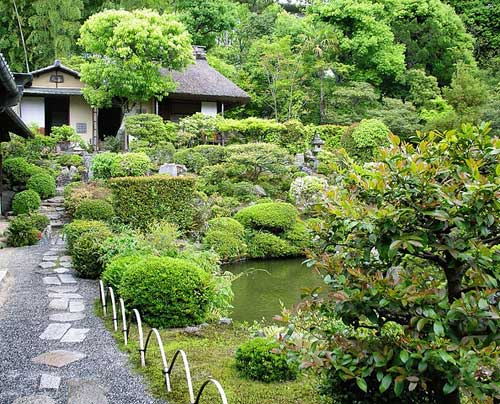 Toji-in Temple in summer, Kyoto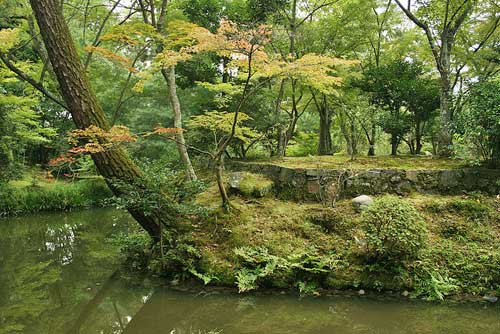 Toji-in Temple Pond, Kyoto

Toji-in Access - how to get to Toji-in Temple
Take bus #50 from Kyoto station; Keifuku Line (Randen) to Tojiin Station and then a 5-minute walk.
Toji-in Temple is near to a number of other Kyoto temples and attractions in this attractive area of west Kyoto near Ritumeikan University's Kinugasa campus. These include Kinkakuji Temple (Golden Pavilion), Ryoanji's Zen Rock Garden and Ninnaji Temple all of which can be seen in a series. The Insho Domoto Museum and Ritsumeikan's Peace Museum are also nearby.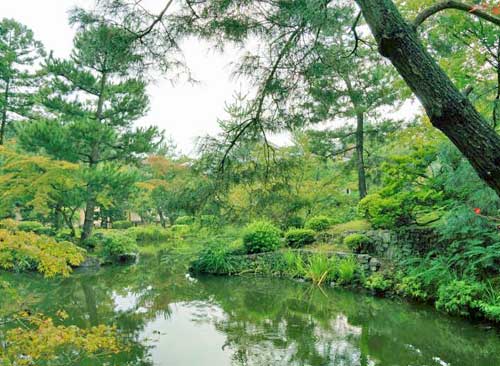 Toji-in Temple & Pond, Kyoto
Toji-in Map
Book Hotel Accommodation in Kyoto Near Toji-in
All the themes of the city