Shimogamo Shrine Kyoto
Shimogamo Shrine 下鴨神社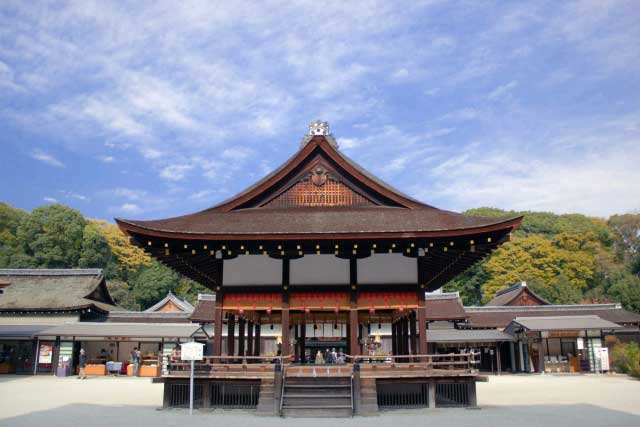 One of the oldest shrines in Japan.
Located in north central Kyoto.
Setting for Aoi Festival.
Dedicated to Kamo Wake-ikazuchi, the God of thunder.
Shimogamo Shrine's Honden or Main Hall dates from 1629, though the shrine itself goes back to the 8th century before the founding of Kyoto as the capital. Shimogamo Shrine occupies a narrow strip of wooded green north of Keihan Demachiyanagi Station in north central Kyoto.
Kyoto's famous Aoi Matsuri festival originates at Shimogamo Shrine. Aoi Matsuri (Hollyhock Festival), a period costume procession, takes place each year on May 15, moving from Shimogamo Shrine to its sister shrine Kamigamo Shrine a few kilometers directly to the north. In fact Shimogamo and Kamogamo are the lower and upper halves of the same shrine.
The Shimogamo shrine grounds consist of some fine, brightly colored, vermillion, wooden buildings and are a peaceful place to stroll throughout the day or night.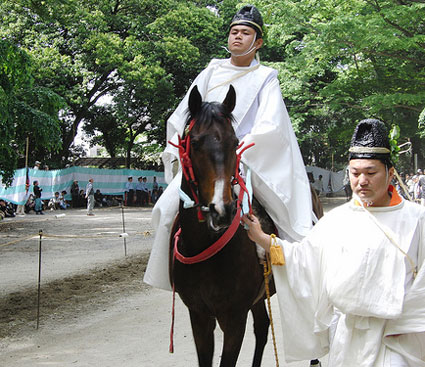 Aoi Matsuri Festival at Shimogamo Shrine
Shimogamo Shrine was built within the Tadasu no Mori,"the forest of truth" or the "forest where lies are revealed." This is one of only a handful of primeval forests remaining in Kyoto. According to legend, lies will be found out in this forest.
Shimogamo Shrine hosts a popular New Year celebration and other Shinto ceremonies throughout the year including the quirky Mitarashi Matsuri purification rite, traditionally held on the 17th day before risshu (the first day of autumn) - nowadays that translates as early August. People bathe their feet in Mitarashi Pond to wash away their sins, illnesses and ensure safe birth. At night the shrine buildings are lit with hundreds of beautiful lanterns. Mitarashi dango are made and eaten for the festival.
Admission to Shimogamo Shrine: Free.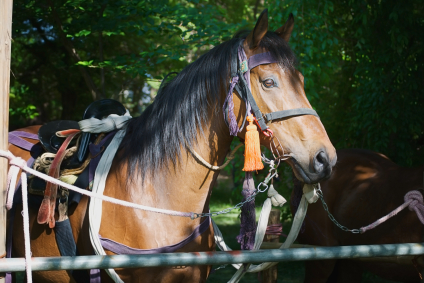 Aoi Matsuri Horse at Shimogamo Shrine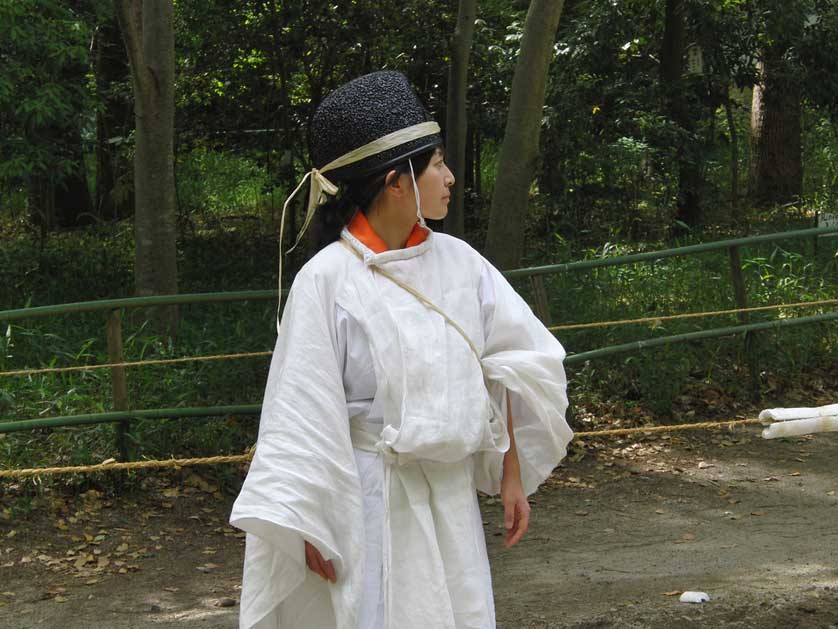 Aoi Matsuri, Shimogamo Shrine, Kyoto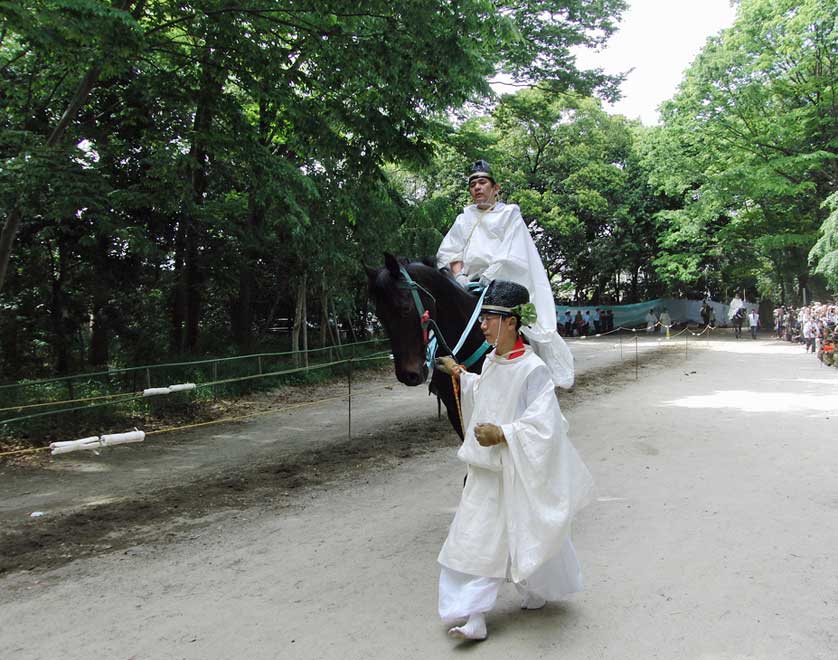 Aoi Matsuri, Shimogamo Shrine, Kyoto
Shimogamo Shrine Festivals
Shimogamo Shrine hosts a number of festivals throughout the year. Kemari Hajime - a recreation of an ancient Heian Period ball game by players in traditional Heian dress - is on January 4. Aoi Matsuri is held on May 15 followed by Nagoshi-no-Shinji on August 7, a ritual to end the summer heat when doll-shaped floats are released on Mitarashi Pond in the shrine. At night five sacred sticks (igushi) are placed in the water and young boys in loincloths jump in to retrieve them.
Kawai Shrine, within the grounds of Shimogamo Shrine, is popular with women who come to pray for beauty. Supplicants can paint a kagami-ema - a mirror-shaped votive plaque with their make-up, touch a beauty power stone and drink "beauty water" - made from the shrine's very own quinces.
Shimogamo Shrine also has a connection with rugby in Japan. A stone monument and Sawatasha, a small sub-shrine of Shimogamo, now mark the historic spot where a game of rugby was first played in the Kansai area in 1910. A Keio University student taught rugby to Third High School (which was to become the college of Liberal Arts at Kyoto University) students in the shrine's grounds (pictured below).
Shimogamo Shrine, Kyoto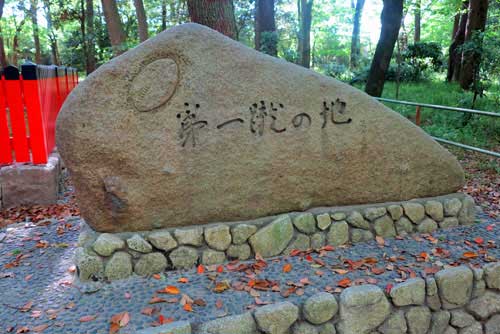 Stone monument marking the first game of rugby in Kyoto, Shimogamo Shrine, Kyoto
Shimogamo Shrine Access
Access: Walk 5-10 minutes north from Keihan Demachiyanagi station. Bus #205 goes to the Shimogamo Jinja-mae stop. Kyoto Bus #204 runs past the north of the shrine. Bus#102 goes past Demachiyanagi Station.
Two hotels near Shimogamo Shrine are the Nashinoki Inn and the Guesthouse Hyakumanben Cross.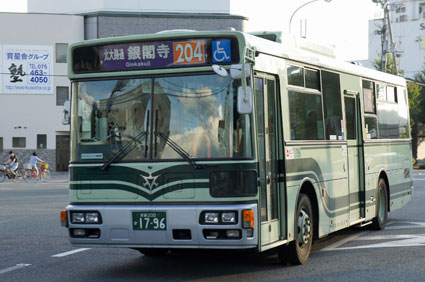 Kyoto 204 Bus for Shimogamo Shrine
Shimogamo Shrine
59 Shimogamo Izumigawa-cho Kyoto
Tel: 075 781 0010
By bicycle along the Kamo River.
From Shimogamo walk north along Shimogamo-nishi-dori along the Kamo River to the Kyoto Botanical Garden. South west is the Kyoto Imperial Palace & Park. Just south are Kawai Shrine within the grounds of Shimogamo Shrine and Old Mitsui Family Shimogamo Villa close to the Kyoto Family Court.
Aoi Matsuri At Shimogamo Shrine 葵祭
Book Hotels in Kyoto Near Shimogamo Shrine
Shimogamo Shrine: read a guide to ancient Shimogamo Shrine in Kyoto, setting for the annual Aoi Matsuri.
All the themes of the city