Shiramine Shrine
Kyoto Temples & Shrines: Shiramine Jingu Shrine 白峯神宮
Shiramine Shrine, located on the north east corner of Imadegawa and Horikawa in Kamigyo-ku in Kyoto, enshrines the kami of two previous Japanese emperors who were driven into exile: Sutoku (1119-1164) and Junnin (733-765).
Shiramine Jingu is also associated with sports, in particular soccer, as it stages an annual kemari (an ancient type of keepy-up) festival played by Shinto priests on April 14.
Kamigyo Takigi Noh
Two performances of Noh are performed at Shiramine Shrine in mid-September in honor of Emperor Sutoku. This is the annual Kamigyo Takigi Noh performance. Takigi noh means "firelight noh" and the performances of noh, kyogen and hobu dancing begin at 4 pm and last in to the evening. The performances are accompanied by taiko drumming as well as music from the shakuhachi and koto.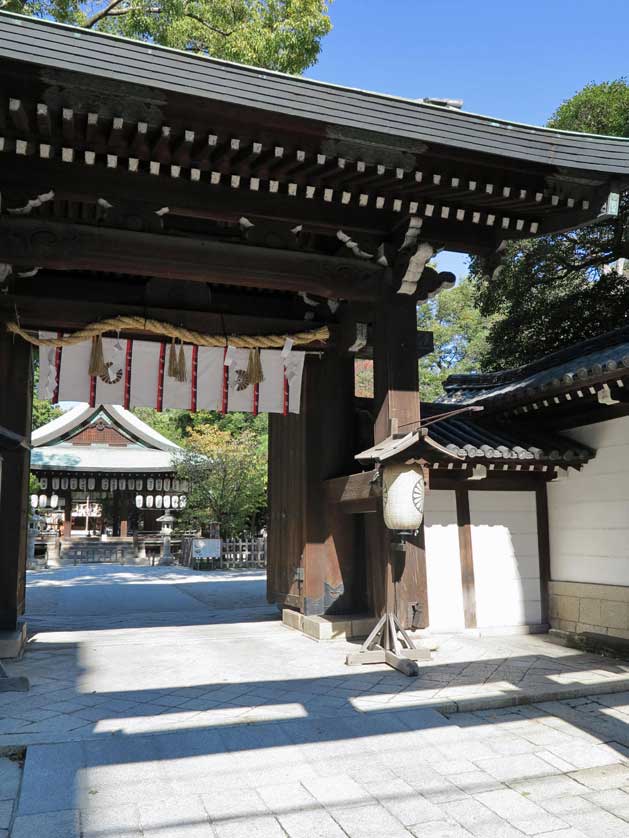 Main Gate, Shiramine Shrine, Kyoto, Japan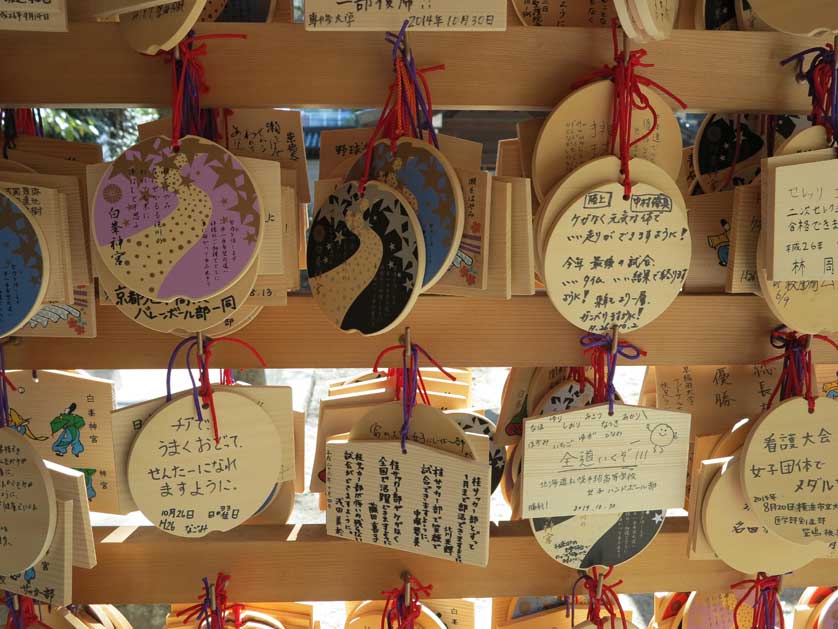 Ema or votive plaques in the shape of a ball, Shiramine Shrine, Imadegawa Dori, Kyoto, Japan
History
In 1156, Emperor Sutoku fought a war, known as the Hogen Rebellion, over the imperial succession with his younger brother Go-Shirakawa. Sutoku lost and was exiled to what is now Kagawa Prefecture in Shikoku where he died and was buried on Mt. Shiramine.
The present Shiramine Shrine was built on the orders of the Meiji Emperor in 1868 to comfort the troubled spirit of his imperial ancestor.
Junin was also exiled, in his case most probably to Awaji Island in the Inland Sea, by his cousin the retired Empress Koken, after the failed Fujiwara no Nakamaro Rebellion of 764.
Signed footballs, Shiramine Shrine, Kyoto, Japan
This ancient history is of little relevance to most visitors, however, who are in the main young junior, high school and university students who come to pray for success in sports, particularly soccer, though including baseball, rugby, basketball and other games.
The reason for this is that Shiramine Jingu also enshrines Seidamyojin, said to be the guardian deity of mari (balls used in sports and games). The ancient courtly game of kemari (kick ball), thought to have come to Japan from China, was played here during the Nara Period (710-794), Heian Period (794-1185) and Kamakura Period (1185-1333).
The Asukai family were kemari enthusiasts and the shrine stands on the grounds of their former residence in Kyoto, hence the connection. The Asukai clan are also credited with the creation of the waka style of Japanese poetry.
The game of kemari began with the court nobles or kuge before spreading to the samurai and common people. Usually eight players wearing leather shoes form a circle and attempt to keep a 24 cm diameter deerskin ball from hitting the floor. The playing area is known as the kakari, a 6 meter square area marked in the corners by trees: a maple, a cherry, a pine and a willow, and the game is accompanied by shouts.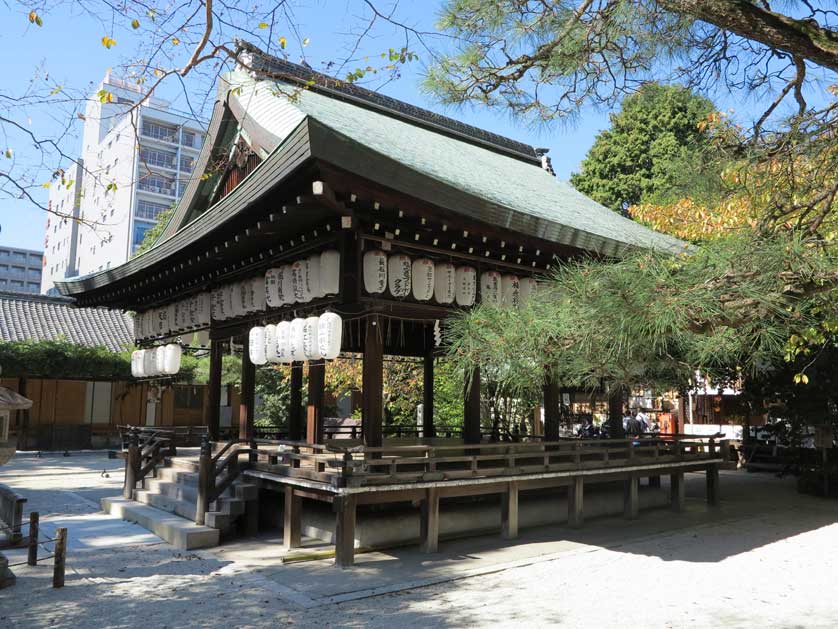 Shiramine Shrine, Kyoto, Japan
Nowadays as well as students from their respective sports clubs, professional players and team managers visit the shrine to pray for success in upcoming tournaments. Various professional J-League teams and national squads have donated signed footballs to the shrine, which are on display.
Kemari
Exhibitions of kemari by players in Heian Period dress can be seen at Shiramine Shrine on April 14 (kick off 10 am) and again on July 7 (KO 2 pm), when the game is followed by the komachi odori or a dance by women and children in kimono, part of the Tanabata Festival. There is also an exhibition of martial arts at the shrine on May 5 from 9 am and lasting the whole day.
Various ema, or votive plaques are on sale at Shiramine Shrine, some in the shape of a ball, to make a wish for success in future games or competitions. Visitors can also buy various good luck charms or o-mamori for such things as "fighting spirit" and a clay ball bell charm.
Shiramine Shrine
261 Imadegawa-dori, Horikawa higashi hairu
Asukai-cho, Kamigyo-ku, Kyoto, 602-0054
Tel: 075 441 3820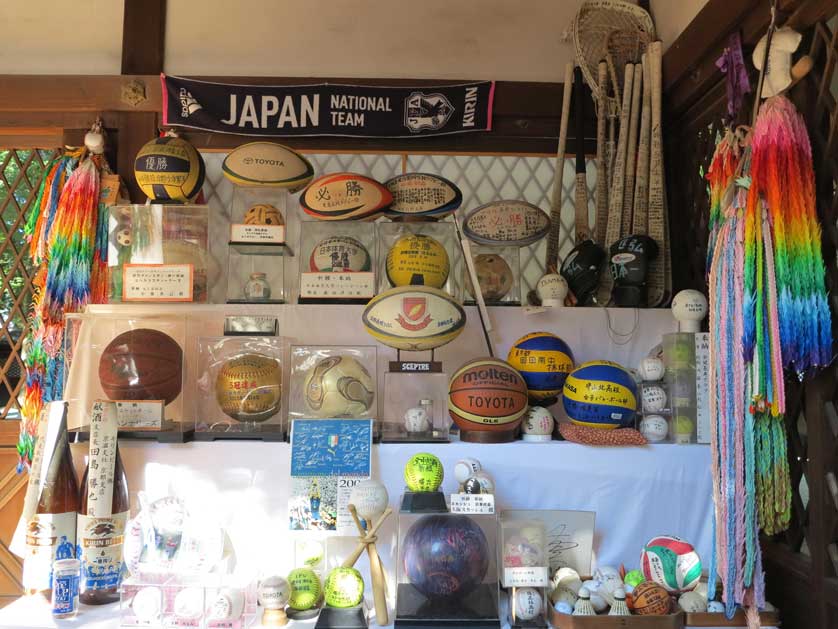 Soccer, rugby and basket balls offered as donations, Shiramine Shrine, Kyoto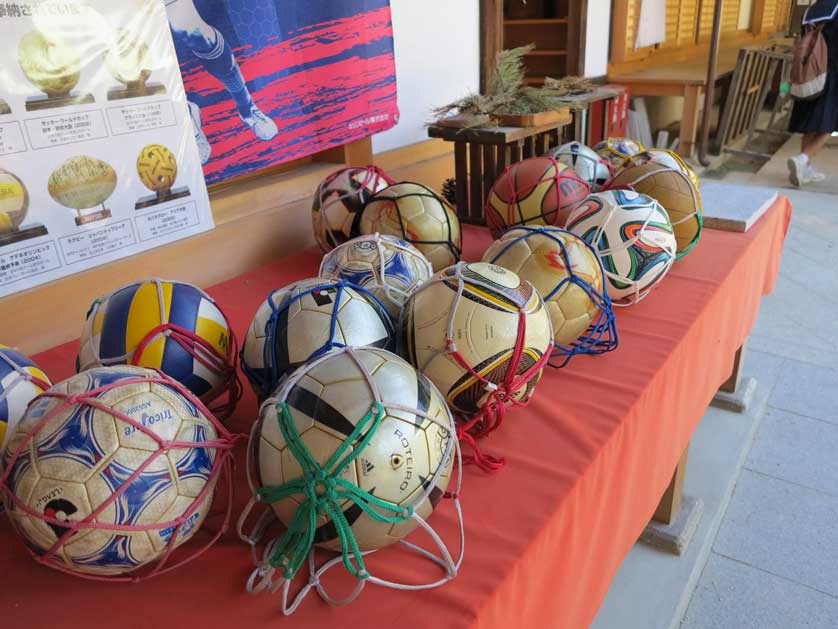 Shiramine Shrine, Kyoto
Shiramine Shrine Access - how to get to Shiramine Shrine in Kyoto
Shiramine Shrine is on Imadegawa, just east of Horikawa. Kyoto city buses #59, #102, #201 and #203 pass by Shiramine Shrine or walk a short distance west from Imadegawa Station on the Kyoto subway near Doshisha University.
Visitors are requested to walk around the shrine in a clockwise direction.
Nearby
The shrine is close to Seimei Shrine, the Raku Museum and Nishijin Textile Center. If you wish to stay in this fascinating area of Kyoto there are a number of options. The Kyoto Brighton Hotel is close by along with the ryokan Yadoya Nishijinso, the historic Ryokan Mugen and the three star The Share Hotels Rakuro Kyoto.
Shiramine Shrine Kyoto Map
Book Hotel Accommodation in Kyoto Near Shiramine Shrine
Shiramine Shrine in Kyoto is the home of the kemari and is popular with soccer players of all levels, who come to pray for success in sports competitions.
All the themes of the city