Shorin-in Temple
Shorin-in Temple 勝林院
Shorin-in is a stately Tendai sect temple located in the lovely village of Ohara to the north east of Kyoto. Shoren-in is associated with the study of Buddhist chanting called shomyo.
Shoren-in's two sub-temples are the nearby Jikko-in and Hosen-in, one of the so-called "Bloody Temples of Kyoto."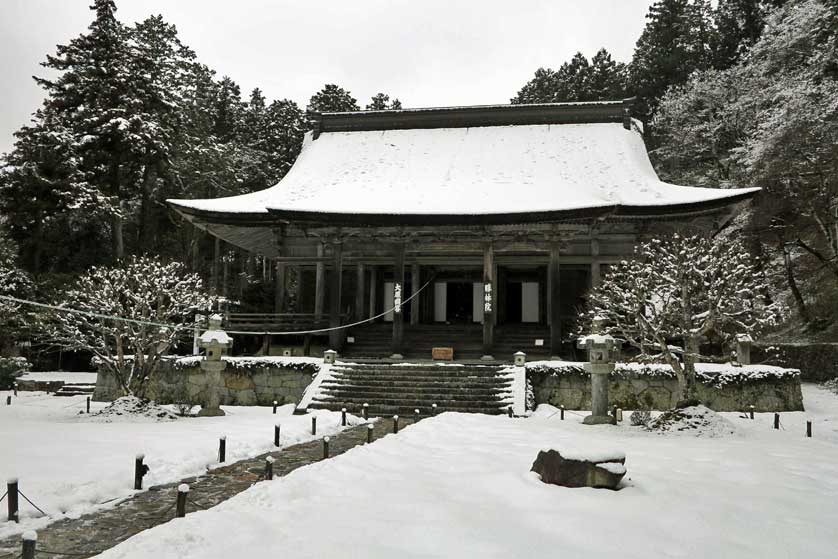 Shorin-in Temple, Ohara, Kyoto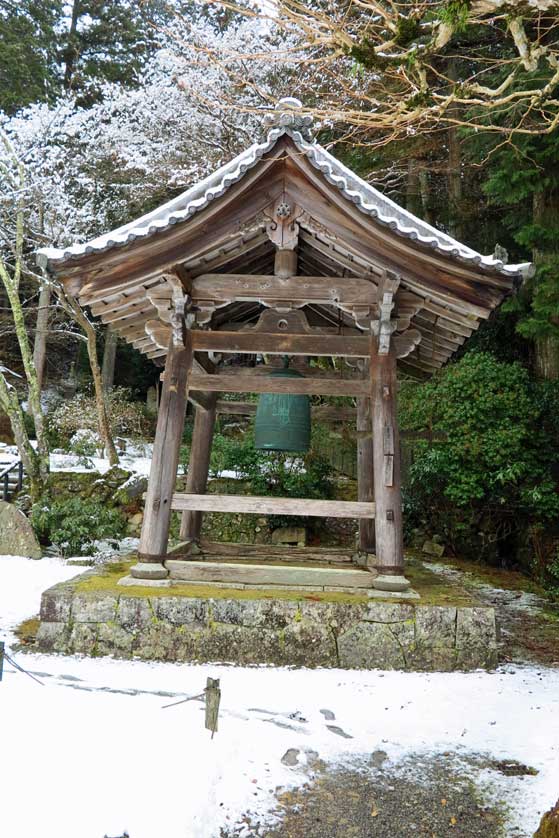 Bell Tower, Shorin-in Temple, Ohara, Kyoto
History of Shorin-in
Shorin-in was founded by the monk Jakugen in 1013, a follower of the Tendai monk Ennin (794-864), posthumously known as Jikaku Daishi.
It was Ennin who introduced Buddhist hymns and chanting known as shomyo to Japan, following his visit to China from 838-847. On his return, Ennin became the third abbot of Enryakuji Temple on nearby Mt. Hiei.
With the establishment of Shorin-in, Hosen-in, Jikko-in and later Raigo-in, Ohara became the center of shomyo in Japan and the abbots of these temples have dedicated themselves to its study and development.
Shorin-in was supposedly the venue for a meeting between the Tendai priest Kenshin and Honen, the founder of the Jodo-shu (Pure Land) school, when the great men discussed the intent of prayer.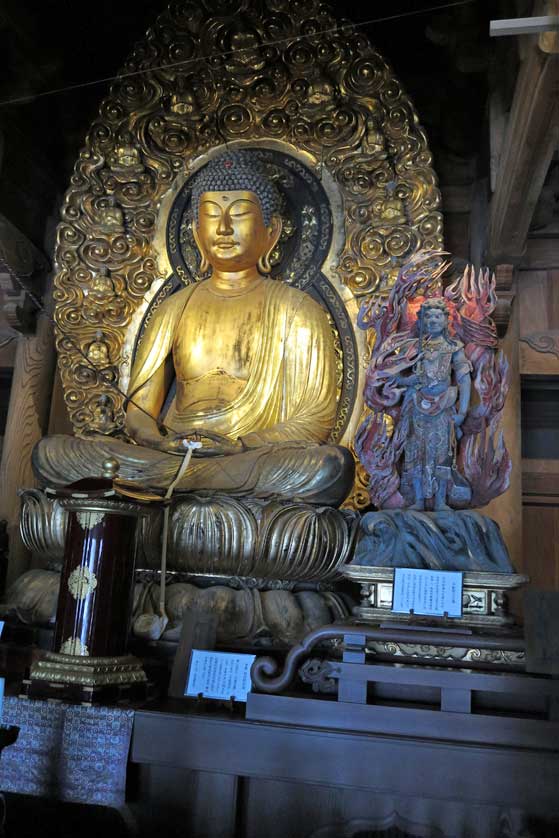 Image of the historical Buddha, flanked by Fudo Myo-o, Shorin-in Temple, Ohara, Kyoto
Shorin-in Buildings
The Main Hall (Hondo) of Shorin-in dates from 1777 during the Edo Period and along with the Bell Tower is designated a Tangible Cultural Asset by Kyoto city.
The images within the Main Hall include a statue of the seated Nyorai Buddha (the historical Gautama Buddha) flanked by statues of Fudo Myo-o and Bishamonten, the guardian deity of the north.
Outside in the moss-covered garden, the stone tower, Hokyointo is believed to date back to 1316.
The temple is little visited but after paying your entrance fee, the attendant may switch on a tape of shomyo chants while you admire the impressive statues in the tranquil Hondo.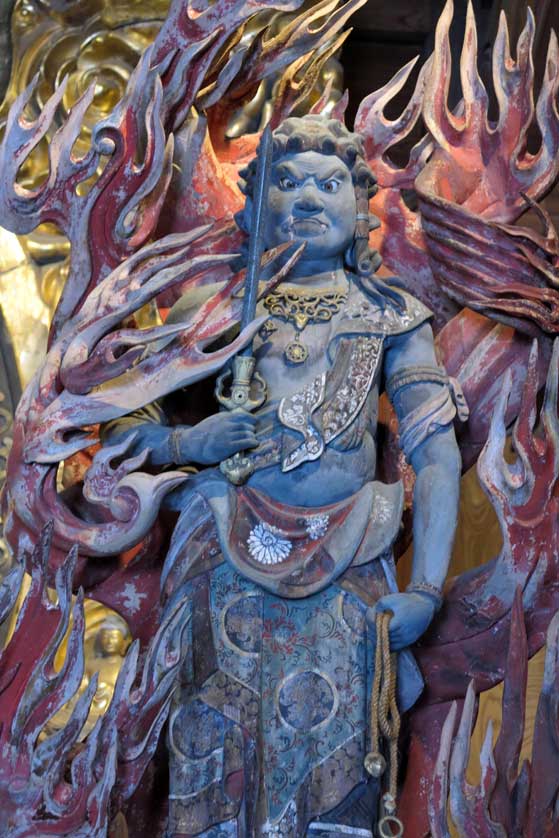 Statue of Fudo Myo-o, Shorin-in Temple, Ohara, Kyoto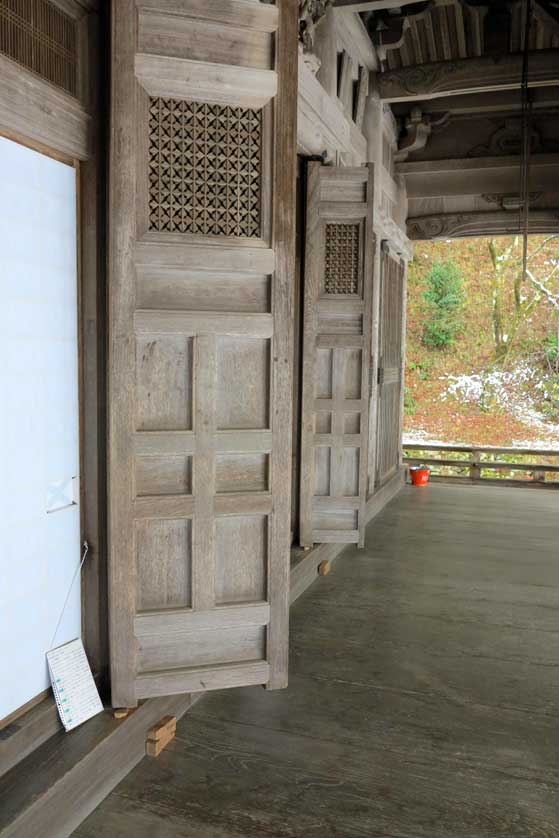 Shorin-in Temple in winter, Ohara, Kyoto
Shorin-in Access
Shorin-in Temple
187 Shorin-in-cho
Ohara, Sakyo-ku, Kyoto 601-1242
Tel: 075 744 2409
Hours: 9 am-5 pm
Admission: 300 yen
By bus to Ohara take a Kyoto bus #17 (white color) from Kyoto Station to the Ohara bus stop and then walk about 10 minutes. You can also pick up the #17 bus at Demachiyanagi Station. The journey from Kyoto Station takes an hour and a bit in total.
Alternatively, take an Eiden Line train from Demachiyanagi Station to Yase-Hieizanguchi Station and then change to bus #19. You can also get on bus #19 at Kokusaikaikan Station on the Kurasama Line of the Kyoto subway.
Ohara is outside the area covered by the 1-day Kyoto bus pass.
The Kyoto bus #16 goes to Ohara from Shijo Kawaramachi Station but there are only a few buses a day departing at 6.47am, 7.17am and 9.52pm. From Ohara to Shijo Kawaramachi buses return from Ohara in the evening at 8.20pm, 9.10pm and 9.40pm.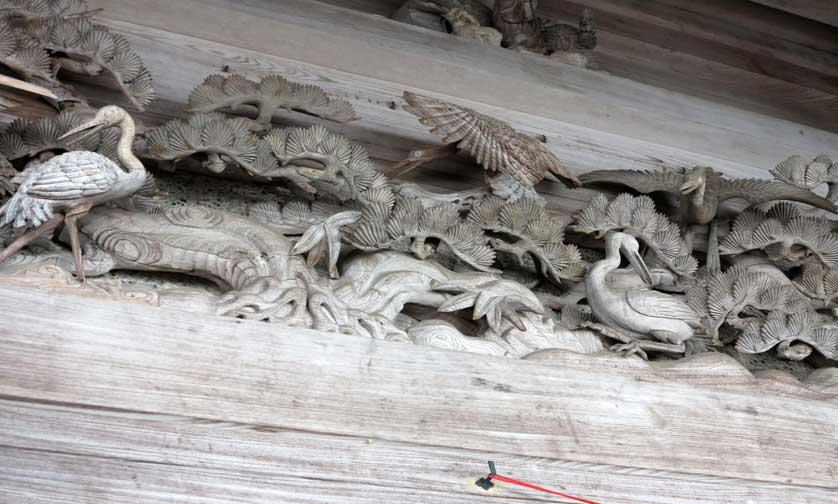 Wood carving at the temple
Ohara Attractions
There is much to see in Ohara, which is well worth a half-day or full-day excursion from Kyoto. Other important temples in Ohara include the Jakko-in Nunnery, Raigo-in Temple, Housenin (Hosen-in), one of the so called bloody temples of Kyoto and Jikko-in Temple, the latter two both sub-temples of Shorin-in Temple. The most famous temple in Ohara is, of course, Sanzen-in.
Also in Ohara are the tombs of two emperors: Go Toba (died 1239) and Juntoku (died 1242) and the so-called Soundless Waterfall or Otonashi-no-taki near Raigo-in.
The road up to Sanzen-in from the bus stop is lined with souvenir shops selling local produce including mochi and yuzu, restaurants and there are a number of traditional Japanese inns or ryokan to stay in Ohara. Recommended ryokan in Ohara include Gyozanen Onsen Ryokan, Ohara no Sato and Ohara Sanso.
Shorin-in Temple in Ohara, north east Kyoto is a Tendai-sect temple seen as a well-spring of shomyo or Buddhist chant.
All the themes of the city