Tenryuji Temple
Tenryuji Temple: read a guide to Tenryuji Temple. Read about Tenryuji Temple's history, location, and garden of this Kyoto temple.
Tenryuji Temple 天龍寺
Founded in 1339.
Located in northwest Kyoto.
Located in lovely Arashiyama.
A must see temple in Kyoto.
Tenryuji is the most important temple in the Arashiyama area of west Kyoto. Tenryuji is the head temple of the Tenryu sect of Rinzai Zen Buddhism and is ranked first among Kyoto's top five Zen temples, or Gozan: Nanzenji, Shokoku-ji, Tofukuji and Kenninji (although this ranking has changed over time).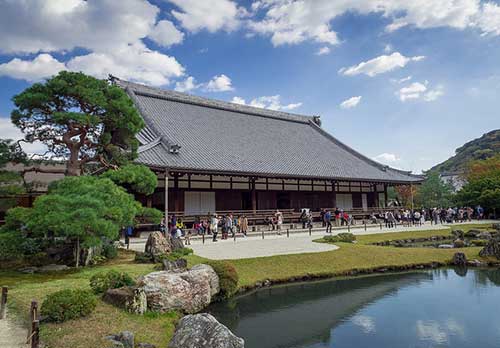 Hojo Hall, Tenryuji Temple, Arashiyama, Kyoto © Eddie Smolyansky
History of Tenryuji Temple
Tenryuji was created in honor of Gautama Buddha, and was founded by the Shogun Ashikaga Takauji (1305-1358).
Prior to the founding of Tenryuji, the Empress Tachibana no Kachiko, who was the wife of the Emperor Saga, created a Buddhist temple named Danrin-ji on the exact same spot. In the mid-thirteenth century, however, Emperor Gosaga and his son Emperor Kameyama converted the grounds into an imperial villa.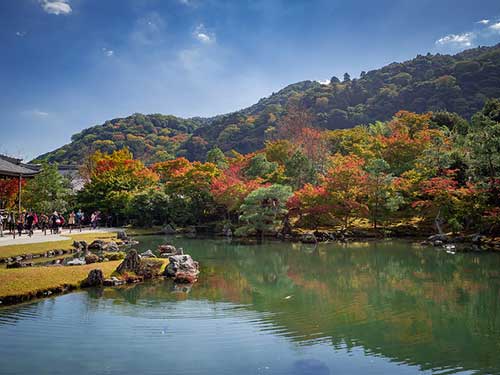 Sogenchi Pond and Garden, Tenryuji Temple, Kyoto © Eddie Smolyansky
Ashikaga Takauji later converted the villa into a temple in order to hold a memorial service for Emperor Go-Daigo, for whom he had once fought as a general but later turned against, and thus appease the soul of the deceased emperor.
Tenryuji Temple was enormously successful and grew to contain 150 sub-temples. Fire, however, decimated the temple no less than five times in the 14th and 15th centuries, then again in the Onin War, again in 1815, and many temple buildings and artifacts were then lost during the Hamaguri Rebellion in 1864. Tenryuji as it stands today dates mainly from the Meiji Period. In 1994, Tenryuji became a UNESCO World Heritage Site.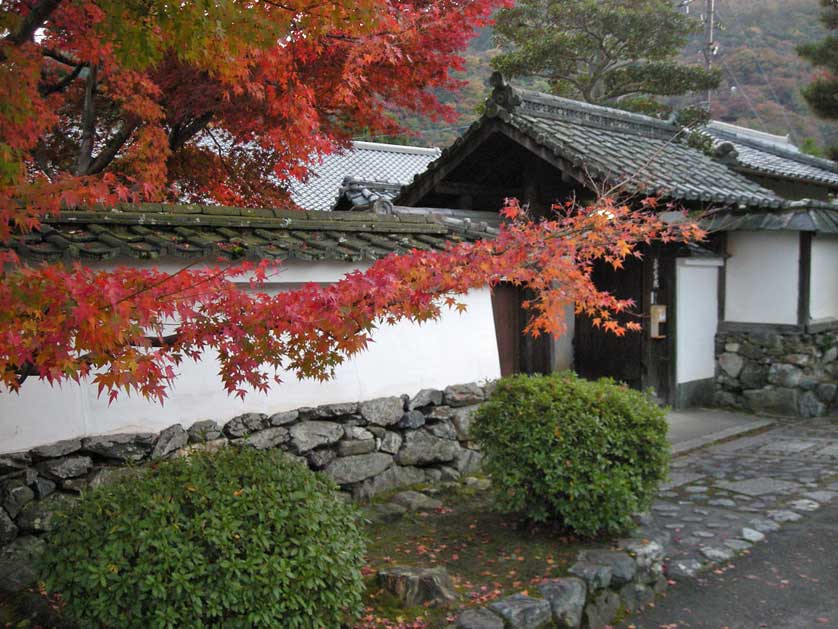 Tenryuji Temple in Kyoto is famous for the beauty of its autumn maple leaves.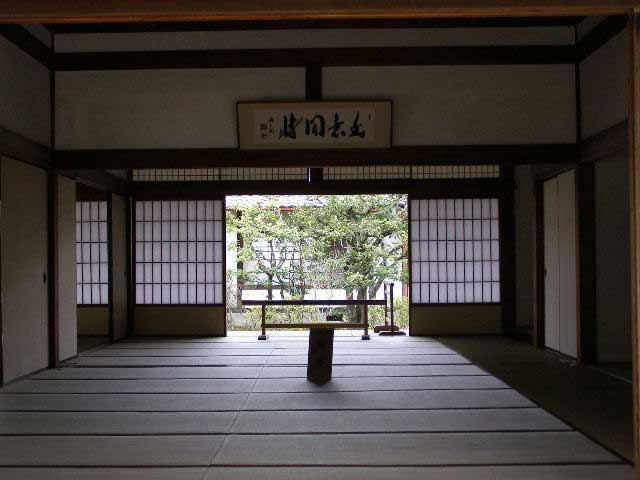 Tatami-mat room at Tenryuji Temple looking out over a garden.
Tenryuji Features
The Hyakkaen garden at Tenryuji is particularly popular in spring and fall. Another highlight of Tenryuji Temple is its hanchi or square entrance pond filled with lotus flowers.
Tenryu-ji contains various Important Cultural Properties, including portraits of the temple's first head priest, Muso Soseki (1275-1351); a wooden carving of Gautama Buddha, and numerous illustrations. The Hatto Hall has a huge circular Unryu ("Cloud Dragon") painted on its ceiling. The Sogenchi pond and garden is one of the oldest landscape gardens in Kyoto, created by Muso Soseki and noted for its borrowed scenery effect. Muso Soseki also created the gardens at Kokedera (Moss Garden) to the south in Katsura.
The Emperors Gosaga and Kageyama are both buried here within the temple.
Two sub-temples of Tenryuji Hogon-in and Kogenji only open for a few weeks in spring and autumn and can be visited on a combined ticket. Hogon-in is known for its rock and moss stroll garden as well as its fall colors.
Kogenji is also famous for its Japanese garden - a karesansui, (rock and stone) garden in the main building. The pillars of the main hall still bear the sword marks left by samurai from Choshu (present day Hagi), who practiced their swordsmanship here back in the 1860's.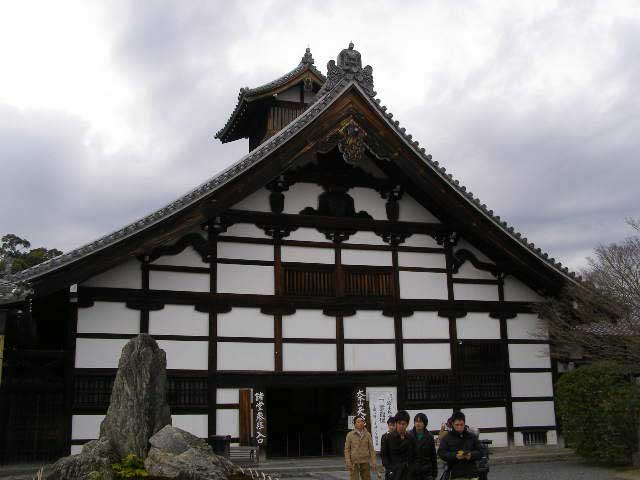 Kuri Hall, Tenryuji Temple, Kyoto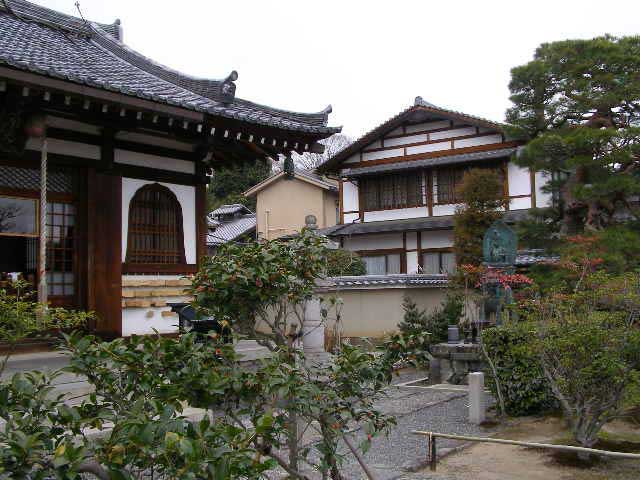 Tenryuji Temple in Arashiyama western Kyoto is located on the site of an earlier temple

Tenryuji Temple in Arashiyama
Hours & Admission
8.30 am-5.30 pm March 21-October 20, 8.30 am-5 pm October 21-March 20.
Admission: different attractions in Tenryuji require separate admission fees.
Sougenchi Pond and Hyakkaen Garden: 500 yen for adults, 300 yen for school age children.
Ohojo, Shoin, Tahodo halls: a 300 yen surcharge on the above fees.
Tenryuji Vegetarian Restaurant
The grounds of Tenryuji Temple also include a noted Zen vegetarian restaurant, Shigetsu, serving classic shojin ryori set meals (3,000 yen, 5,000 yen or 7,000 yen). The restaurant is open daily from 11am-2pm and can seat up to 250 guests in tatami-floored rooms with views of the garden.
The 2016 Michelin Guide for Osaka and Kyoto designated Shigetsu as a Bib Gourmand - an eatery serving "exceptionally good food at moderate prices."
See the English website of Shigetsu for full details.
Tel: 075 882 9725
If you would like us to reserve this restaurant or any other in Japan for a small fee please contact us.
Tenryuji Access - how to get to Tenryuji Temple
Tenryuji is just two minutes from the Keifuku Line's Arashiyama Station on trains from Kitano Hakubaicho or Omiya stations. Or take a city bus to "Keifukuarashiyama," bus #28. Alternatively, Tenryuji Temple is a 7-8 minute walk from JR Saga Station on the JR San-in Main Line (Sagano Line) from Kyoto Station.
Tenryuji Temple68 Susukinobaba-cho, Tenryuji, Saga, Ukyo-ku, Kyoto.Tel: 075 881 1235
By bicycle from Arashiyama.
Nearby attractions in Arashiyama include Togetsukyo Bridge, Iwatayama Monkey Park, Nonomiya Shrine, Okochi Sanso, Horinji Temple, Jojakkoji Temple, Rakushisha and Adashino Nenbutsu Temple.
Tenryuji Temple Map
Book Hotel Accommodation in Kyoto
All the themes of the city