Kyoto Top Ten Free Admission Temples and Shrines
Kyoto top ten free admission temples and shrines: see a listing of the best temples and shrines in Kyoto that are free to enter.
Kyoto's Top Ten Free Shrines & Buddhist Temples
Visitors to Kyoto are sure to be visiting a number of the city's over 2,000 Buddhist temples and Shinto shrines. Many of the most famous temples charge an admission fee ranging from around 300 yen to 3,000 yen to enter Saihoji Temple - the Moss Temple - in the south west of the city.
The average admission fee is about 500 yen (about $4.60 at the April 2020 exchange rate).
This can soon add up if you are a couple or traveling as a family.
However many temples and the majority of Shinto shrines in Kyoto do not charge an admission fee.
Some large temple complexes such as Daitokuji and Myoshinji may charge admission fees to enter their sub-temples, their gardens and Treasure Houses, but just wandering the general grounds is free.
Here's a list of shrines and temples in Kyoto you can visit on the cheap or for free.
As with visiting any shrines or temple in an increasingly-crowded Kyoto, our advice is to visit early and avoid weekends and Japanese public holidays.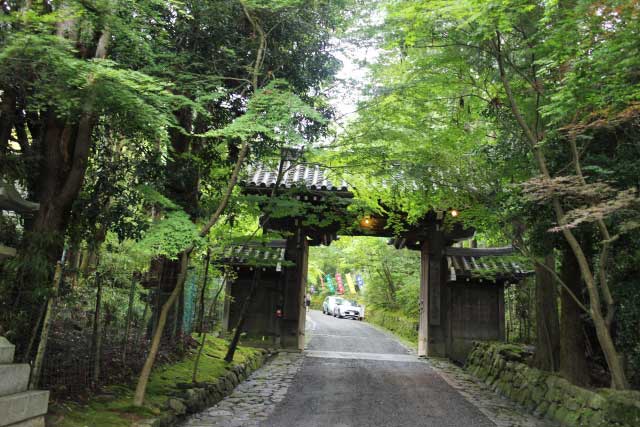 Sekizanzenin Temple entrance gate

1. Sekizanzenin
Sekizanzenin Temple is one of our favorite temples in Kyoto, set in a beautiful location at the foot of Mt.Hiei in the northern Higashiyama hills and very close to Shugakuin Rikyu. Well worth a visit at any time of year, Sekizanzenin is particularly beautiful in the fall for its spectacular maple leaves on the approach road to the temple and within the spacious temple grounds themselves.Read more about Sekizanzenin.
2. Honenin Temple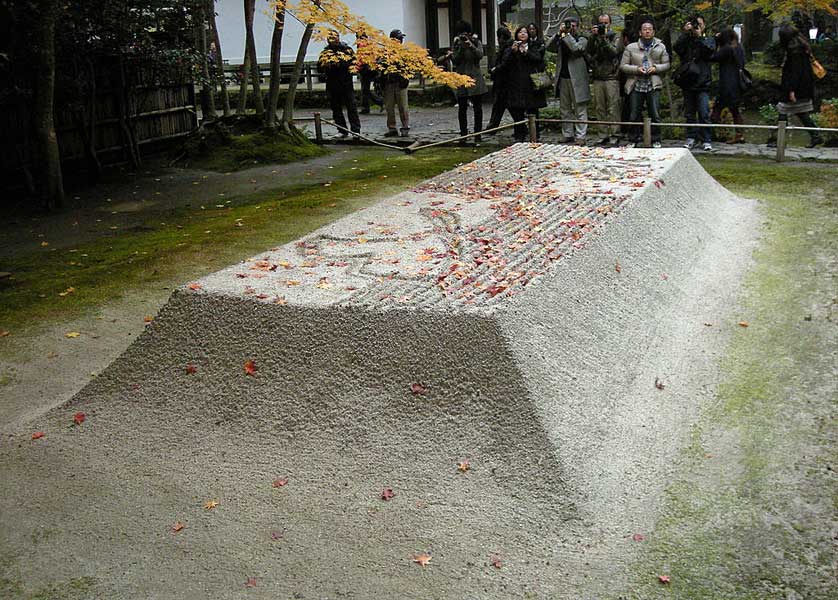 Honen-in Temple sand sculpture, Higashiyama, Kyoto
Honen-in Temple in the southern Higashiyama district of eastern Kyoto is another gem, which is also free to enter with a small fee to see the Main Hall. Established in 1680 to honor Honen (1133-1212), the founder of the Jodo sect of Japanese Buddhism, the temple is especially worth visiting in April for its cherry blossoms and again in the fall for its magnificent maples. Honen-in also has a small camellia garden visible from Hojo Hall.Read more about Honen-in Temple
3. Myoshinji Temple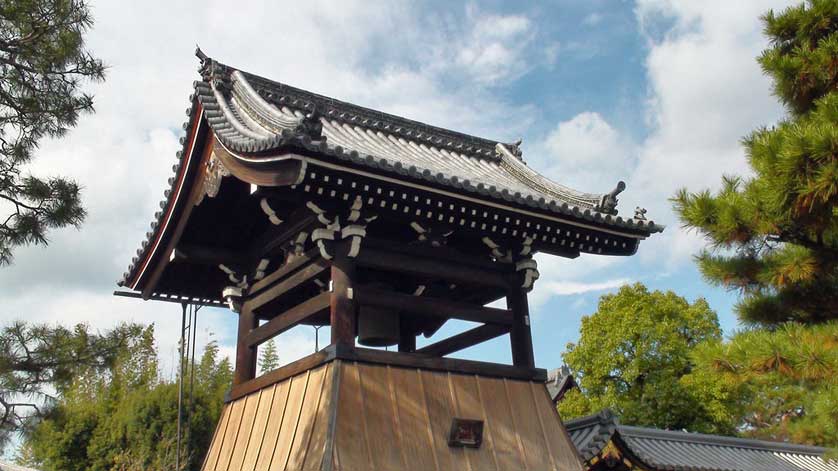 Myoshinji Temple Bell Tower, Kyoto
Although there are admission fees to visit various gardens and sub-temples at Myoshinji, the main temple precincts are free to wander and well-worth doing so to admire its monumental architecture. Headquarters of the Myoshinji school of the Rinzai sect, Myoshinji is a vast, imposing Zen temple complex south of Ryoanji Temple consisting of over forty sub-temples including the beautiful gardens of Taizo-in and Kano school paintings at Reiun-in executed by Motonobu Kano (1476-1559).Read more about Myoshinji Temple
4. Kitano Tenmangu Shrine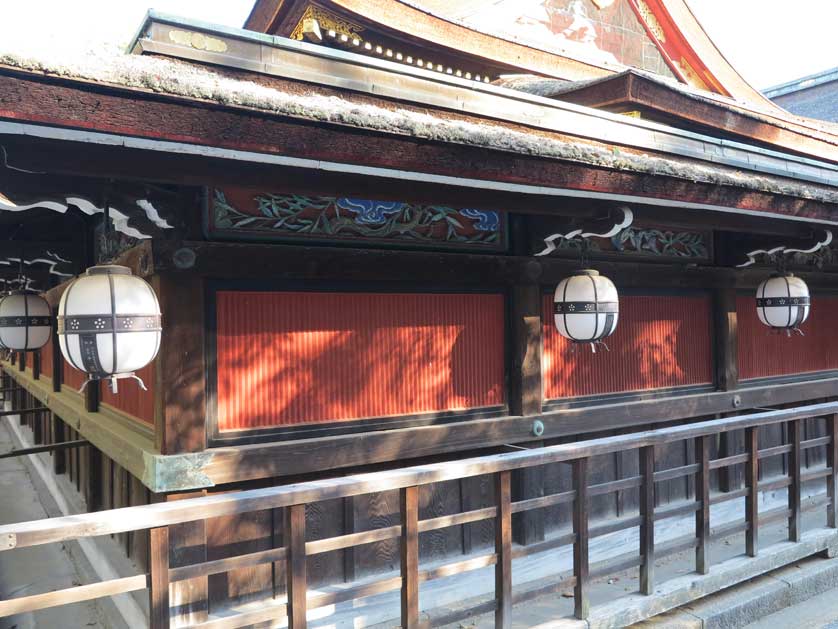 Kitano Tenmangu Shrine, Kyoto, Japan
Kitano Tenmangu, established in the tenth century, is dedicated to Tenjin (Sugawara no Michizane), the patron saint of students, who flock here from all over the country to pray for success in examinations, especially high school and university entrance exams. Most parts of the large shrine grounds are free to enter and make for a relaxing and interesting stroll. The shrine is also a must-see if you are in Kyoto on the 25th of the month when a huge flea market (known as Tenjin-san to the locals) takes over the grounds of the shrine. Stalls sell a vast array of things including antiques, ethnic goods from India, Thailand and Nepal, silver jewelry, tansu, kimono fabrics, plants, foodstuffs and plants. Kitano Tenmangu is also famous for its plum blossoms which can be seen in their full glory usually in February or early March. There are an estimated 2,000 plum trees on the grounds of Kitano Tenmangu and the plum motif can be seen on the lanterns and tiles of the shrine. The plums from the trees are harvested, dried, pickled and sold at the shrine.Read more about Kitano Tenmangu
5. Hirano Shrine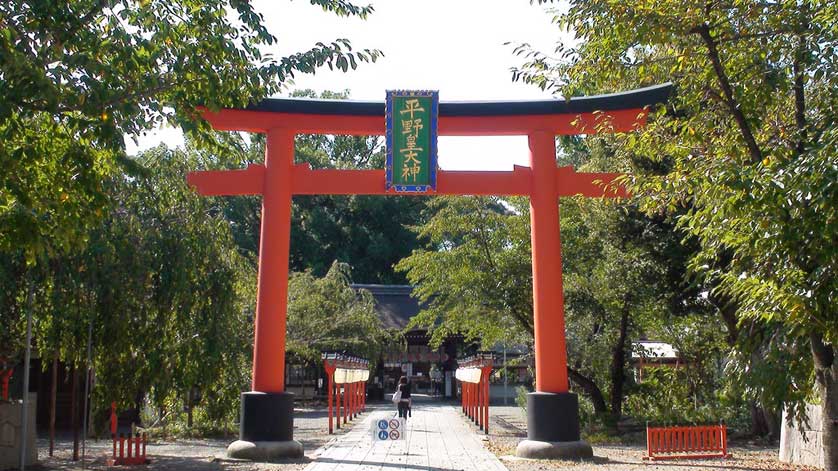 Shrine Torii, Hirano Jinja, Kyoto
Hirano Shrine is worth visiting in conjunction with Kitano Tenmangu as it is such a short walk away. Hirano Shrine is particularly famous for its cherry blossoms but is a pleasant space in all seasons. Hirano Shrine was established in the year 794 when the capital was transferred to Heian-kyo (the ancient name for Kyoto) from Nagaoka-kyo. The shrine has long enjoyed a relationship with Japan's Imperial Household and royal family.Read more about Hirano Shrine
6. Daikakuji Temple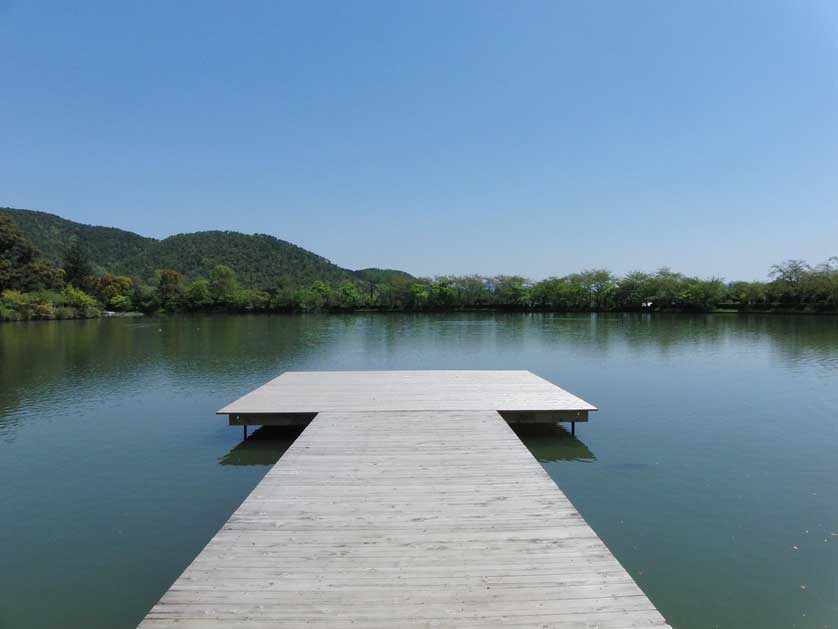 Daikakuji Temple Lake, Kyoto
Daikakuji Temple is not the easiest temple to access by public transport being a little way out of the center of Kyoto in the north west of the city, north of Arashiyama. However, Daikakuji's spacious lawns and lake are a great place to relax and maybe have a picnic. Daikakuji was originally an Imperial villa or "Detached Palace" of the Emperor Saga, later becoming a temple in the ninth century as the Emperor wished to show his dedication to the Shingon sect of Buddhism and its founder Kukai (Kobo Daishi). The present buildings at Daikakuji Temple date from the 16th century onwards.Read more about Daikakuji Temple
7. Yasaka Shrine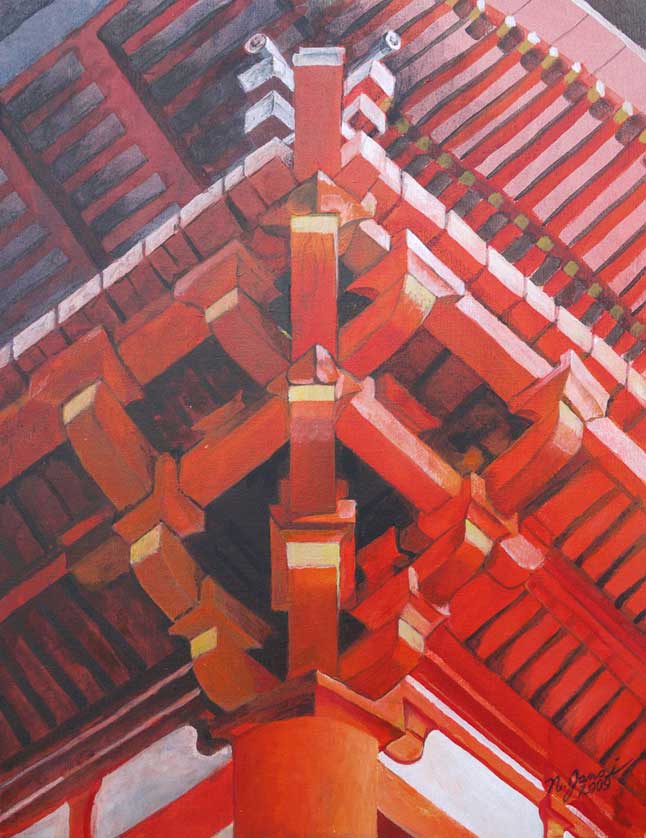 Yasaka Shrine, Gion, Kyoto
Close to Gion, the brightly painted Yasaka-jinja Shrine is one of the city's best known and most popular landmarks, especially the two-story vermilion entrance gate at the end of Shijo-dori Avenue. Inside Yasaka Shrine is a pleasant garden - a popular spot for hanami cherry-viewing parties in spring, along with nearby Maruyama Koen park. Shijo-Kawaramachi station, at the center of Kyoto, is also a short walk away. Yasaka-jinja is the host shrine of Kyoto's biggest festival, the Gion Matsuri in July. The annual Gion Matsuri procession begins from Yasaka Shrine on July 17. Also, at New Year, Yasaka Shrine attracts literally millions of worshipers for hatsu-mode - the first shrine visit of the new year - known as okera mairi at Yasaka Shrine, when worshipers seek to take home a flame from the sacred fire to cook the first meal of the new year. Yasaka Shrine is pleasant to stroll day or night. At night the lanterns at the shrine are illuminated to magical effect.Read more about Yasaka Shrine
8. Ninnaji Temple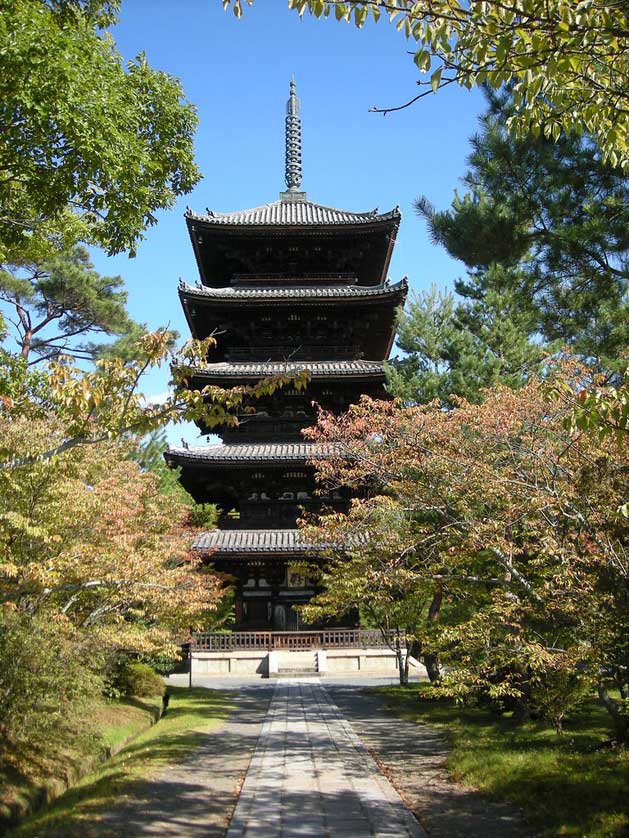 Ninnaji Temple, north west Kyoto, Japan
Ninnaji Temple does have an admission fee for its UNESCO World Heritage Listed Goten Palace but the grounds of this large temple complex are free to enter except in the spring cherry blossom season, when an entrance fee is necessary. As well as walking around the temple precincts, which contain a number of impressive gates, a pagoda and other buildings dating back to the Edo Period, visitors can also hike the Hachi-ju Haka-sho (88 Temple Pilgrimage), a 3km walk around mini-temples based on the more famous 88 Temple Pilgrimage in Shikoku.Read more about Ninnaji Temple
9. Kamigamo Shrine
Priests' houses and the sacred stream Nara-no-ogawa, Kamigamo Shrine, Kyoto
Kamigamo Shrine, in the north of Kyoto, just to the east of the Kamo River, is an oasis of peace and has a lovely grassy area where it is perfect to sit and relax. Kamigamo Jinja lies up against the northern hills, in a quiet residential area of Kyoto, and is therefore often less-crowded than shrines in the city centre, though no less impressive. The shrine is a designated UNESCO World Heritage site, and most of the shrine buildings are classified as Important Cultural Properties. Established in the 7th century, a hundred years before Kyoto was founded, Kamigamo Shrine is nevertheless about one hundred years younger than its sister shrine, Shimogamo Jinja. In fact Kamigamo and Shimogamo are the upper and lower halves of the same shrine. A pleasant walk 10 minutes or less, east of here along the road lined by a small stream and a number of priests' houses brings you to the small but charming Ota Shrine, famous for its irises.
Read more about Kamigamo Shrine
10. Kurodani Temple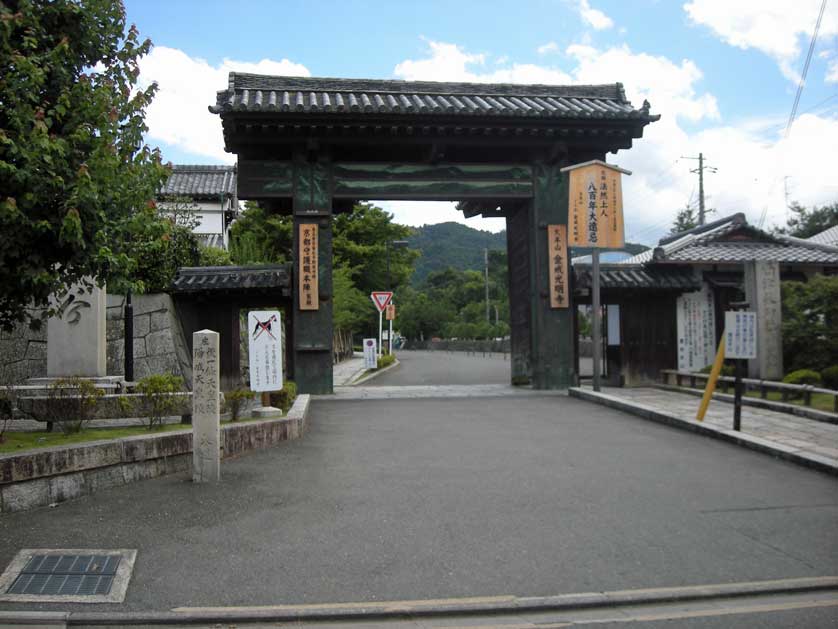 Kurodani Temple Gate, Kyoto, Japan
A short walk south from Shinnyodo Temple (whose grounds are also free to enter), Kurodani Temple (Konkai-komyoji 金戒光明寺) is a large Jodo-sect temple complex with some impressively large gates and halls.Constructed in 1175, the main hall contains a statue of the founder Honen. Damaged by fire on numerous occasions, the Buddha Hall was rebuilt by Hideyoshi Toyotomi in 1605.
Another treasure is an image of Monju Bosatsu, believed to be by the noted Kamakura Era sculptor Unkei (1151-1223).The historic cemetery to east contains the graves of Aizu clan warriors, who were stationed on the temple grounds during the final days of the Edo Period, and later killed at the Battle of Fushimi-Toba. From the cemetery there are views over the city below. If you arrive around sunset, chanting can often be heard in the hall to the east of the main hall. This area of eastern Kyoto around Yoshidayama is difficult to access by car or tour bus and is therefore particularly peaceful, especially just before sunset.Read more about Kurodani Temple
Related Japan Articles
Tokyo Top Ten Temples & ShrinesKyoto Top Ten Temples & Shrines
Kyoto Top Ten Quirky Temples & Shrines
Book Hotel Accommodation in Kyoto
All the themes of the city