Yoshiminedera Temple
Yoshiminedera is a Tendai sect temple located in the mountains south west of central known for its superb autumn leaves and historic, elongated pine tree.
Yoshiminedera Temple 善峯寺
Yoshiminedera is a Tendai sect temple located in the mountains south west of central Kyoto.
Yoshiminedera Temple is worth visiting for its spectacular autumn colors and its undoubted peace and serenity. The temple is the 20th of the 33 Kannon Pilgrimage of western Japan.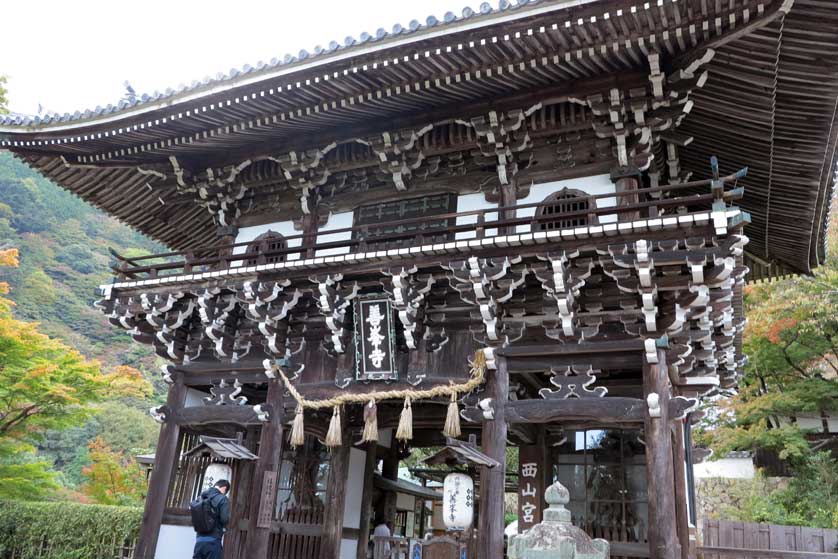 The imposing Sanmon Gate, Yoshiminedera Temple, Kyoto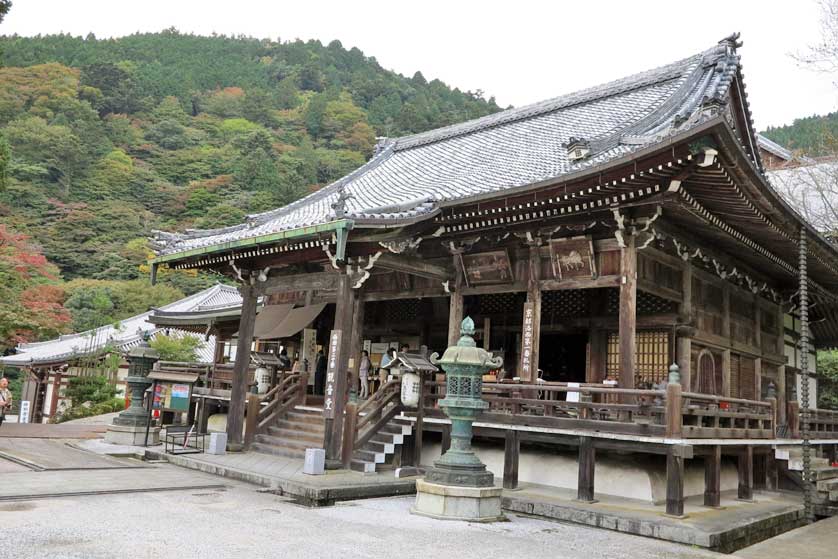 Main Hall, Yoshiminedera Temple, Kyoto

History of Yoshiminedera
Yoshiminedera was founded in this remote location as a retreat by the scholar priest Gensan, a disciple of Eshin in 1029.
Gensan had previously studied at Enryakuji on Mt. Hiei before moving to Yoshiminedera. Gensan is said to be the sculptor of an Eleven-headed statue of Kannon at the temple.
Soon after its establishment, Yoshiminedera was favored with imperial rank by Emperor Go-Ichijo in 1034. In 1042, Emperor Go-Suzaku gave the temple a thousand-armed Kannon which is now the temple's most important image. Favored with imperial patronage, Yoshiminedera expanded with many halls built up the hillside in a similar style to Kiyomizudera in the opposite, eastern hills of the city.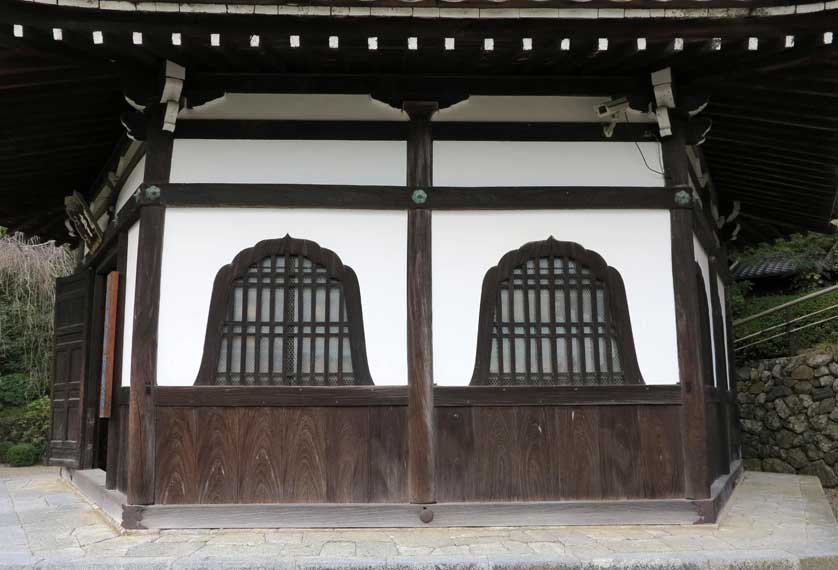 Yoshiminedera Temple is located in south west Kyoto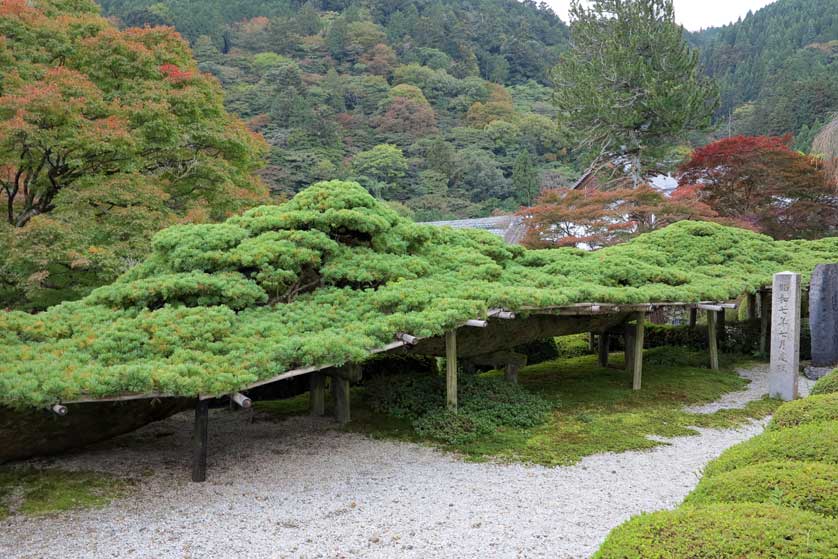 600-year-old White Pine Tree, Yoshiminedera Temple, Kyoto
However, like many other temples in Kyoto, Yoshiminedera was destroyed in the Onin War in 1467. The temple was to remain in ruins for two centuries until the Edo Period, when Keishoin, the mother of the fifth Tokugawa shogun sponsored its rebuilding. Thus, many of the present temple buildings date from this time - the end of the 17th century.
The Sanmon entrance gate dates from 1692 and contains an image of a Bodhisattva flanked by two Deva kings. The Kannon-do also dates from 1692 and contains the thousand-armed Kannon donated by Emperor Go-Suzaku and the Eleven-headed statue of Kannon by Gensan. Next door is the Monju-do or Treasure House which exhibits the temple's historical works of art.
The Bell Tower (Tsurigane-do) is from 1685 and is rung 108 times on New Year's Eve.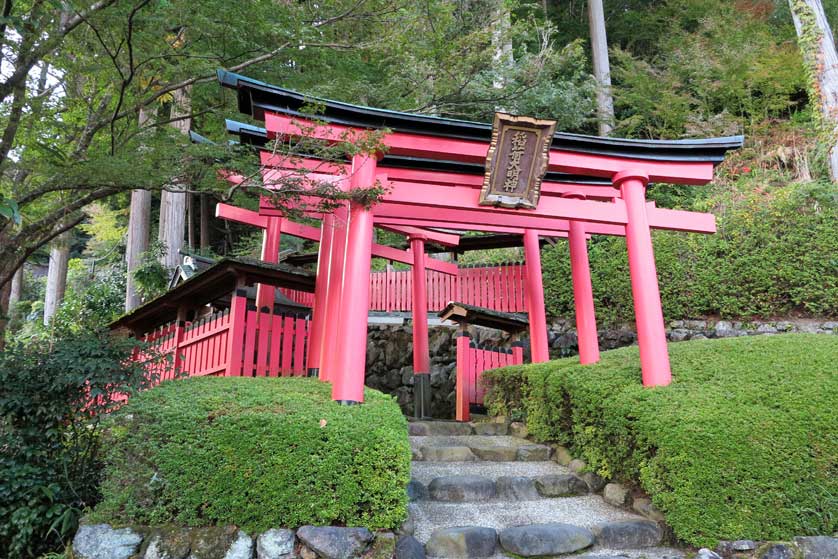 Shrine torii, Yoshiminedera Temple, Kyoto
Other buildings of note include the Kyo-do (Sutra Hall), the Goma-do (Fire Ritual Hall), the Kaizan-do (Founder's Hall) and a mausoleum for Keishoin, who died in 1705. Her hair is preserved here. The Shaka-do (Buddha Hall) contains another image by Gensan, this time in stone of the historical Buddha.
A medicinal bath (Yaku-to-do) is close to the Shaka-do where visitors can bathe between 8 am-3 pm on the second Sunday in May and October.
Yoshiminedera is also known for its ancient trees including a 600-year-old white pine tree said to have the longest branch in Japan supported on a bamboo trellis. Close by is a Japanese maple tree out of which sprouts a cherry tree. Both trees are believed to be over 300 years old.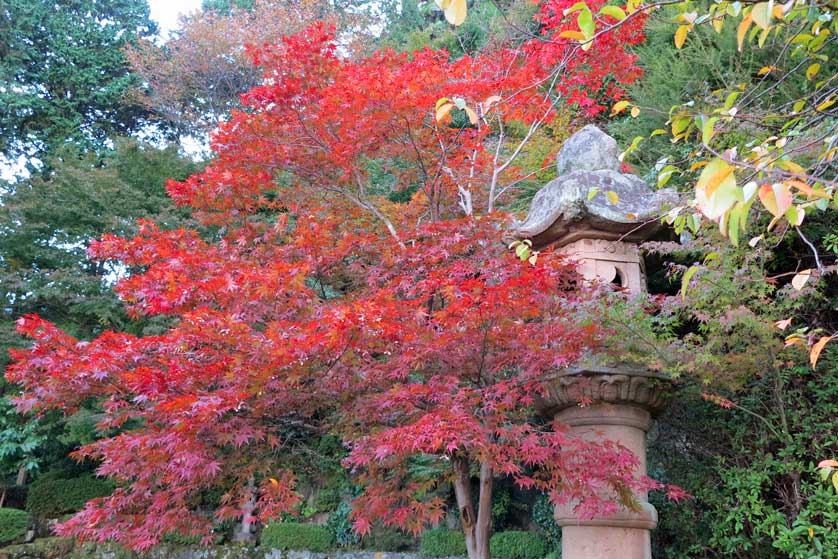 Autumn Leaves, Yoshiminedera, Higashiyama, Kyoto
Yoshiminedera (yoshiminedera.com)1372 Oharano, Oshio-choNishikyo-kuKyoto 610-1133Tel: 075 331 0020
Hours: Open 8 am to 5 pmAdmission: 500 yen.
Yoshiminedera Access - How to get to Yoshiminedera
From Kyoto Station take a JR Kyoto Line train to Mukomachi Station (180 yen, 7 minutes) or a Hankyu Line train from Shijo Kawaramachi Station, Shijo Karasuma or Shijo Omiya to Higashi-muko Station (20 minutes, 220 yen). From either station take the #66 bus to Yoshiminedera which takes 30 minutes and costs 350 yen. If you miss the last bus it is a two hour walk back to the station or call a taxi. The bus runs later on weekends and public holidays.
It is also possible to hike here from Arashiyama and there is a sign-posted trail.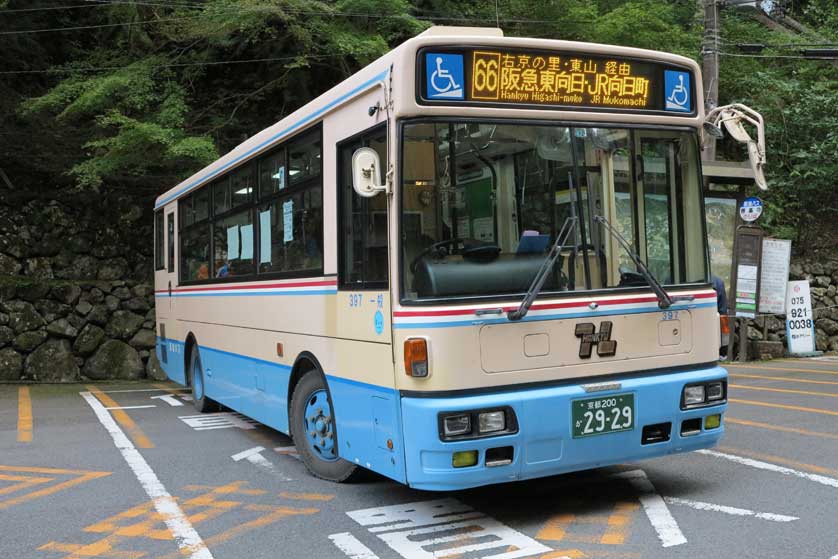 Hankyu Bus, Yoshiminedera Temple, Kyoto

Jurinji Temple
About 1 km down the road towards Higashi-muko is Jurinji (十輪寺) aka Narihiradera after the Heian Period poet Narihira, who supposedly spent some of his time making salt from boiling salt water. His passion for his lover Nijo no Kisaki and his fondness for boiling sea water is combined in a festival on November 23 when sea water is boiled and participants running their hands through the steam are supposed to enjoy a long and happy relationship with their partner/lover. An 800 year old camphor tree, one of the oldest trees in Japan, stands in the grounds.
JurinjiTel: 075 331 0154Hours: 9 am-5 pmAdmission: 500 yen
Yoshiminedera, Kyoto, Japan

Yoshiminedera Video
Book Hotel Accommodation in Kyoto Near Yoshiminedera
All the themes of the city