Hanamaki
花巻市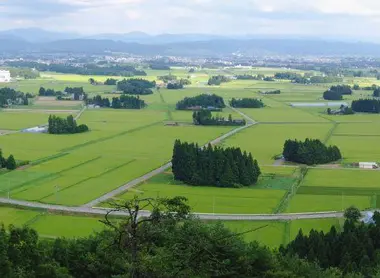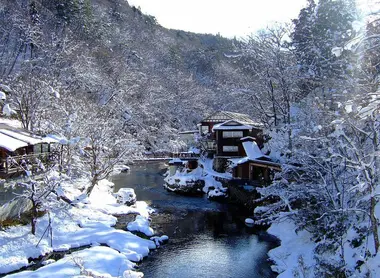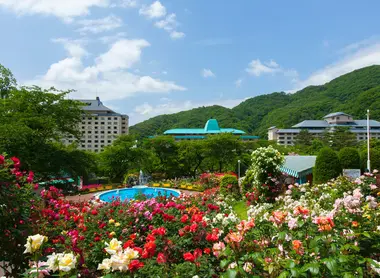 La plus belle ville thermale du Tohoku
Découvrez avec nous la beauté de Hanamaki, une ville chargée d'Histoire et une perle de la préfecture d'Iwate. Nichée dans les montagnes, cette ville est aujourd'hui populaire pour ces onsen, des sources chaudes naturelles à origines volcaniques.
Hanamaki Onsen Village
The region Hanamaki is located in is known for its "onsen" hot springs. These volcanic springs are excellent places of relaxation for the Japanese and we recommend that you don't miss out on this experience during your stay in Japan. Within the mountains of Tohoku, there are 12 different thermal springs in Hanamaki village.
In Hanamaki, you'll find original onsen such as outdoor baths made from rocks and Japanese cypress, as well as a rose bath just for women. The undisputed highlight of the town is its rotenburo, open air baths where you can bathe while admiring the countryside surrounding you. Between the mountains is the Toyosawa river, the view lends itself to relaxation.
There's nothing better than spending a night in a traditional ryokan in Hanamaki to discover and appreciate Iwate's charms. Hanamaki's onsen offer customers the chance to spend a night with them and enjoy traditional regional dishes. Don't miss the opportunity to try speciality dishes from the Iwate prefecture. In Hanamaki, discover wankosoba, buckwheat noodles, or the Manbu Toji sake brewery. 
Iwate's natural treasures
Enjoy the incredible nature surrounding Hanamaki with Mount Hayachine and Kamabuchi waterfall. 
Mount Hayachine is the highest peak in the Kitakami mountain range and is referenced in the famous book "100 Famous Japanese Mountains" by Fukada Kyuya. People go to Hayachine to enjoy its rare alpine flowers, with plants endemic to the region, as well as its beautiful autumn colours. The area around the mountain was classified as a Quasi-National Park in 1982.
Kamabuchi Falls is named after the shape of the rock which the water flows from, a stone 8.5m high and 30m wide that looks like a pot of spilled rice. We recommend taking a walk to it from the end of June to mid-July, the area around the waterfall is illuminated by thousands of fireflies. This waterfall is famous in the region for appearing in a well-known children's story "Daigawa" by Kenji Miyazawa.
Miyazawa Kenji Memorial Museum
The iconic character of Hanamaki is the writer Kenji Miyazawa. For Japanese literature enthusiasts, you'll find exhibitions tracing his life and works in the Miyazawa Kenji Memorial Museum. Books, CDs and videos of his work are freely available. The museum also organises conferences and workshops about the author as well as concerts.
Address: 1 Chiwari-1-36 Yasawa, Hanamaki, Iwate 025-0011
Opening times: 08:30-17:00 (last admission at 16:30)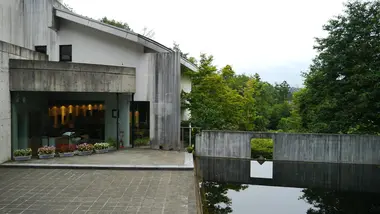 Kenji Miyazawa has written some beautiful tales, and Hanamaki brings them to life at Kenji Miyazawa Dowa Mura, a stone's throws away from the museum. The Dowa Mura village has lots of indoor and outdoor attractions, inspired by Miyazawa's fairy tales. You can enjoy it both visually and with audio and video content. You're guaranteed to be immersed in the fairy tale world of children's stories!
Things to do in Hanamaki and its surrounding area
The 1920s train, SL Ginga.
Running between Hanamaki and Kamaishi, the SL Ginga steam train is a reconstruction of the trains from the Taisho era (1912-1926). This aesthetic is reproduced both inside and outside the train.
What makes a trip in this unique train is the small planetarium, in tribute to Kenji Miyazawa's work "Night Train in the Milky Way". This steam train operates from the end of April to the end of September. The journey lasts one hour and twenty minutes and is covered by the Japan Rail Pass.
The city of Tono
Around an hour's train journey from Hanamaki, immerse yourself in Japanese folklore in the town of Tono. Tono is in fact best known for its legends and tales with spirits, animals and supernatural creatures. 
Local stories were collected during the Meiji era (1868-1912) by Yanagita Kunio, in a book entitled "Legends of Tono". Published in 1910, it's one of the first collections of Japanese folk tales.
The village of Tono is the birthplace of one of the most famous Japanese legends, the kappa. These creatures are mystical spirits who resemble humanoid turtles and who live around rivers, lakes and ponds. Legend says that they kidnap and eat children who venture near them, and serve to remind little ones of the danger of water.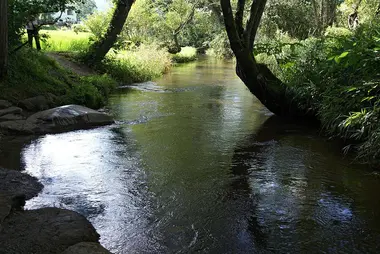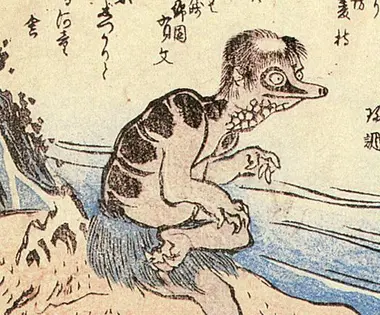 All the themes of the city