Fushimi Nagoya Guide
Nagoya Area Guides: Fushimi, Nagoya 伏見, 名古屋
Traveling west on Hirokoji Dori from the entertainment and shopping area of Sakae in Nagoya towards Nagoya Station, is the commercial area of the city, Fushimi.
As the department stores and brand shops give way to banks, financial institutions and insurance companies and salarymen in identikit black suits begin to predominate over Japanese girls in mini-skirts, you will know you have arrived in Fushimi.
As well as its banks and hotels, Fushimi has a good collection of museums including the Bank of Tokyo-Mitsubishi Money Museum (now re-located to near Amagasaka Station on the Meitetsu-Seto Line), the Electricity Museum and in Shirakawa Park, south of Fushimi subway station, the Nagoya City Science Museum and Nagoya City Art Museum.
Being virtually equidistant from both Nagoya Station and Sakae, Fushimi is easily reached on foot from either, though the walk from Sakae is the more pleasant.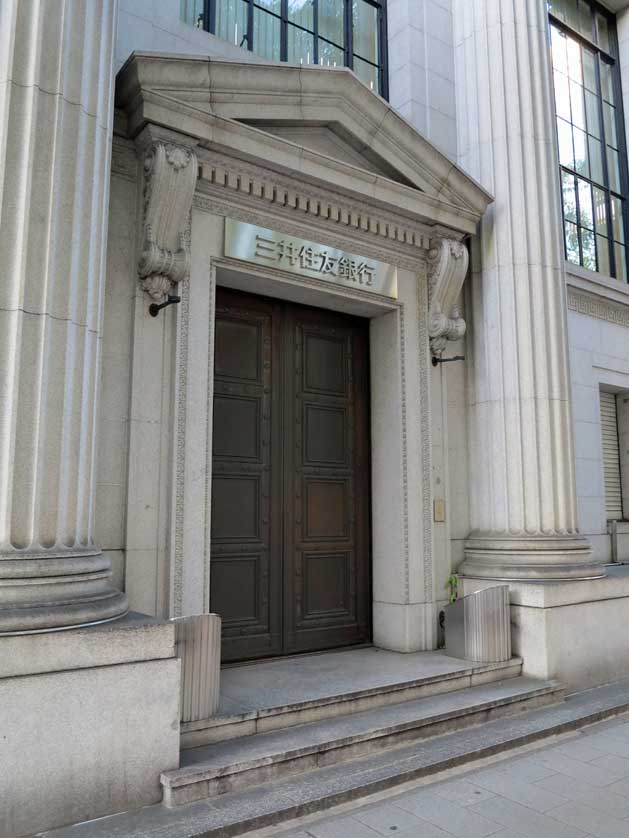 Mitsui-Sumitomo Bank Building in Fushimi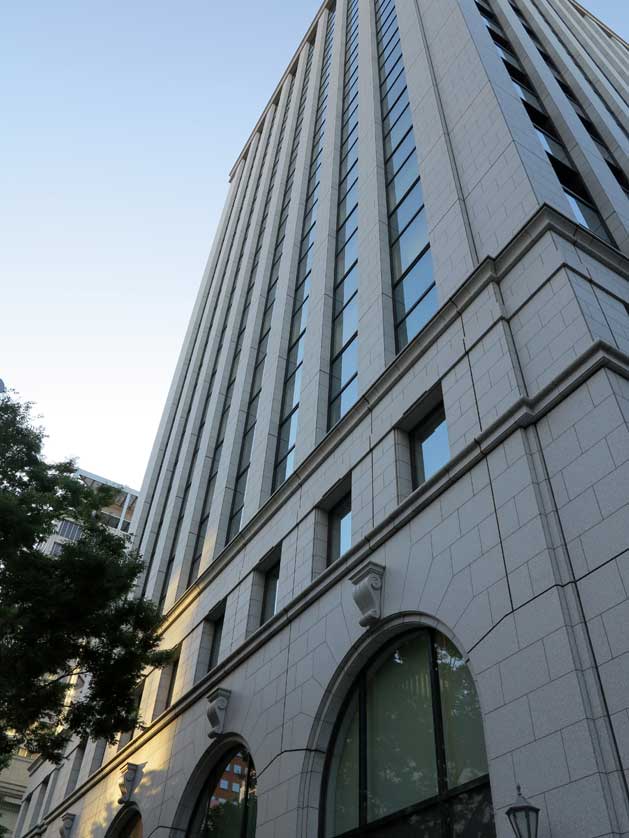 Office Building in Fushimi, Nagoya
Fushimi Attractions
Fushimi has a more serious and cerebal feel to it than nearby Sakae though there are some excellent bars, clubs and restaurants situated to the west of Fushimi Station, as well as near the Hilton Hotel and the Misonoza Theater. Some recommended places include the Elephant's Nest English style pub, the more genteel and expensive Egeresuya - which has an interesting brick basement to go with waiter served fish and chips and draft Guinness, the basement Shamrock Irish Pub right next door and Chochin, a nearby izakaya with full English menu. South of Fushimi Station is the long-standing American-owned sports bar, Shooters, a Nagoya institution among the foreign community. Just north west of the park outside the north entrance to the Kanko Hotel is a branch of the popular French-style cafe, Tiger Cafe, for excellent coffee, cake, sandwiches, light meals plus a selection of wines and beers.
Fushimi's main official institutions include the Nagoya Chamber of Commerce & Industry (Tel: 052 223 5627) next door to the Nagoya Convention & Visitors Bureau both north of Shirayama Park. Also in Fushimi is the Bank of Tokyo Mitsubishi Nagoya Head Office and the Bank of Nagoya Head Office. Close to Marunouchi Station is a branch of the Bank of Japan.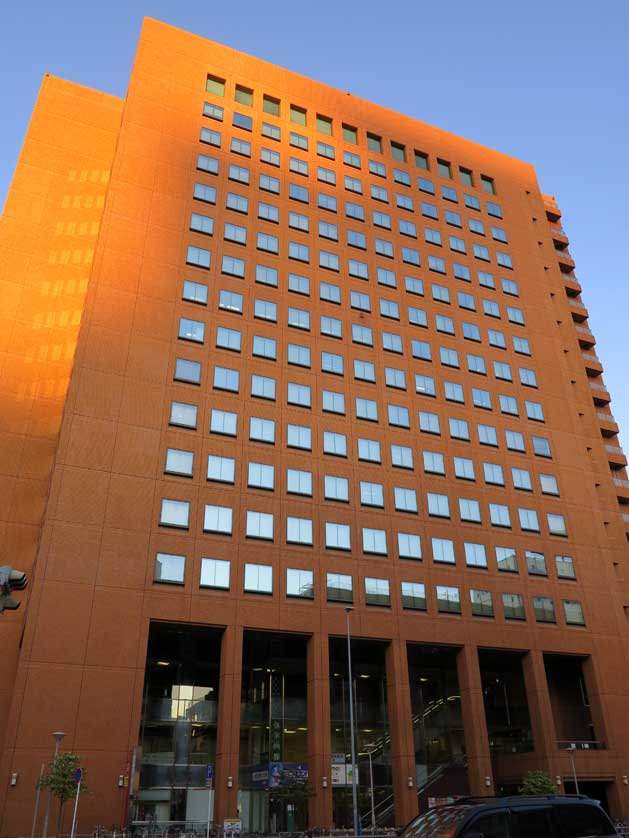 Fushimi is an area of banks, theaters and museums in Nagoya
There has been a theater on the site of Misonoza (Tel: 052-0 222 8222) since the 1800s and the huge theater with over 1600 seats stages kabuki (in February & October) and occasionally western productions. The Misonoza is to be demolished and completely rebuilt to try and reverse a decline in interest. Close by is the 990-seat Shin Nagoya Musical Theater (Tel: 052 220 7711), which has put on performances of such famous musicals as Jesus Christ Superstar, West Side Story, Evita, Cats, Lion King, Mamma Mia and Emperor's New Clothes.
The area around the Nayabashi Bridge and the rather murky Horikawa River, which it spans, gets slightly seedier and is the location of Nagoya's small gay bar area north of the Thai restaurant Siam Garden, housed in the old Kato Shokai Building and a number of love hotels to the south near the Dormy Inn Nagoya and Komokiya Ryokan.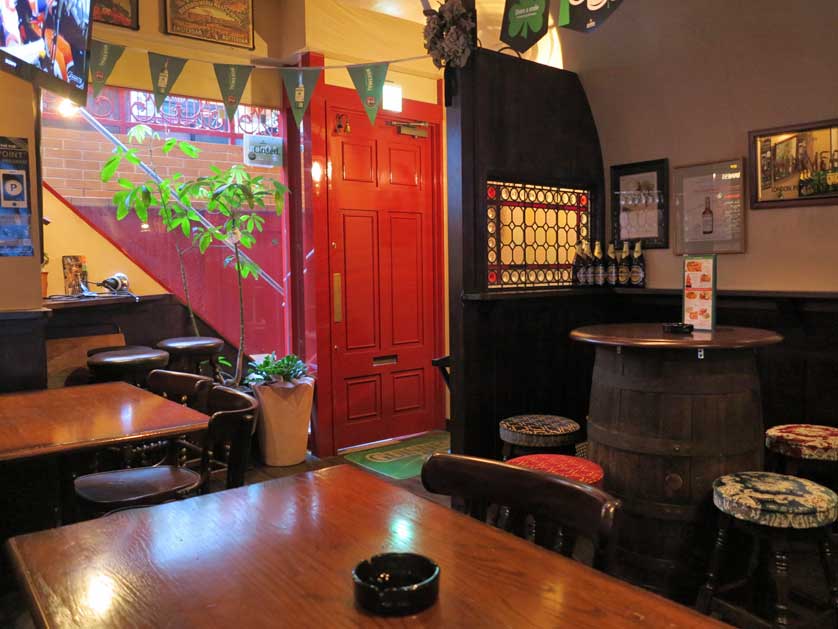 Shamrock Irish Pub, Fushimi, Nagoya
Fushimi Transport - Getting to Fushimi
Fushimi is on both the Tsurumai and Higashiyama Line of the Nagoya subway system and is only one stop from Nagoya Station. The Nagoya Sightseeing Bus Meguru also passes through Fushimi (stopping at Hirokoji-Fushimi, outside the Electricity Museum) along with a large number of buses from Sakae going down Hirokoji.
The Meguru Loop bus stops outside the main entrance to Nagoya Castle on a circuit that includes Nagoya Station, Noritake Garden, the TV Tower in Sakae and Hirokoji Dori from Sakae to Fushimi. The Meguru Loop bus fare is 500 yen for a one-day pass or 210 yen for a single fare.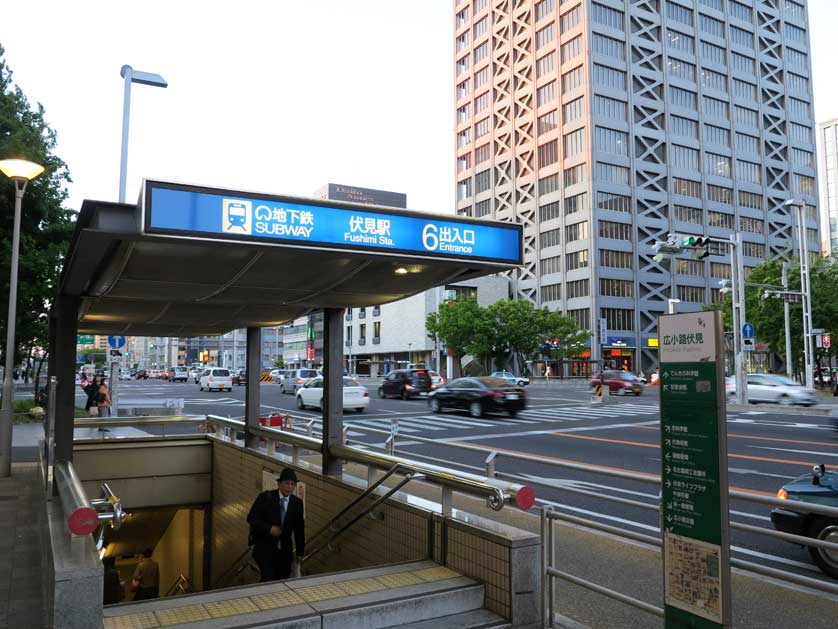 Fushimi Subway Station Entrance, Nagoya
The Meguru Loop Bus in an easy to understand bus for foreign visitors to Nagoya
Fushimi's Hotels
The Hilton Nagoya, is one of the city's premier hotels. The Hilton Hotel's Genji Restaurant is particularly renowned for its superb sushi and tempura dishes and desserts made from cherry blossom. The Hilton Hotel attracts many foreigners and has English-speaking staff on the lobby and employed in its cafes and restaurants.
The Nagoya Kanko Hotel is a deluxe five-star hotel and the most historic accommodation in town, dating from 1936.
More business style hotels in Fushimi include the landmark Hamilton Hotel Black, Nagoya Rich Hotel Nishiki (formerly Green Hotel), Fushimi Montblanc Hotel and the 3-star Nagoya Grace Inn with complimentary breakfast.
The Nagoya Crown Hotel (Tel: 052 211 6633) close to the Hilton has its own onsen which you can visit for a separate fee (with or without lunch) during the day.
Fushimi Nagoya Map
Related Nagoya Resources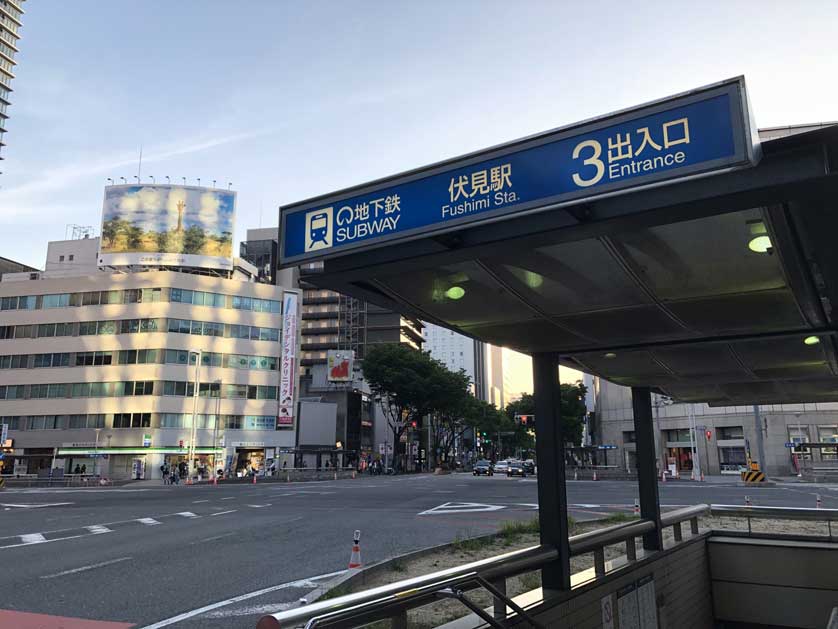 Fushimi Subway Station Entrance, Nagoya
Fushimi Nagoya: read a guide to Fushimi, Nagoya's financial, museum and theater district, close to Sakae and Nagoya Station.
All the themes of the city