Seto Guide
Seto 瀬戸市
Seto city, in Aichi Prefecture, is located about 20km north east of Nagoya.
Seto, like Tokoname, south of Nagoya, has a long history of ceramics production and Seto is one of Japan's six most important ancient kiln towns - the others are Bizen, Echizen, Tokoname, Shigaraki and Tanba.
Seto's defining association with ceramics is such that a generic name for pottery in Japanese is setomono (瀬戸物 "setoware").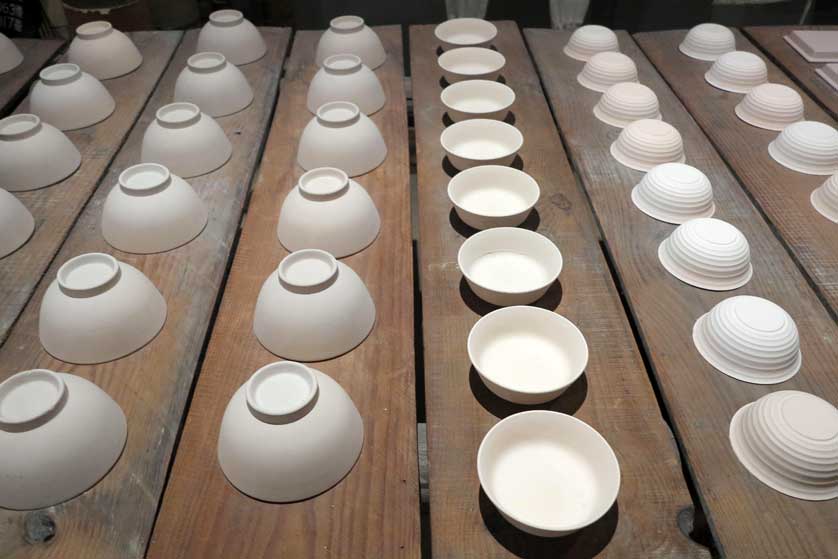 Seto-gura Museum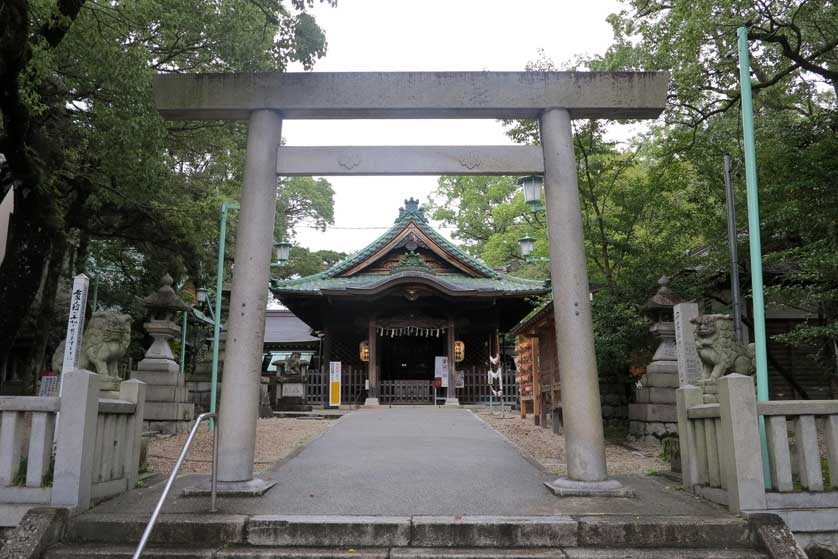 Fukagawa Shrine, Seto city, Aichi Prefecture
History of Ceramics in Seto
Seto city is one of Japan's most historic centers of pottery-making and ceramics, with production going back to at least the 10th century and even before in the nearby hills of Sanage.
Japan's first glazed ware (koseto) - originally made for Buddhist artifacts - was also produced in Seto in the latter half of the 10th century.
Toshiro Kato
The history of ceramics production in Seto really took off in the 13th century during the Kamakura Period, when local craftsman Toshiro Kato established his kiln in the town.
Legend has it that he crossed over to China in 1223 with the monk Dogen and studied the art of porcelain there, before returning to Japan to search for a source of clay. He found none better than in Seto and established his business here, also making porcelain known as Toshiro-Karamonowith clay brought back from China. His ceramics, made from Seto clay, are known as Old Seto.
A pair of koma-inu (mythical lion-dogs) at Fukagawa Shrine are believed to be by Toshiro, and the adjacent Suehiko Shrine enshrines the spirit of the master potter. A modern monument made of china stands in Toso Park in memory of the man who really put Seto on the map.
Tamikichi Kato
Another important figure in the history of ceramics in Seto is the Edo Period potter, Tamikichi Kato, who brought back the secrets of advanced porcelain production from Arita in Kyushu.
Tamikichi Kato is enshrined at Kamagami Shrine in the north west of the city, and the shrine grounds have a bronze statue of the man. The concrete shrine building dates from 1964 and is unusual in being in the shape of a round kiln.
During the Edo Period, the pottery industry in Seto was encouraged with financial backing from the ruling Owari clan and the town's prosperity continued into the Meiji Period and the 20th century.
Seto's mass production of ceramics increased for both domestic and international consumption with new products, such as decorative items and industrial appliances, developed for the export market. These new commodities included toilet bowls, wash basins, insulators and novelty items.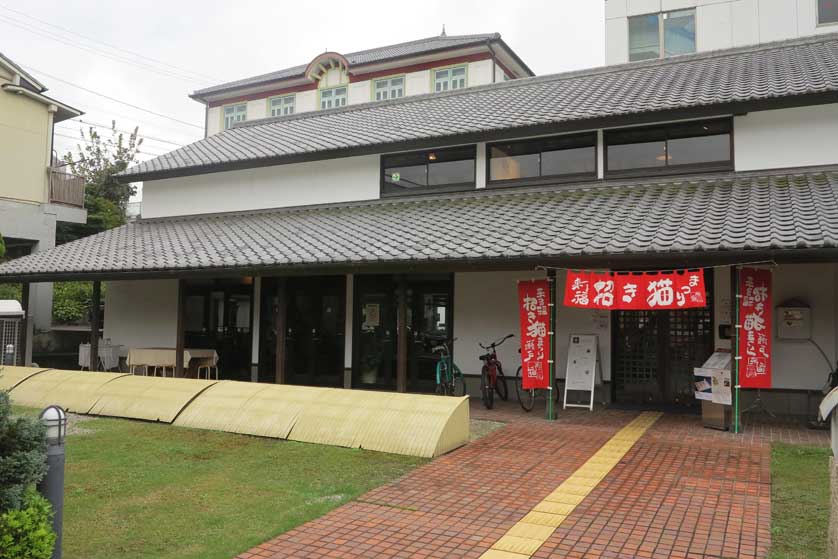 Seto Ceramics & Glass Art Center, Seto city, Aichi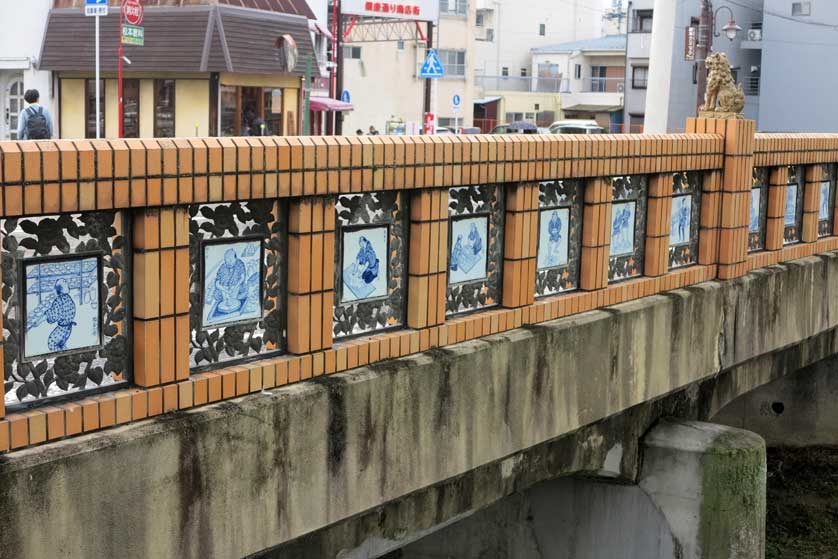 Miyamae Bridge, Seto city, Aichi
Seto Attractions
Seto has much to see on a day trip from nearby Nagoya during the day and is especially lively if you come durng one of the numerous ceramics festivals held throughout the year to promote the local industry. These include the Seto Toso Festival in April, the Setomono Festival and Maneki Neko Festival, both held in September, and the Seto Pottery Studio Fair and Market which takes place in November.
As you walk the town, look out for the various ceramic walls on the river bank and the ceramic decorations on the bridges that span the Seto River, namely Minami Bridge, Kinen Bridge, Koen Bridge, Miyamae Bridge, Miyaki Bridge and Azuma Bridge.
Seto Museums
As can be imagined, Seto has several museums dedicated to ceramics. Chief among these is the outstanding Seto-gura Museum, on the second floor of the Seto-gura complex - a shopping and entertainment center, just across the river from Owari-Seto Station. The Seto-gura Museum is dedicated to ceramics and pottery. from ancient pottery shards, rare pottery from the Heian Period to modern automation. Explanation is mainly in Japanese with some English, making the museum easily understandable for overseas visitors.
The Seto Ceramics & Glass Art Center is free to enter and has both permanent and temporary exhibitions of ceramics and glass art as well as a studio shop selling works by local and international artists.
The Seto City Art Museum has a permanent collection of ceramics and also hosts special exhibits of ceramics, paintings and other art.
The Maneki Neko Museum is more emporium than museum selling a vast range of traditional and more contemporary maneki neko beckoning cats.
The Seto Novelty Children's Creative Center and the Seto Municipal Center of Multimedia and Traditional Ceramics are both free museums where visitors can try their hand at various activities associated with making ceramics.
The Kamagaki-no-komichi Museum/Gallery is an historic house built in the early 20th century with a bathroom tiled with Hongyo tiles and a collection of Umanome (horse eye) plates.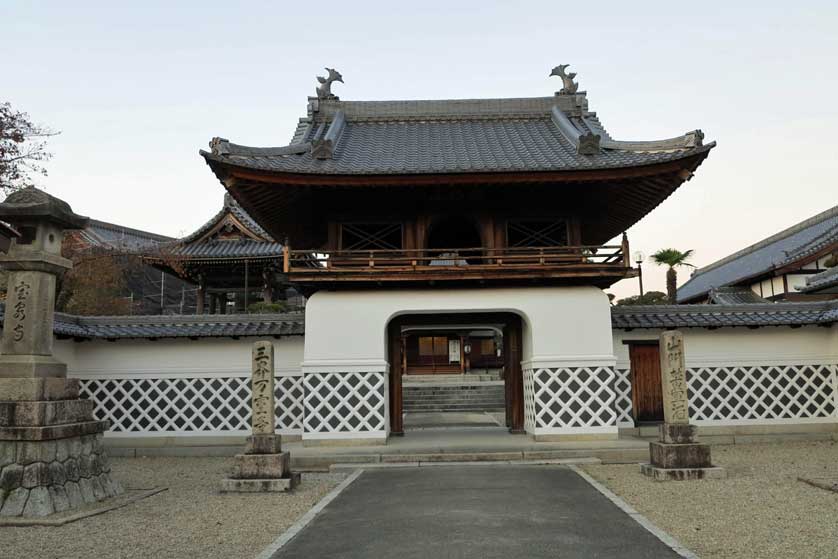 Hosenji Temple, Seto city, Aichi Prefecture
Seto Temples and Shrines
Besides the above mentioned Fukagawa and Suehiko shrines in the center of town, Hosenji Temple in the quiet Kamagaki district of the city is worth a visit for its lovely Sanmon entrance gate. This Zen temple is over 750 years old and can be visited along with the nearby Seto Hongyo Kiln and the walls of Kamagaki-no-komichi which are embedded with tools used when firing pottery.
Hounji Temple is famous for a large ceramic bell that was made to replace the metal one melted down for Japan's war effort during World War II.
The nearby Mufuuan is a thatched tea house and gallery, located in a small park on a hill.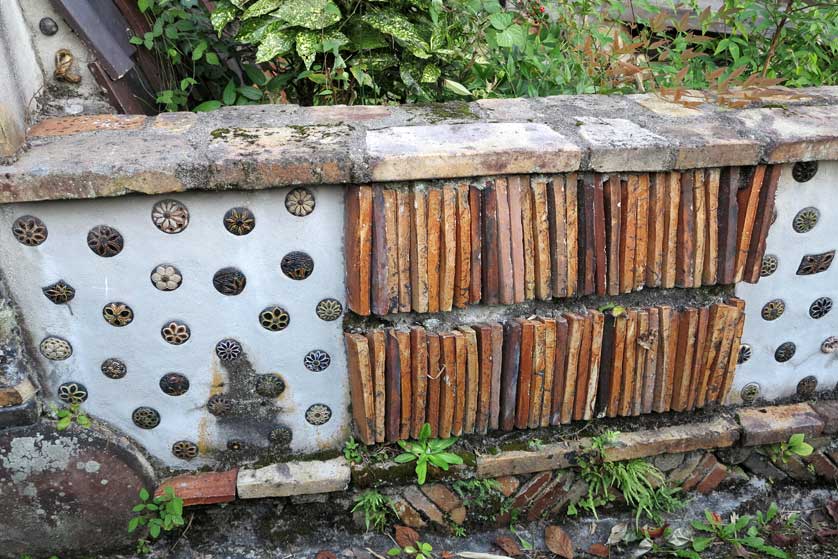 Kamagaki-no-komichi, Seto city, Aichi Prefecture
Accommodation
Seto is very quiet in the evening, and if you are looking to stay the night or eat out there are better options in Nagoya or nearby Toyota. However, if staying in Seto, the following hotels are recommended:
The Shinseto Station Hotel is a conventional hotel ideally located at Shinseto Station, with flat screen TV, kettle, airconditioning, bath/shower room and toilet in each room. Excellent Wi-Fi. Parking. Overall, good for the very reasonable price.
The Seto Park Hotel somewhat west is in a pleasant setting adjoining a temple, and offers up to quadruple rooms. About as budget as you'll get for proper, comfortable hotel facilities and services.
Access - how to get to Seto
The main station is Owari-Seto Station on the Meitetsu Seto Line from Sakae-machi in Sakae and Ozone stations.
Setoshi Station on the Aichi Loop Line north from Toyota connects with Shinseto Station, which is two stops east of Owari-Seto Station on the Meitetsu Seto Line.
The round, glass Parti Seto building, close to Owari-Seto Station has a small Tourist Information Office with maps and pamphlets in a variety of languages. The "Rakuchin" Information center is just south of Kinen Bridge and carries a number of local souvenirs as well as tourist information. Open 10.30 am-4 pm on weekdays; 10.30am-4.30pm on weekends and public holidays, closed on Tuesday; Tel 0561 84 1997.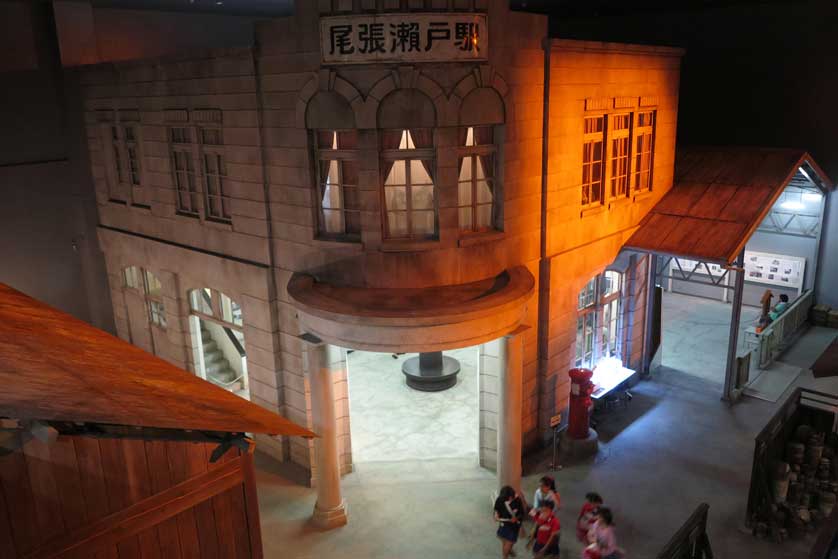 Replica of the original Owari-Seto Station, Seto-gura Museum
Seto, about 20km north east of Nagoya in Aichi Prefecture, is famous for its production of ceramics and has a number of interesting museums dedicated to the area's pottery industry.
All the themes of the city