Mount Omine
Mount Omine in Nara Prefecture are part of a UNESCO World Heritage Site. The Shugendo sect has used the mountain as a spiritual training ground for over 1000 years.
Japanese City Guides: Mount Omine & Asukamura: UNESCO World Heritage Site 大峰山
Mount Omine in Nara Prefecture has traditionally been considered a sacred mountain, used in particular by members of the Shugendo sect as a spiritual training ground. The mountain is part of the "Sacred Sites and Pilgrimage Routes in the Kii Mountain Range," which is a World Heritage Site.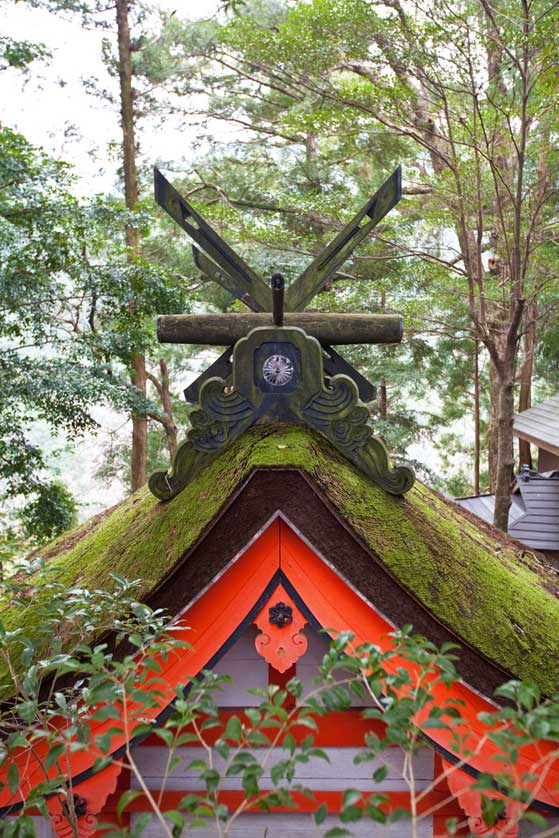 A moss-covered forest shrine in Kumano Kodo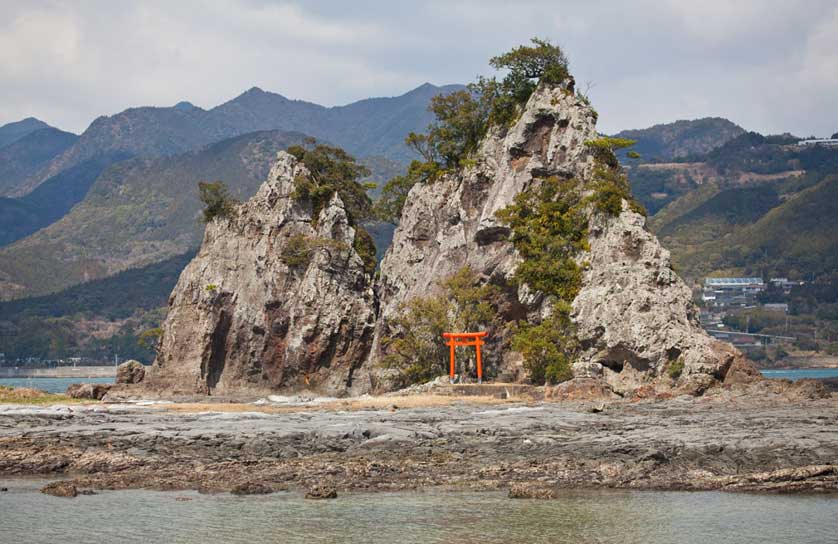 A vermillion torii gate at the foot of a picturesque crag on the Kumano Kodo trail
During the Heian period (794 - 1185), the Shugendo pilgrimage trail from Yoshino to Kumano in Wakayama prefecture on the coast became popular and it is said pilgrims who broke the strict rules or were seen to lack sufficient faith were hung over a precipice by their ankles. Women were prohibited from the entire pilgrimage trail until the 1960's and are still barred from parts of the route today.
Like the sumo ring, Mount Omine is for men only. It is considered a holy site and therefore pure. Because of menstruation and childbirth, women are considered impure in certain Buddhist sects - and they would thus sully the site if they were to enter it.
Edith Hansen, who has lived in Japan for thirty-plus years and is a special Amnesty International Representative
for Japan, stated that this is a clear violation of human rights. However, there is precedent for men-only sites being granted UNESCO status. Mount Athos in northern Greece, which became a UNESCO World Heritage site in 1988, also forbids women and children.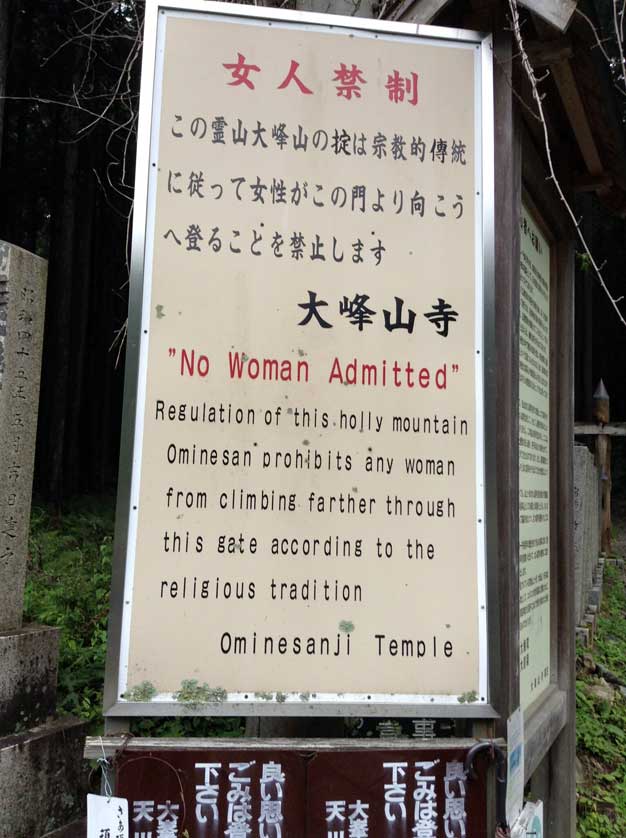 "No Women Allowed" sign, Ominesanji Temple, Mt. Omine
Forested hills and paddy fields along the Kumano Kodo trail, Kii Peninsula
The Japanese Buddhist sect of Shugendo, founded in the 8th century, borrows from both Buddhist precepts and some shamanistic techniques that predate Japanese Buddhism, which dates from the 6th century. Shugendo calls for strict religious practices of asceticism on sacred mountains, such as Mt Omine. "It has also," according to John Billingsley, "adhered to the traditional Buddhist belief in the spiritual inferiority of women; as a result, the mountains that are sacred to Shugendo have been off-limits
to women for centuries."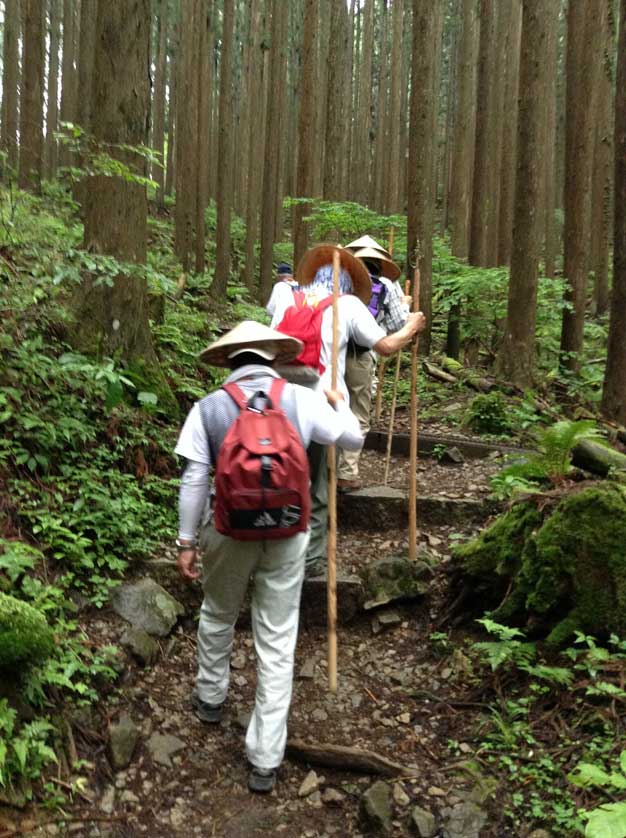 Pilgrims, male of course, hiking Mt. Omine in July
Mount Sanjogatake, a mountain in the Omine range, has been prohibited to women since about 1300. In a challenge to that tradition, one local man frequently climbs the mountain dressed in drag as a way of thumbing his nose at authorities. On the summit are two temples dedicated to Zao-Gongen and En-no-Ozunu and a clear day can afford a spectacular view as far as Mount Fuji. Both Mount Fuji and Kyoto's Mount Hiei were previously off limits to women. These bans were lifted in 1872 in fear of what foreigners would say.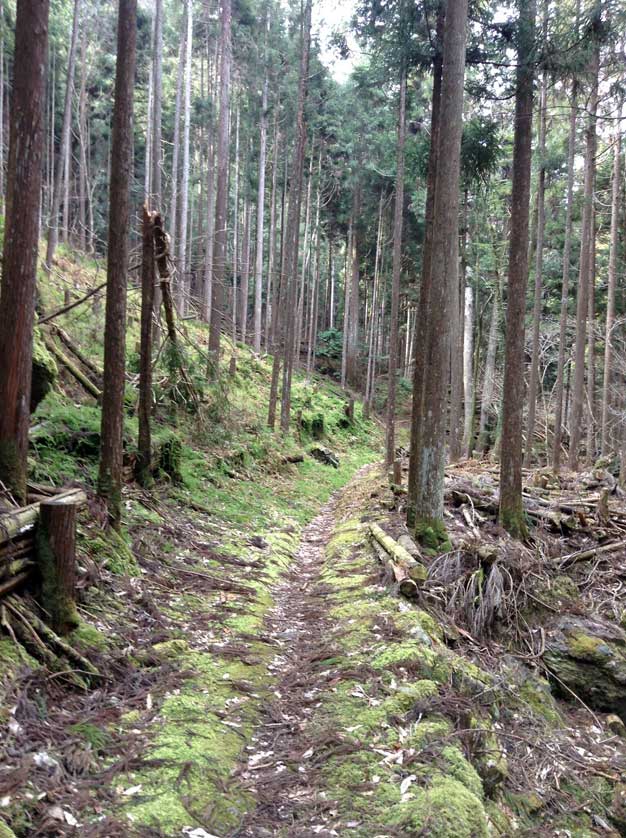 On the trail

Access - Getting To Mount Omine
Rail connections to and from the Yoshino area go via Yoshino Station. From Yoshino station walk 30 minutes uphill to the center of town. Another possibility is a cable car that takes only about 5 minutes. (Yoshino is also famed as one of the most beautiful areas in Japan for viewing cherry blossom).From Osaka Abenobashi (Tennoji) station, take
the direct Kintetsu Minami-Osaka line. The limited express takes an hour and 15 minutes and costs 1,780 yen. From Kyoto, take the Kintetsu Nara-Kashihara line and, at Kashihara-jingu-mae station, change to the Kintetsu Yoshino
line. The regular express costs 1,170 yen and takes about 2 hours.The climb up Mt. Omine begins outside Kimpu-jinja in Yoshino or by train or bus to Dorogawa onsen and then on foot to the summit. The 10 km climb from Dorogawa takes around 3 hours. The pilgrimage season runs from May 1 to September 30.
Asukamura
Asukamura is the area believed to be the site of the cradle of Japanese
civilization. Located outside of Nara, it is regularly
featured on the evening news with a story on yet another archaeological dig revealing something about emperors and aristocrats who lived in the area. Recently, mural paintings have been discovered in the Kitora Tomb; also, the remains of what is believed to have been the palace of Emperor Tenmu (?-686) were unearthed. In early July, 2004, two amber beads were found along with fragments of human bone. Archeologists believe the amber beads were used to decorate a crown or worn at the waist. Much of what the village has to offer though is still underground. Still the area is lovely and well worth a visit.
Access - getting to Asukamura
From Kyoto Station, take the Kintetsu Kyoto Line Express train to Saidaiji (35 minues). Change there for the Kintetsu Kashihara Line to Kashihara Jingumae (30 minutes). The trip costs 860 yen. Rent-a-cycles are available and recommended for getting around. There are many temples and shrines and burial mounds spread throughout the area.
If the weather is good, a nice day out.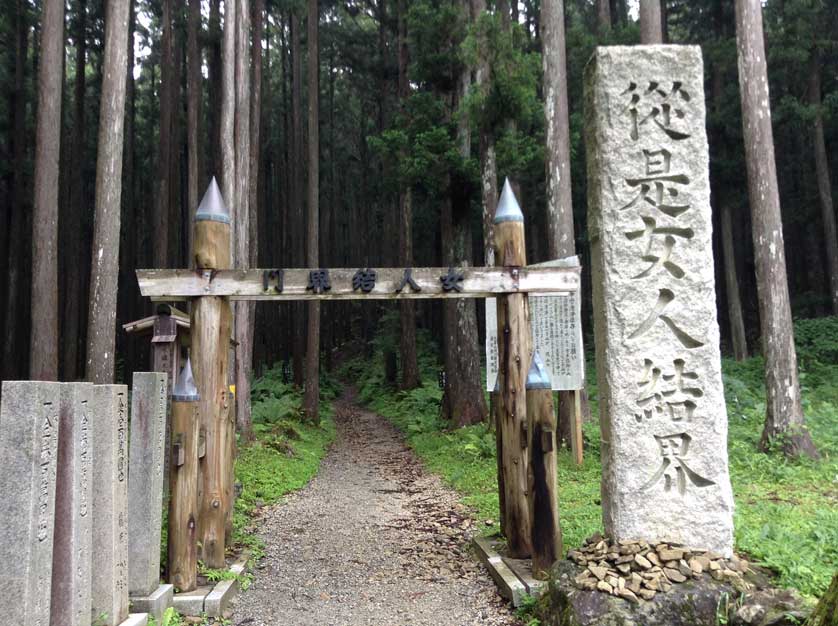 Entrance to the Mt. Omine Trail

World Heritage Sites: Koyasan, Yoshino-Omine, Kumano Sanzan
Three sacred sites in the Kii Mountains were named a UNESCO World Heritage site. The decision was taken at the July, 2004, World Heritage Committee's annual meeting in Suzhou, China. The three sacred mountains listed are Yoshino-Omine, in Nara Prefecture; Koyasan, in Wakayama Prefecture; and Kumano Sanzan, which leads to Koyasan.
Yoshino is where the main temple of the Shugen sect of Buddhism is located. Koyasan is the home of the original Shingon sect of esoteric Buddhism. The total area consists of 495 hectares of historic sites and 11,370 hectares set aside as a buffer zone. This makes it the largest of Japan's World Heritage sites (10 Cultural, 12 Natural). This is the second time a pilgrimage route has been listed. The other is Santiago de Campostela, in northern Spain.
Access - getting to Mt. Koya
To Mt. Koya: From Osaka city, depart from Nankai Namba Station. The ride to Gokurakubashi takes 80 minutes.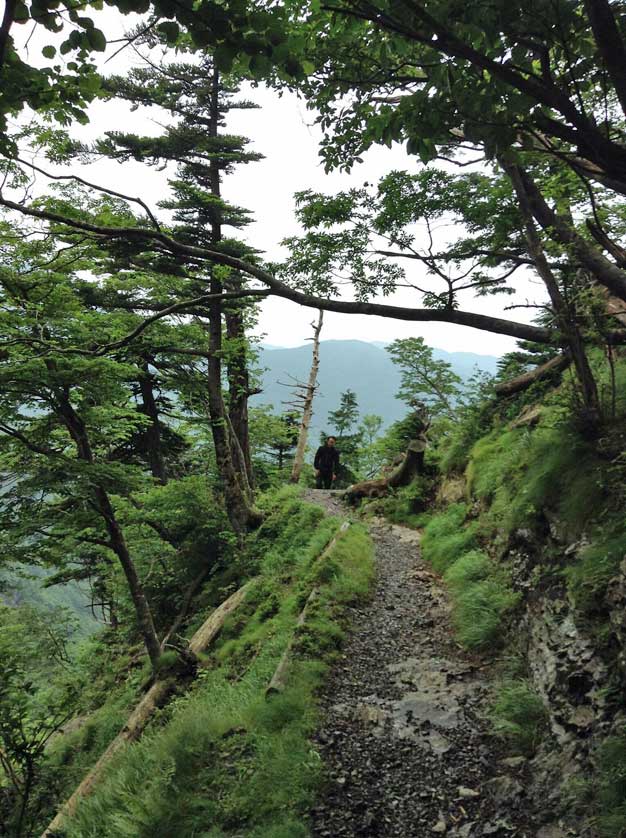 Mt. Omine Trail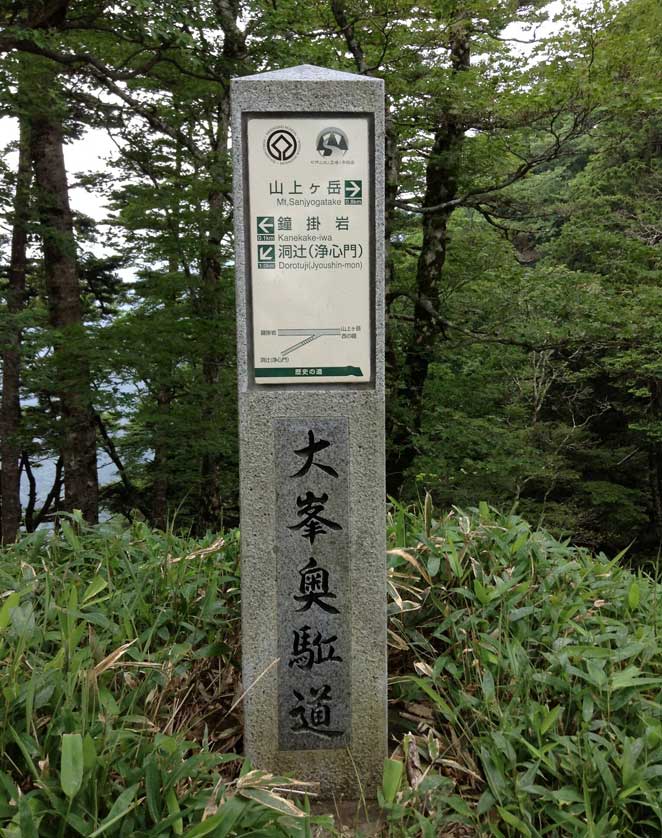 Signpost on the Mt. Omine Trail

Book Hotel Accommodation in Nara
All the themes of the city