Nara National Museum
奈良国立博物館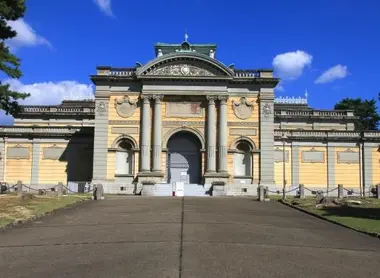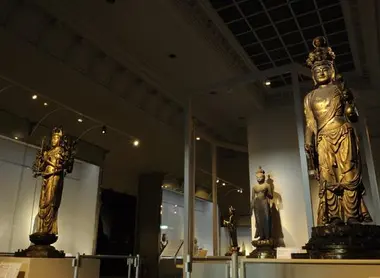 Le sens de l'art
Lapremière capitale permanente du Japon (710-784) conserve dans ses murs lesouvenir d'une époque charnière pour son histoire artistique et politique.Comme une évidence, Nara, la cité millénaire abrite un des musées lesplus impressionnants du pays.
The flamboyant Meiji architecture of the main building was born of the talent of the architect Katayama Tōkuma (1894-1917). Behind the brick facade, is the largest collection of Buddhist statues of the Japanese archipelago. Airy spaces, careful lighting, carefully presented rooms: it has nothing to envy of the bigger museums. Headphones distributed at the entrance offer audio descriptions in good English.
The site also has an extensive library specializing in Buddhist art. More than sixty-seven thousand books and three thousand journals are available to readers.
To enjoy the fresh air after this journey through time and talent, visitors can head towards Hassoân, the teahouse. At the heart of the museum's garden, its thatched roof is reflected in the calm surface of a pond. Designed by the tea expert FURUTA Oribe (1544-1615), it is one of the "Three Yamato Tea Houses" with the Rokusôan in Kofukuji, now kept at Tokyo National Museum and the Okiroku in Todaiji, lost in the last war.
This green tatami mats and thin walls can be hired for twenty thousand yen per day to organize a tea ceremonies, ikebana arranging (the art of Japanese flower arrangement) or haiku readings, short Japanese poems.
Also note the presence of an excellent gift shop, which offers a remarkable selection of Japanese art history books, in English or in the language of Basho. Finally, for those to who beauty make hungry, the restaurant offers its culinary services from 10 a.m. to 4 p.m.
---
Address, timetable & access
All the themes of the city