Yakushiji
Yakushiji Temple in Nara was founded in 680 by the Emperor Tenmu and is a UNESCO World Heritage Site known for its ancient East Pagoda.
Yakushiji Temple, Nara 薬師寺
Yakushiji Temple, located south of Heijo Palace Site in Nara, a short walk south of Toshodaiji Temple, is a UNESCO World Heritage Site and an important temple in the history and development of Buddhism in Japan during the Nara Period.
Yakushiji, a UNESCO World Heritage Site, is a very large temple complex and is the headquarters of the Hosso sect of Japanese Buddhism. Yakushiji is dedicated to the Yakushi Nyorai, the Buddha of Healing.
Yakushiji Temple was one of the seven great temples of ancient Nara: Todaiji, Daianji, Saidaiji, Gangoji, Horyuji and Kofukuji.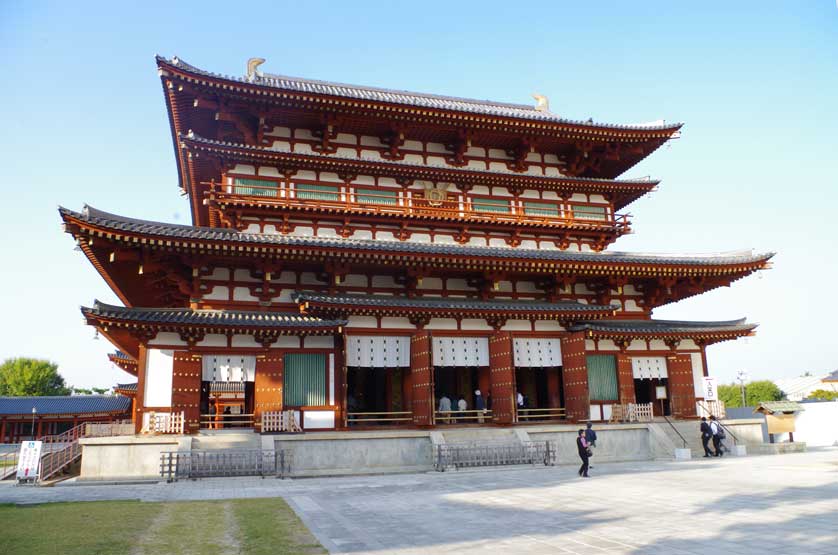 Main Hall (Kondo), Yakushiji Temple, Nara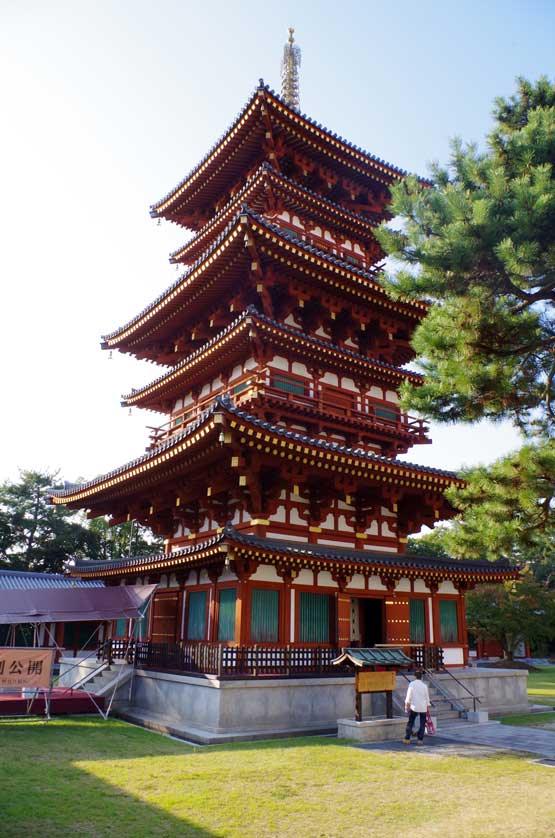 West Pagoda (Saito), Yakushiji Temple, Nara

History of Yakushiji Temple
Yakushiji was founded in 680 by the Emperor Tenmu (631-686), who was seeking a cure for his sick consort, Uno-no-Sararahime-Miko, who later became the Empress Jito (645-703).
Yakushiji was originally located in Fujiwara-kyo (the capital city of Japan from 694 to 710), present-day Kashihara in Nara Prefecture. The Emperor Tenmu died before the temple was completed and the construction was completed by his consort, who succeeded him as the Empress Jito.
The temple was moved to its present location in 718, though the original temple in Fujiwara-kyo is believed to have continued in some form.
Yakushiji Temple, like many temples in Nara, has been damaged and restored over the ages. First by fires in 973 and then in 1528 when the Main Hall was destroyed in a conflagration caused by conflict.
The Main Hall was rebuilt in the 1970's and now the East Pagoda of Yakushiji is undergoing a complete restoration using huge cypress trees imported from Taiwan. The pagoda will not be visible from underneath its scaffolding and gray sheeting until April 2020.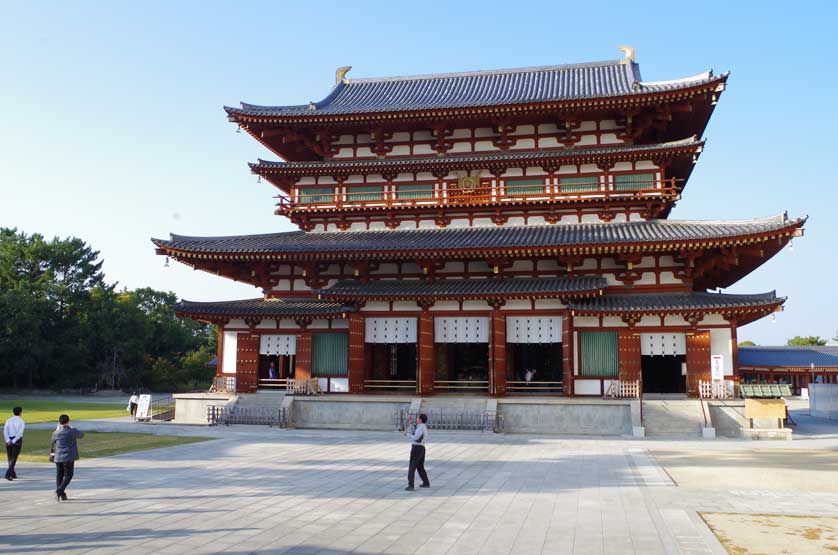 Main Hall, Yakushiji Temple, Nara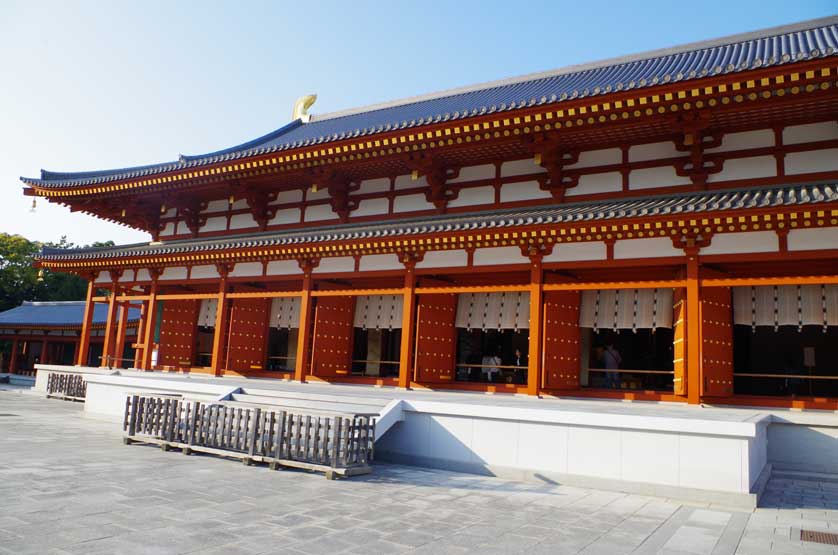 Yakushiji Temple, Nara
Yakushiji Temple Buildings
Yakushiji Temple is a large symmetrical temple complex made up of many buildings.
The Main Hall or Kondo contains the famous, bronze Yakushi Trinity (Yakushi Triad) of statues: a 2.6 meter seated image of Yakushi Nyorai flanked by two attendant Bodhisattvas - Nikko (on the right) and Gakko (left).
These statues were originally gilded but are now blackened after exposure to air over the centuries. The relief work on the pedestal combine various motifs from the ancient world that would have been transmitted to Nara along the Silk Road. These include Chinese, Greek, Hindu and Islamic motifs such as Western-style grape vines, Muslim lotus flowers and Chinese tigers, phoenixes and turtles.
The Kodo or Lecture Hall contains another Yakushi Triad, though not considered as fine as that in the Kondo.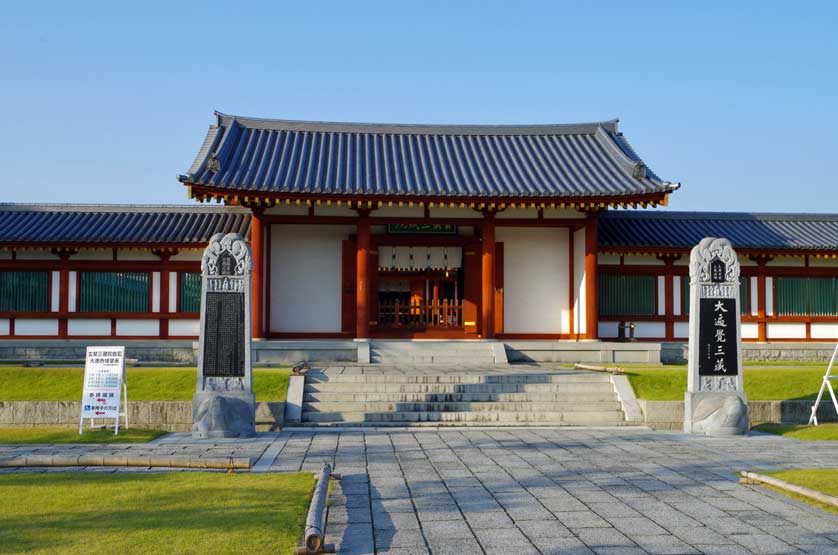 Genjo-sanzoin-Garan Entrance, Yakushiji Temple, Nara
The East Pagoda, now being restored, survived the fires of 1528, and is believed to date back to 698 or even earlier. It rises to a height of 37.9 meters and is supported by 17 huge columns. Although three stories, it appears to have six, due to the additional wooden roofs or mokoshi. Ernest Fenollosa, the American art historian and Japanophile, famously described the pagoda as "frozen music."
The West Pagoda (Saito) was destroyed in the fires of war in 1528 but was rebuilt in 1980 thanks to donations from the general public. The interior of the pagoda contains bronze sculptures of the "eight great events" of the historical Buddha's life by Japanese sculptor Shinya Nakamura, which were unveiled in 2015. Further such sculptures will be part of the East Pagoda when it is reopened in 2019.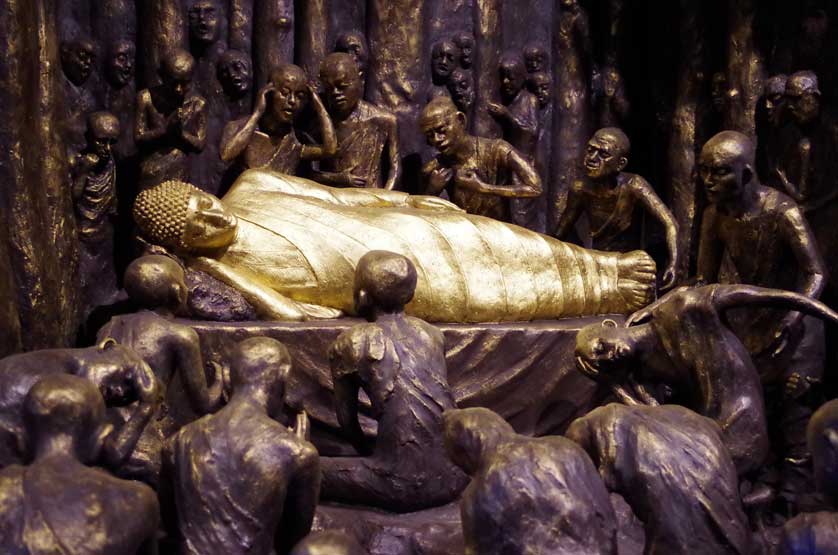 Buddha entering Nirvana by sculptor Shinya Nakamura, West Pagoda, Yakushiji Temple, Nara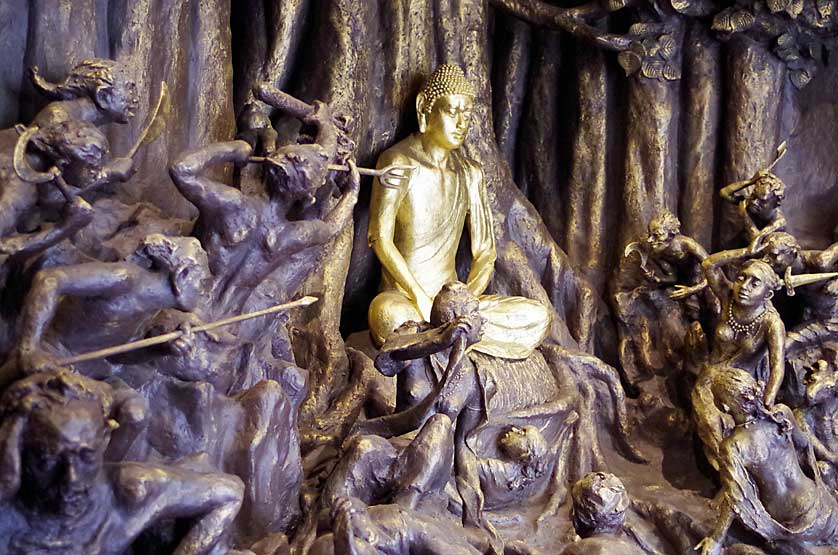 Buddha tested by demons as he seeks enlightenment by sculptor Shinya Nakamura, West Pagoda, Yakushiji Temple, Nara
The Toindo (Meditation Hall), or East Hall, was first constructed in 1285 or 1298 and contains a 1.9 meter bronze and platinum statue of Sho-Kannon, said to be a gift of the King of Paekche in Korea. It is thought to be the oldest meditation hall in Japan. The bronze has a strong influence from Gupta Period India (350-650).
The Bussokodo or the Hall of Buddha's Footprint contains a stone image of the Buddha's footprint 49 cm by 14 cm which harks back to the earliest days of Buddhism in India when the Buddha was not depicted in statues but by motifs such as footprints or parasols.
A Hachiman Shrine is located close to the South Gate with wooden sculptures of Hachiman and the empresses Jingu and Nakatsuhime.
The modern Genjo-sanzoin Garan, located just to the north of the main temple complex is dedicated to the Chinese monk Genjo-sanzo (Hsuan Tsang 600-664), whose teachings are a bedrock of the Hosso sect. The striking, vermilion Octagonal Hall is set within a covered, stone-flagged courtyard with large, modern paintings by Hirayama Ikuo (1930-2009) on display in the building at the northern side of the enclosed space.
Yakushiji (nara-yakushiji.com)457 Nishinokyo-choNara, Nara Prefecture 630-8563Tel: 0742 33 6001Hours: 8.30 am-5 pm
Admission: 800-1100 yen depending on which parts of the interiors you wish to visit.
Yakushiji is a short walk from Nishinokyo Station. Take a Kintetsu Nara Line to Yamato-Saidaiji Station from Kintetsu Nara Station and change to the Kintetsu Kashihara Line on platform 6.
By bus from JR Nara Station and Kintetsu Nara Station take any one of buses #70, #72 or #97. Get off the #97 at Yakushiji-higashiguchi and the #70 and #72 buses at the Yakushiji bus stop.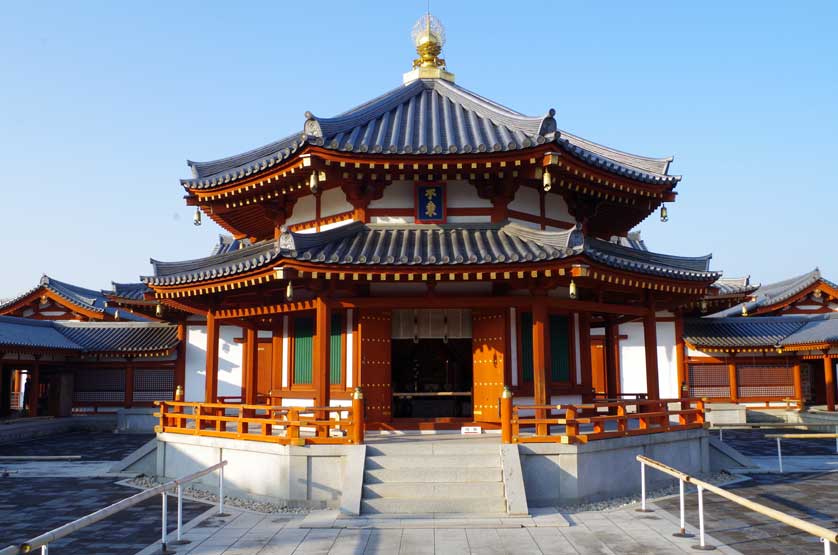 Octagonal Hall, Genjo-sanzoin Garan, Yakushiji Temple, Nara
Access - how to get to Nara
Air
Airport limousine services to Kansai International Airport and Itami Airport or JR train and change at Tennoji Station in Osaka.
Rail
Access to Osaka on JR West (about 45 minutes on the express) or Kintetsu Line from Namba and Tsuruhashi. Access to Kyoto on either Kintetsu Railways (35 minutes on the Super Express Tokyu) or JR West (40 minutes on the Miyakojima Express).
Bus
There are overnight bus services to and from Shinjuku Station in Tokyo, Yokohama and day time Meitetsu buses to Nagoya.
Tourist Information Center
Nara City Tourist Information OfficeTel: 0742 24 4858Kintetsu Nara Station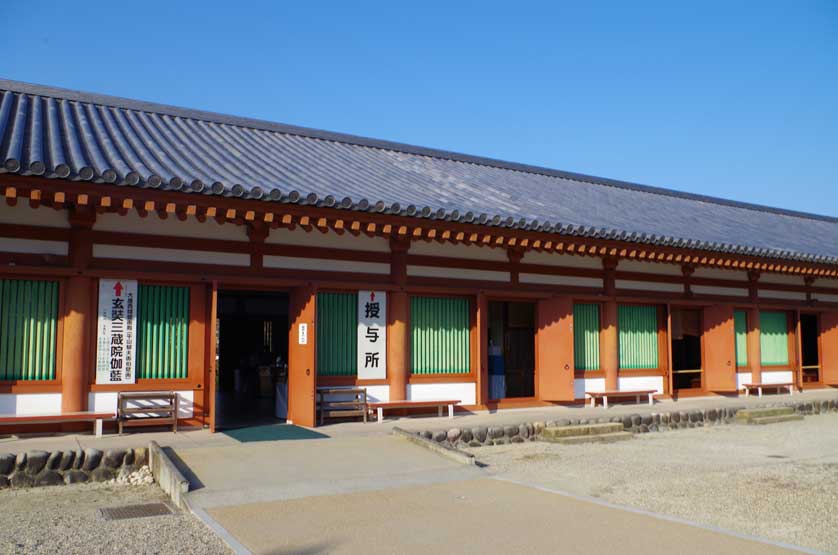 Yakushiji Temple, Nara
Book Hotel Accommodation in Nara
All the themes of the city