Tennoji Temple Tokyo
Tennoji Temple: read a guide to Tennoji Temple in the Yanaka district of Taito ward, Tokyo.
Tennoji Temple, Yanaka, Tokyo 天王寺 谷中
Tennoji Temple is an old Buddhist temple - but with a refreshing modern twist - located in Tokyo's picturesque east-end district of Yanaka, in Taito ward.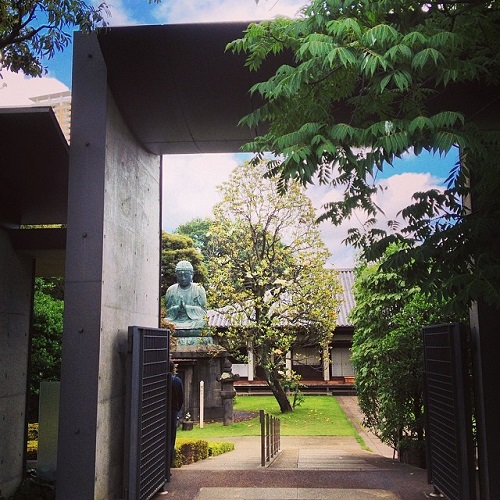 Gate of Tennoji Temple, Yanaka, Tokyo
Tennoji is the oldest of the numerous temples that dot the Yanaka area of Tokyo, and is a temple of the Tendai sect of Buddhism. It was founded in 1274 and now lies on the edge of Yanaka Cemetery overlooking Nippori Station.
Tennoji temple is surrounded by Yanaka Cemetery, which used to be a part of the temple premises. The temple today is surrounded by a tasteful wall of modern design, enclosing its simply but beautifully landscaped grounds, the focal point being the large, several centuries old, bronze Buddha.
Tennoji History
Tennoji began life in 1274 as Choyosankannoji-sonjuuin (長耀山感応寺) temple, built to house a Buddha statue carved by nationalist sage Nichiren.
At the order of the Shogunate in the late 17th century, Tennoji was closed down for alleged heresy, but reopened in 1699 as a branch temple of the then-massive Kan'eiji Temple, a Tendai sect Buddhist temple in nearby Ueno. Little now remains of Kan'eiji Temple after its destruction in the 1868 Battle of Ueno.
Upon its becoming a Tendai sect temple, Tennoji became the seat of the deva Bishamonten (Vaiśravaṇa), which in Japan is considered a god of resources and bravery.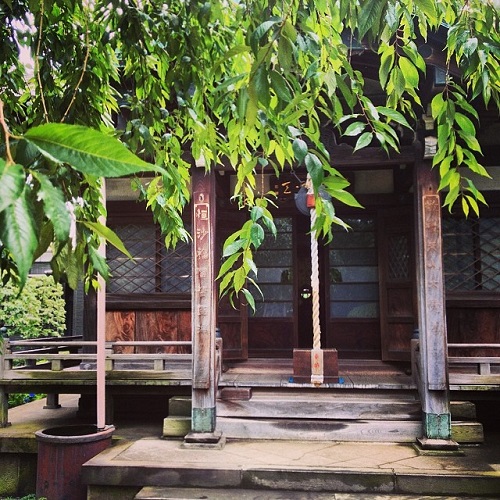 Shrine housing Bishamonten image, Tennoji Temple, Yanaka, Tokyo
Tennoji Lotteries
In the Edo Period, several temples were permitted by the government to hold lotteries for the purpose of fundraising. Tennoji Temple, Yushima Tenman-gu Shrine, and Ryūsenji (AKA Meguro Fudō) were the three main temples in Tokyo that held lotteries.
However, from 1728, official permission to hold lotteries was denied to all but Tennoji. Until permission was eventually withdrawn from Tennoji, too, in 1842, Tennoji was the Tokyo temple regularly thronged by townsfolk eager to strike it lucky. The temple environs and the road leading up to the temple - what is now the tree-shaded "Cherry Blossom Avenue" through Yanaka Cemetery - was a hive of commerce and entertainment.
Yanaka Cemetery
Yanaka Cemetery which surrounds Tennoji was once belonged to Tennoji temple. However, one policy of Japan's modernization after the Meiji Restoration was the nationalistically inspired separation of "imported" Buddhism from "native" Shinto. Shinto funerals became more common as a result (a very short-lived phenomenon). To facilitate the holding of Shinto funerals, the Meiji government confiscated Tennoji's cemetery and made it public, a move which was never reversed.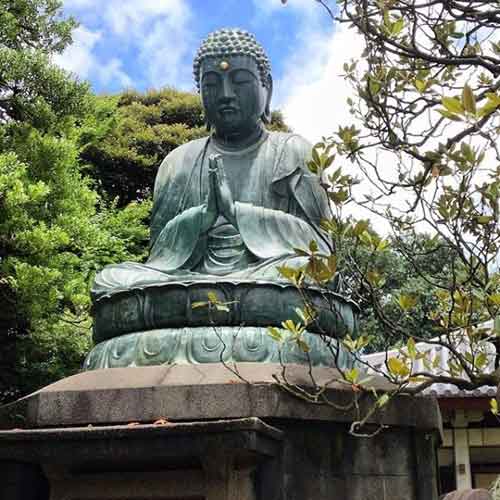 Bronze Buddha, Tennoji Temple, Yanaka, Tokyo
Buddha Statue
The large, bronze, seated image of Buddha was constructed by Ota Kyuemon in 1690 and was known as the "Tennoji Daibutsu" by locals.
Yanaka Seven Gods of Fortune
Tennoji Temple is home to one of the famous Yanaka Seven Gods of Fortune, the god Bishamonten (Vaiśravaṇa). Tennoji is the only one of the seven Yanaka Seven Gods of Fortune temples that is actually located in Yanaka itself. The full list of temples on the pilgrimage route are, from north to south: Togakuji Temple (Fukurokuju), Shounji Temple (Ebisu), Shushoin Temple (Hoteison), Tennoji Temple (Bishamonten), Choanji Temple (Jurojin), Gokokuin Temple (Daikokuten), Shinobazunoike Bentendo (Benzaiten). Find these temples by searching for "Yanaka Seven Gods of Fortune" in JapanVisitor's Tokyo Map.
Five-storied Pagoda Ruins
A 35m, five-storied pagoda dating from 1908 used to stand in Yanaka Cemetery, when it was still part of Tennoji Temple. But in 1957 the pagoda was infamously burnt down by a young seamstress and her older (married) lover who set themselves and the pagoda alight when their love seemed doomed by circumstances. Only the granite foundations now remain of what was once one of the largest pagodas in the Kanto area, in an unremarkable fenced off plot with a placard.
Tennoji Temple is free admission.
Access - Getting To Tennoji
Nippori Station on the JR Yamanote Line, Joban Line, Keihin-Tohoku Line, the Keisei Main Line and the Toei Nippori-Toneri Liner.
7-14-8 Yanaka, Tokyo, 110-0001Tel: 03 3821 4474
Google Map to Tennoji Temple Yanaka
Nearby Attractions
Just south of Tennoji Temple, also surrounded by Tennoji Cemetery, is the small, well-maintained and picturesque Anryuin Temple. Originally a Tendai sect temple, it changed to the Soto school following the establishment of Tennoji.
Just a little west of Tennoji Temple is the Asakura Sculpture Museum. And a little further west of there is the old-style shopping street of Yanaka-Ginza.
Book Hotel Accommodation in Tokyo
All the themes of the city