Gero Onsen Travel Guide
Gifu Prefecture: Gero 下呂温泉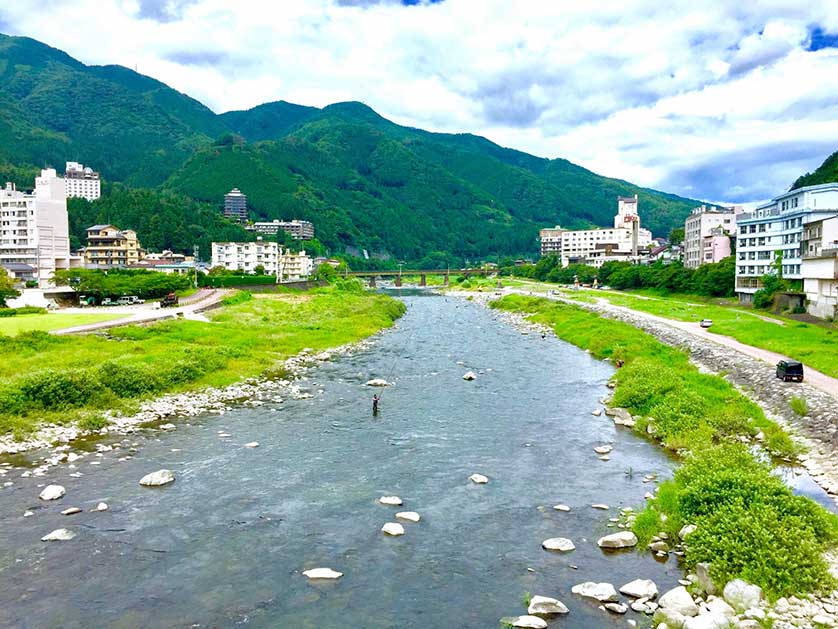 Gero Onsen, Gifu Prefecture
Gero is a small town by the crystal clear Hida River in a dramatic mountainous setting in Gifu Prefecture, and is within easy reach of Nagoya.
Gero has been known for its hot springs since the 10th century and is one of Japan's "Three Famous Springs" (Nihon Sanmeisen) along with Arima Onsen in Hyogo Prefecture near Kobe and Kusatsu Onsen in Gunma Prefecture.
Gero is also famous for its beautiful autumn colors.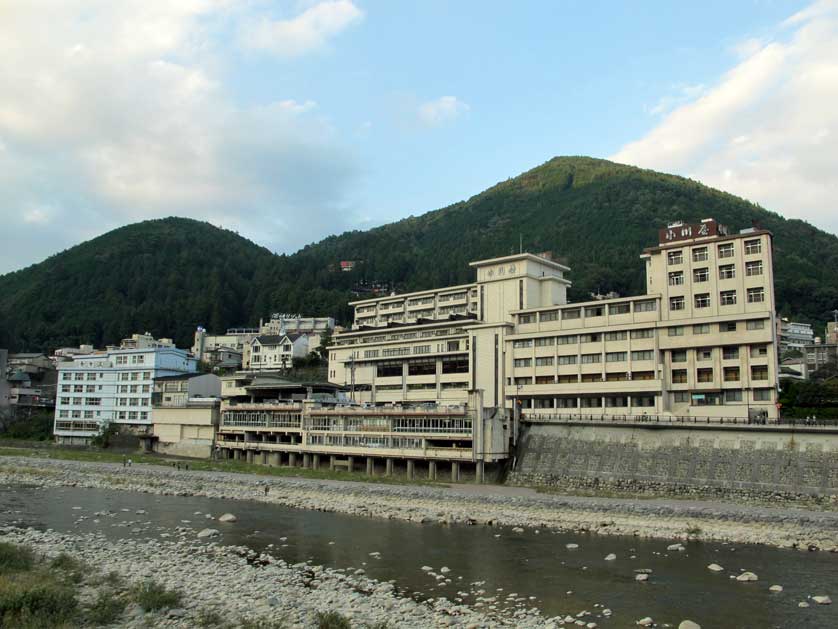 Gero Onsen, Gifu Prefecture
Gero Onsen Attractions
Gero's waters are said to be particularly good for relieving neuralgia, skin complaints and rheumatism. The main hot spring hotels and ryokan lie nestled in the hills to the north of Gero's JR Station across the Hida River.
There are free rotemburo (open air spas) on the rocky river banks of the river and some interesting public baths (sento) where the visitor can take a hot dip for a nominal fee, such as the Shirasagi-no-Yu, which opened in 1926 and has good views of the river below from its aromatic cypress bath. Just outside the main entrance to Shirasagi-no-Yu is a popular footbath (ashi-no-yu).
Scattered throughout Gero are numerous foot baths (ashi-no-yu) - shallow hot pools where visitors can sit on wooden benches and soak their aching feet.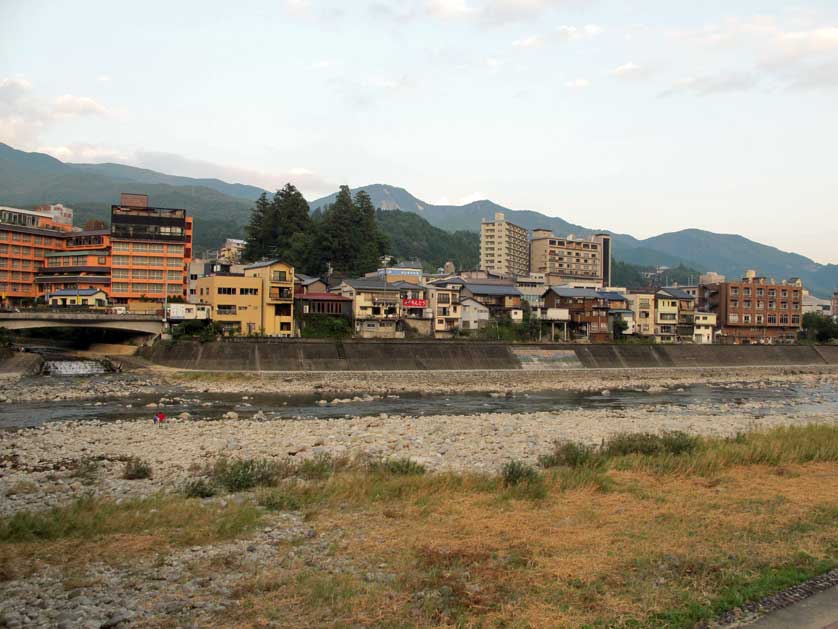 View of Gero town below Onsenji Temple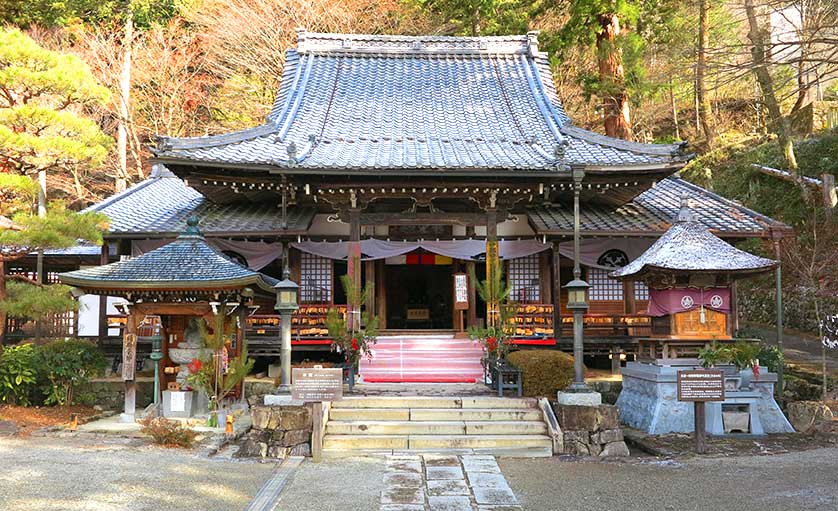 Onsenji Temple is a peaceful hilltop temple with fine views of Gero town below
Gero Onsen Museums, Shrines & Temples
The pleasant Gero Onsen Museum in the center of town exhibits historical documents of the town's history as an onsen resort, maps and also has information on other spas in Japan as well as its very own foot bath.
Onsenji Temple, up the hill behind Gero Onsen Museum, is well worth the short climb of its 173 stone steps for its tranquility and fantastic views of the valley below. The temple is intrinsically connected with the town's main symbol - the white heron or egret (shirasagi) which can be seen on manhole covers and railings around Gero. The town was flattened by an earthquake in 1265, which caused the main hot springs to dry up.
Legend has it that a white heron led the villagers to a new source of gushing hot water near the Mashita River. The bird then settled in a pine tree, at the foot of which was an image of the Buddha. The grateful inhabitants built Onsenji Temple in thanks for their salvation. The steps to the temple are lined with many graves of the Takekawa family - important local shipping and timber entrepreneurs in the Edo Period.
One stop north from Gero on the JR Line towards Takayama is Zenshoji, which is famous for Zenshoji Temple, a Zen temple noted for its garden and teahouse and an ink painting by Sesshu (1420-1506) - a Buddhist priest and sumi-e painter. Zenshoji Temple is a 5-minute walk from Zenshoji Station.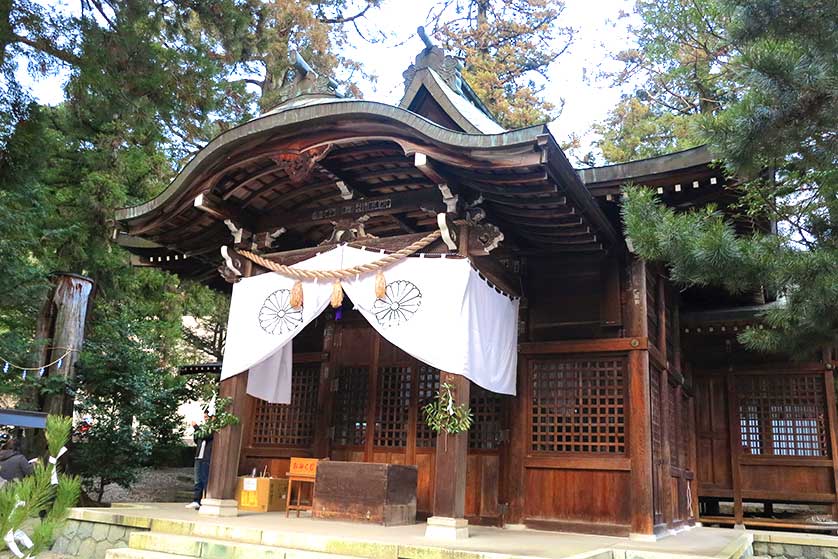 Mori Hachiman Shrine, Gero Onsen
Mori Hachiman Shrine, located on the north bank of the Hida River and set within an ancient copse, contains 10 carved, primitive statues of Shinto deities dating from the 11th century, which have been designated as Important Cultural Properties. The carvings are kept in an impressively locked and bolted storehouse to your left as you enter the shrine.
Mori Hachiman Shrine hosts a Heian era style festival (Hanagasa Matsuri) on February 14th every year when people of the town dance wearing hats decorated with colored paper.
A short car, bus journey or twenty minute walk north east of Gero town is Gero Onsen Gassho Village (Admission 800 yen; children 400 yen; 8.30 am-5 pm; Tel: 0576 25 2239) where 10 thatched A-frame long houses from the UNESCO World Heritage site of nearby Shirakawa-go have been re-assembled.
Gassho Village also has a museum of komainu - stone lion-dog Shinto shrine guardians - as well as a collection of traditional Hina matsuri dolls. There also occasional performances by traveling theater groups and daily shows by magicians and balloon artists. Buses leave from Gero Station to the Gassho Village starting at 9am with the last bus at 4.40pm.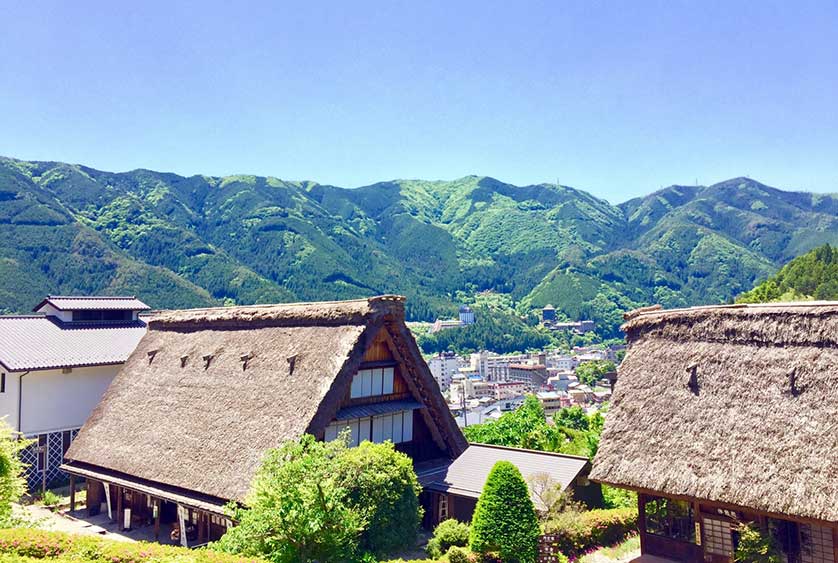 Gero Onsen Gassho Village, Gifu Prefecture
There is a morning produce market called Ideyu Market (open April - November) on your right on the road up to the Gassho Village. The same venue hosts a night market, too, July through August. Gero has a local beer - Gero Gensen Beer - and two sake breweries; the tea, rice, beef and fresh vegetables are considered local delicacies. Gero is also famous for its tomato juice, drunk as a detox after your hot bath. The main souvenir shops are located just over the bridge on the Gero Station side of the Hida River.
Walking up the hill from the Gassho Village brings you to the modern Gero Synergy Center with sports and theater spaces. Just opposite is the Shinkizan Temple located in a pleasant bamboo grove. Walk from here over the pedestrian Jomon Bridge to the free Gero Historical Museum with a collection of Jomon Period pottery.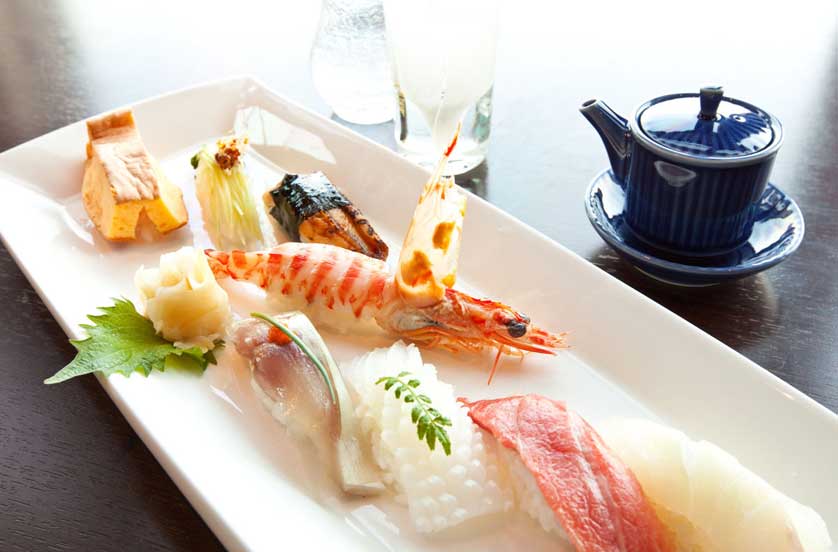 Japanese food at a ryokan in Gero Onsen, Gifu Prefecture, Central Japan
Local Train to Hida-Furukawa at Gero Station, Gifu Prefecture, Central Japan
Gero Festivals
Gero plays host to a number of festivals throughout the year.
The Tanokami or Hanagasa Festival, which originates from Mori Hachiman Shrine is a dance involving young people wearing colorful paper hats held annually on February 14.
In early April, the nearby village of Osaka holds a Spring festival involving lion dances and cockfights.
The Ryujin Fire Festival is held on August 1 each year followed by a parade of Geisha floats and Geisha dances on the 2nd and a music and fireworks festival on the river bank on August 3rd.
There are also amateur kabuki performances in May and November and fireworks displays with music in August and December. For the best views of the fireworks head down to the bridge over the river near the Charlie Chaplin statue.
Gero Tourist Office
Gero Tourist Office
Koda, Gero, Gifu, 509-2206
Tel: 0576 25 4711
Hours: 9 am-5 pm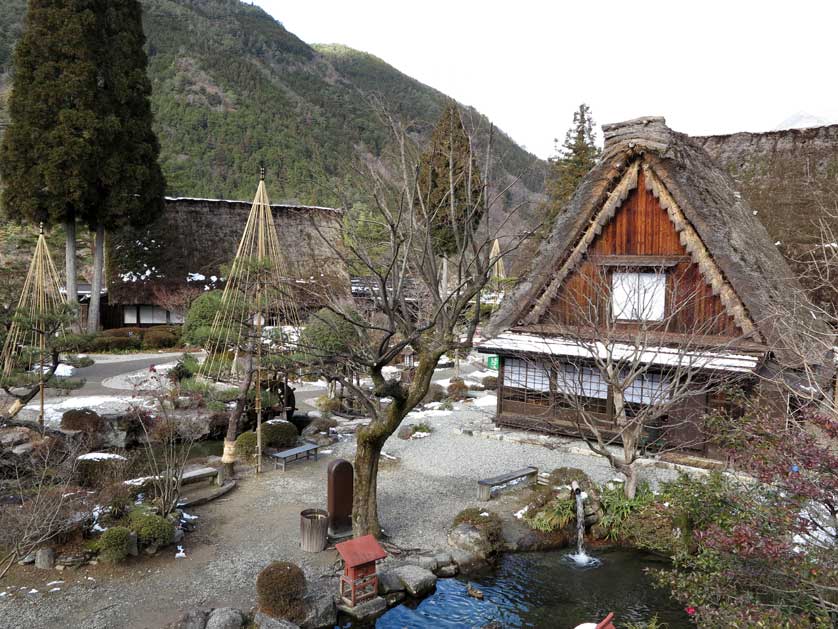 Gero Onsen Gassho Village, Gifu Prefecture
Gero Accommodation
It is possible to stay in a variety of ryokan or minshuku in Gero and details can be obtained from either the Gero tourist office near the station or in Nagoya.
Recommended places to stay in Gero include the Japanese-style Izumi-so near Gero Station, Gero Onsen Fugaku, Yunoshimakan, Mutsumikan and Suimeikan - all have their own private onsen spas and excellent full-course Japanese breakfast and evening meal.
The "Yu-meijin Yu-meguri Tegata" pass (1200 yen) available at the tourist office, souvenir shops and convenience stores, allows visitors to enjoy three hot springs other than the one they are staying at from a choice of 29 places, and the wooden plaque makes for a nice souvenir.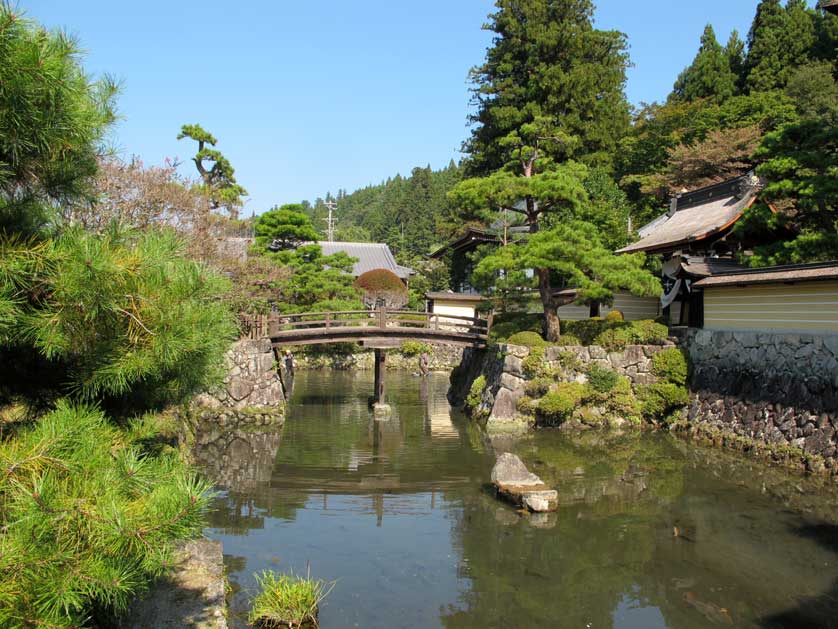 Zenshoji Temple famous for its ink painting by Sesshu, beautiful garden and ancient cedar tree
Attractions near Gero Onsen
A hire car is ideal for exploring the area around Gero, though it is possible to visit some of the nearest attractions by train or bus. A short distance north of Gero is the excellent Zenshoji Temple (禅昌寺;, mentioned above), a Rinzai-sect Buddhist temple, which displays an ink painting Happo Nirami Daruma by the celebrated artist Sesshu and also features a lovely garden in the rear of the temple. An ancient, huge cedar tree over 1000 years old is also one of Zenshoji's main sights. Close to Hida-Hagiwara, the next station along the line is the spacious Kuzu Hachiman Shrine, also surrounded by huge cedar trees.
To the north east accessed by bus from the village of Hida-osaka is the beautiful Gandate Gorge, at the base of Mt. Ontake, famed for its waterfalls such as the Mitsudake Falls and spectacular autumn foliage. There are numerous hiking trails along the Osaka River. Visible from Gandate Koen is the huge 72m tall and 120m wide rock wall from where the trails head off into the mountains.
A short drive south east of Gero on National Highway 257 is Jizo Temple (aka Ganfujidera) a Buddhist temple whose main image is of Jizo, prayers to which are said to help sufferers of internal illnesses including cancer (cancer in Japanese is gan, hence the alternative name of the temple Ganfujidera). The pleasant temple grounds abound with images of Jizo (the Bodhisattva Ksitigarbha) and the temple also attracts supplicants who seek an easy delivery and help with conceiving a child.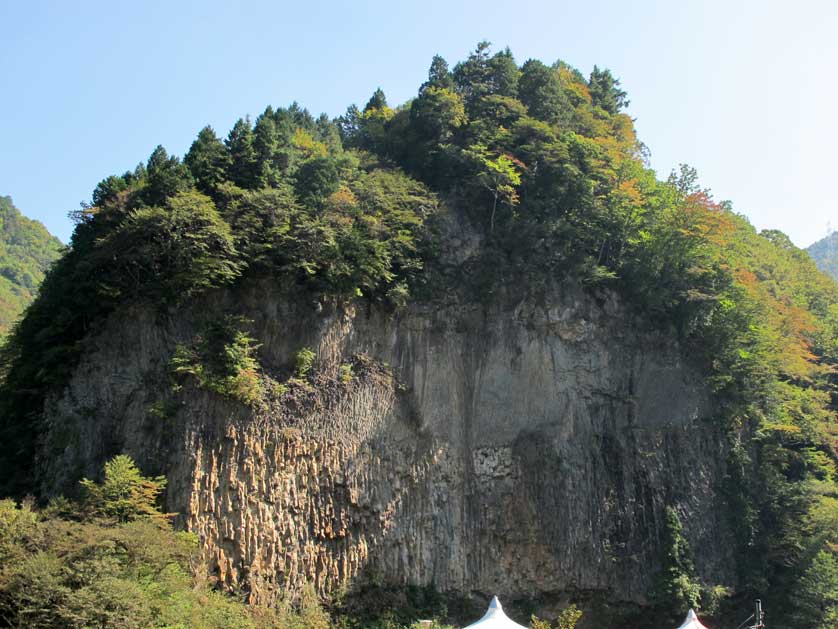 Gandate Gorge is known for its rock wall, mountain hikes, spectacular waterfalls and autumn leaves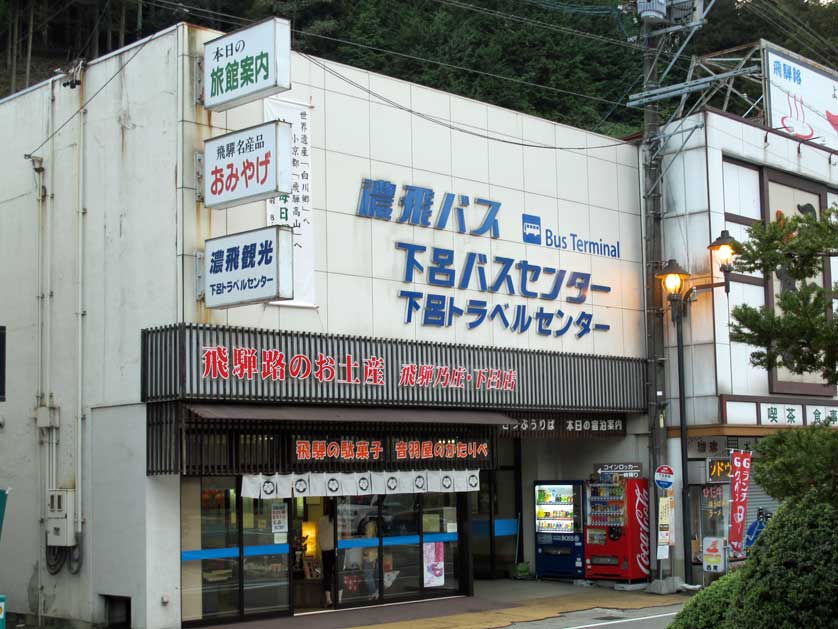 Gero Bus Station
Gero Onsen Access
From Nagoya Station or Gifu take the JR Takayama Honsen Line Wide View Hida express (tokkyu; 3,990 yen; 1 hour 28 minutes) north to Gero or travel south on the same line from Takayama and Toyama (2 hours 16 minutes).
By road, drive via Nakatsugawa on the Chuo Expressway and then turn off the highway on route 257 or take the earlier exit at Mino-Kamo and take Route 41.
Alternatively, drive direct from Nagoya on Route 41. Journey times are about 3 hours for all routes by road.
There is an Express Bus from Shinjuku Station in Tokyo to Gero taking about 5 hours and 50 minutes for the whole journey.
A daily bus leaves Gero in the morning for Nagoya Station returning in the afternoon. A return journey is cheaper than buying two singles. Journey time from Gero to Nagoya is about two and a half hours.
There is also a direct bus to Osaka from Gero and one bus north to Takayama. Gero's bus station is directly opposite the JR railway station.
Gero JR Station Tel: 0576 25 2044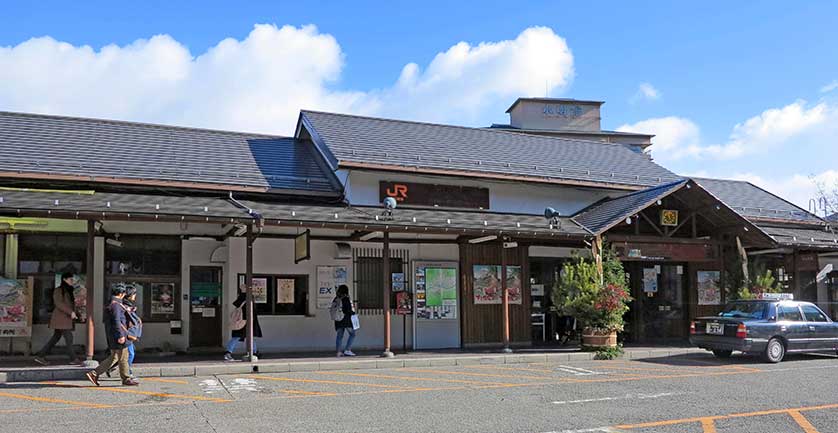 Gero Train Station, Gifu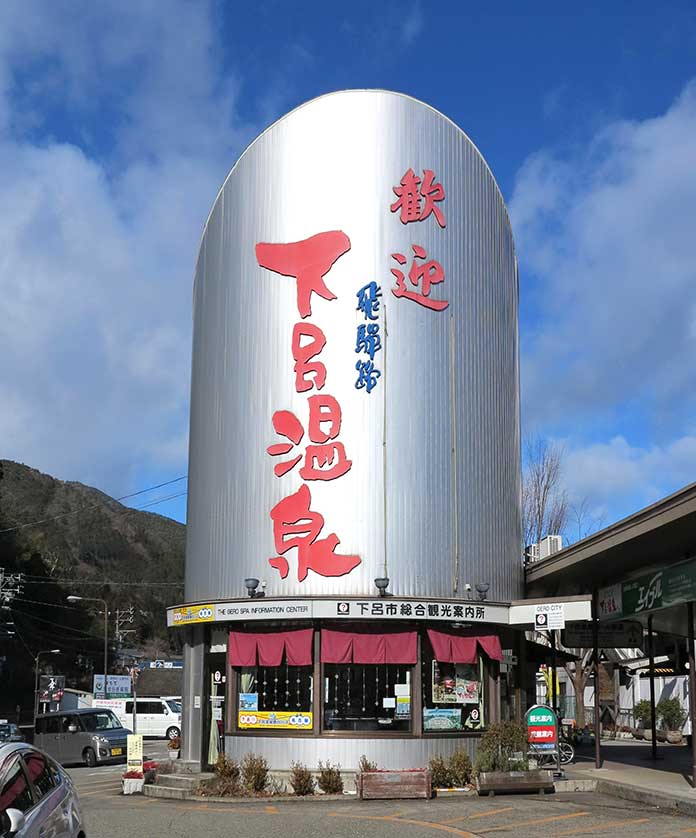 Gero Onsen Tourist Information Center, Gifu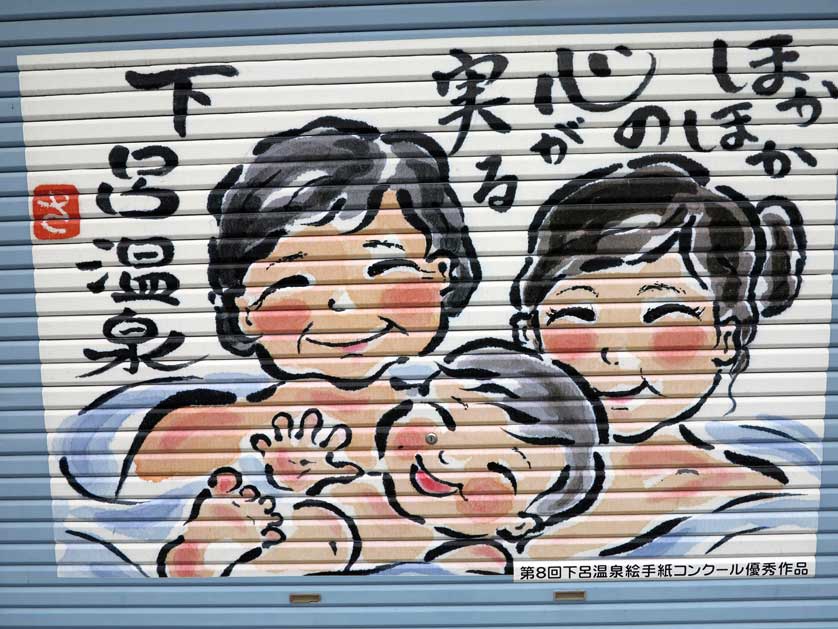 Gero Onsen Shop Shutter, Gifu
Gero Map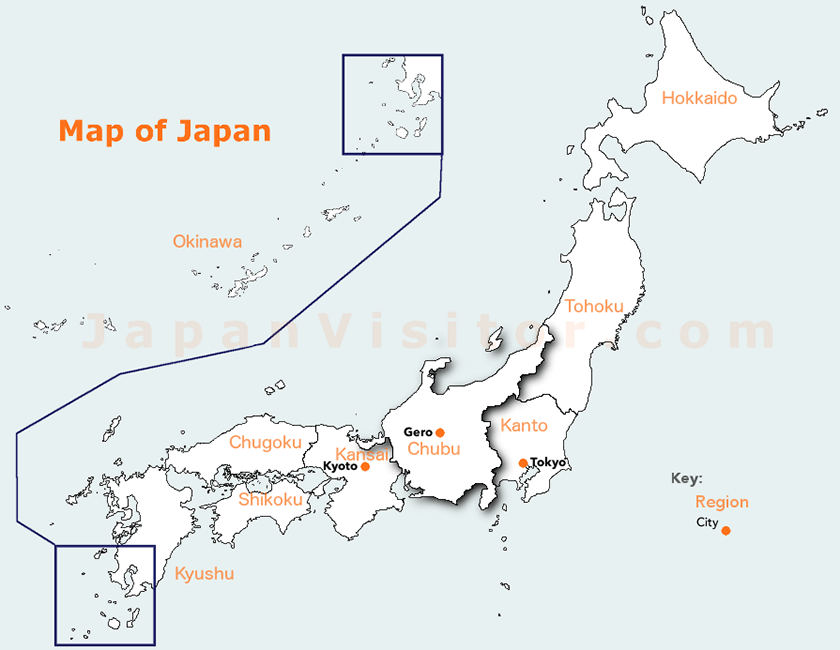 Gero Map
Gero Onsen Video
Book Hotel Accommodation in Nagoya
Gero Onsen: read a guide to Gero Onsen in Gifu Prefecture including Gero Onsen hotel and ryokan accommodation, Gero museums, travel information and images.
All the themes of the city