Takayama Yatai Kaikan
高山屋台会館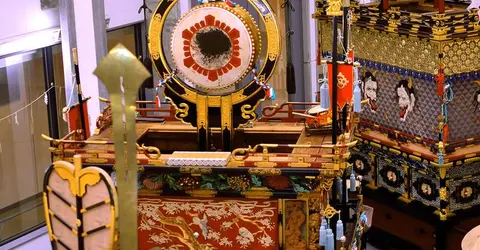 Le défilé à l'arrêt<br>
Toute l'année dans l'enceinte dusanctuaire Sakurayama Hachiman-gû, le Takayama Yatai Kaikan, salle d'expositionaux hauts plafonds, présente quatre des onze yatai, ces chars à trois étages, qui défilent lors du Takayama Matsuri d'automne les 9 et 10 octobre. 
They shine and catch the eye with their garish red, excessive gold and majestic black. The floats installed here wait while being admired, they are changed three times a year to show visitors the entire collection. Some dating back to the seventeenth century, their sculptures and lacquered panels require special care, which also explains the rotation of these pieces of art that are truly put to the test when they set forth, slowly but surely, in the streets of the city.
The entry ticket also gives access to Sakurayama Nikko-kan, which displays models of Nikko shrines.
Where are the other yatai hiding? Maybe you will stumble across, in the middle of the city, a long hangar with doors on several levels? Inside, a float is sleeping. 
---
Address, timetable & access
All the themes of the city