Tentokuin Temple
天得院
Tentokuin, the temple of flowers
Kyoto is known for its many temples, scattered throughout the city. Tentokuin Temple is one of a series of shrines near famous Tofukuji, southeast of Kyoto Station.
A zen temple
The Tentokuin is a Buddhist temple of the Zen branch . He is part of the Tofukuji school of the Rinzai sect. Remember that Rinsai Zen was imported from China in 1191 and bases the practice of Buddhism on meditation. Founded by Mumu Issei in the middle of the 14th century , the main building was destroyed in the 17th century, then rebuilt at the end of the 18th century. It is a modest-sized temple, considered one of the sub-temples of Tofukujii.
Read: Tofukuji Temple
The temple's main attraction is its karesansui -like garden , commonly referred to as a " Zen garden ". It is a dry garden, in the sense that there are no ponds or rivers. This type of garden often has an abstract character and is made with an economy of means that accords with the codes of Zen and the desire to eliminate the superfluous. It is therefore very relaxing to walk through the rooms of the Tentokuin, whose floor is covered with tatami mats, enjoying the view of the surrounding garden thanks to the sliding doors which remain open.
To go further: Zen Buddhism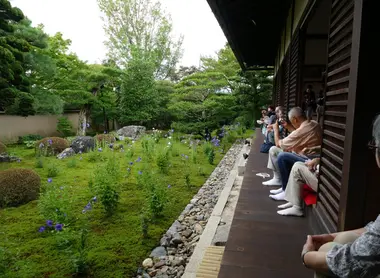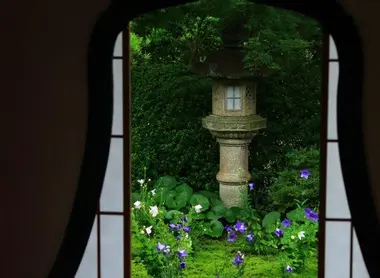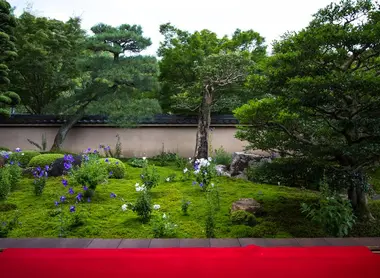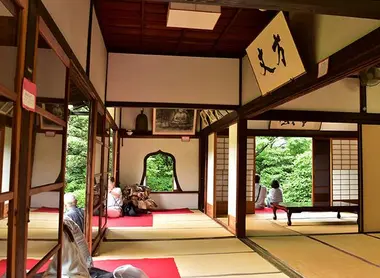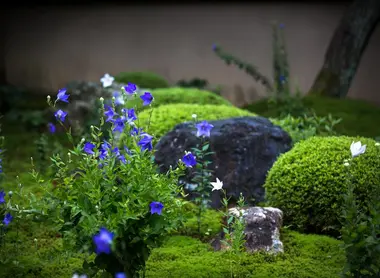 A unique garden
This garden was laid out at the end of the 16th century , during the Momoyama period. It holds such an important place that the Tentokuin is often nicknamed " The temple of flowers "! In this small garden, no gravel, but moss that covers the ground and a few round stones placed here and there. Trees (pines and hardwoods) close the perspective at both ends.
In fine weather, delicate purple and white, bell-shaped flowers - bellflowers - bloom among the moss, creating a colorful flower bed throughout the garden. Many visitors come to photograph these flowers which are so special and characteristic of the place. One of the temple's windows is itself bell-shaped and embodies the temple's iconic photo. Behind her, a stone lantern completes the perspective, as well as a red maple in the fall. The best times to visit the temple are autumn , to see the maple trees, but also the beginning of summer , to be sure to admire the blooming bellflowers. During these periods, the temple also organizes special admissions including a vegetarian lunch.
To read: Kyoto, 5 places to admire the autumn leaves
Finally, let's add that the Tentokuin was once inhabited by the famous haiku poet Seisensui Ogiwara , who came here briefly to recharge his batteries after the deaths of his wife and daughter. The place thus houses a monument in his honor, bearing one of his haiku.
---
Address, timetable & access
Address

Phone

+81 (0)75-561-5239

Timetable

Tofukuji (JR and Keihan lines) or Tobakaido (Keihan line) stations

Access

10 a.m. to 5 p.m.
All the themes of the city