Teisho Temple
貞祥寺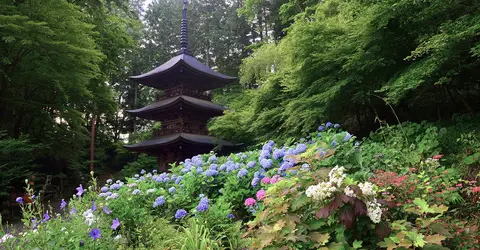 Teisho Temple
The largest ancient temple in the city of Saku, in Nagano prefecture, the Teisho temple is renowned for having spread Zazen meditation outside the archipelago, as far as Europe.
Nestled in the heart of nature , the Teisho temple has great surprises in store for visitors who come to it. Located in Seku City, Nagano Prefecture, it is the region's largest ancient temple . Made up of seven traditional structures , this very well-preserved temple will delight lovers of religious architecture.
VEGETATION AS A CASE
But, in addition to impressing with its breathtaking structure, it is above all the setting of this temple that will amaze travelers. Indeed, Teisho-ji, located a little away from the city and at the foot of the mountains , is surrounded by lush vegetation, like a jewel case. If the surrounding maples are adorned with red once autumn arrives, while the thorns of the pines keep their deep green, it is above all the moss that holds the visitor's attention.
Because the temple is indeed surrounded by a sumptuous carpet of soft moss , adorning it with a sometimes bright green, sometimes dark green, which brings a soothing softness to the place. Much less extensive in surface area than Kyoto's famous moss temple , moss is an integral part of the meditative atmosphere that surrounds Teisho Temple.
ZAZEN TEMPLE
The temple is also known to be one of the precursors of Zazen meditation , and it is in particular from here that this philosophy was exported outside the archipelago to Europe. Even if the monastery is no longer very active today, at certain times of the year , Zazen sessions open to the public are organized.
Also in the temple are some of the ashes of Taisen Deshimaru , a Zen Buddhist master who is one of the main introducers of Zen Buddhism to the West. Leading actions for interreligious dialogue, he also served as a guinea pig in French and Japanese laboratories to prove the biological effects of meditation . His ashes are scattered in 3 different temples in Japan and another part is in the Gendronnière temple founded by Taisen Deshimaru in Loir-et-Cher.
---
Address, timetable & access
All the themes of the city