Ajigin restaurant in Tokyo
味ぎん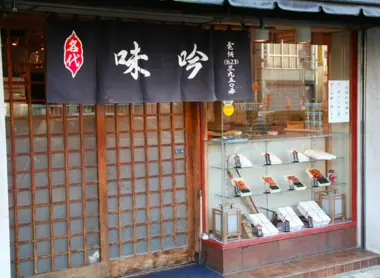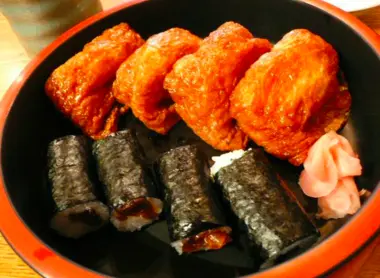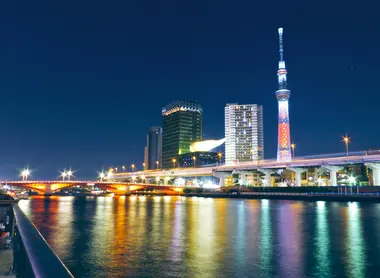 The temple of inari zushi
Located 5 minutes walk from the Tokyo SkyTree, Ajigin is a restaurant specializing in a single type of sushi: inari-zushi. A good place for vegetarians!
It is not the most well-known type of sushi in the West. The inari-zushi consists of a pocket of seasoned fried tofu ( abura-age ) topped with a dumpling of vinegared rice , sometimes embellished with raw vegetables. His name is related to the deity Inari , the kami of rice growth. A delicately sweet vegetarian dish , which the Tokyo restaurant Ajigin has made a specialty of.
Read also: Tofu in Japanese cuisine
Sumo and tofu
Direction the peaceful district of Sumida , east of the river of the same name. A district known for its sumo fights and its public baths. In the shadow of the 634 meters of the Tokyo SkyTree (the second tallest tower in the world), hides Ajigin, one of the few brands in the Japanese capital specializing in inari-zushi and has been doing so for over 40 years! You will still find some maki-zushi on the menu, but it is indeed these little pockets of tofu that reign supreme here.
Read also: Maki-zushi, the sushi that goes round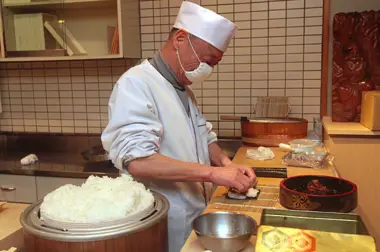 A neighborhood restaurant
Ajigin is the kind of address you come across by chance. The front is sober, as is the interior of the restaurant, consisting of an open kitchen and about ten seats (you can also order your inari - zushi to take away ).
Notice to the curious, therefore, who would like, for lunch (the restaurant closes at 6 p.m. ), to mingle with a regular clientele to taste a tasty specialty, slightly crispy, with a beautiful golden color!
---
Address, timetable & access
Address

Price

About 900 yen (7 euros)

Access

Open daily, 7 a.m. to 6 p.m.
All the themes of the city