Tempura
天ぷら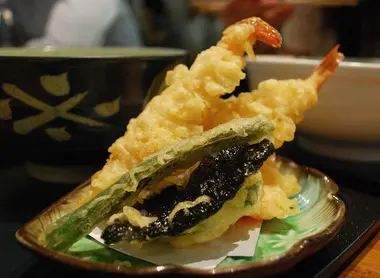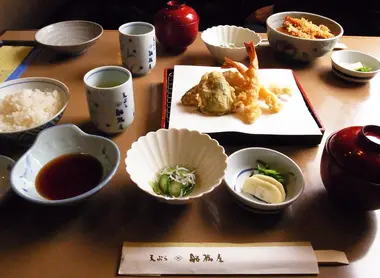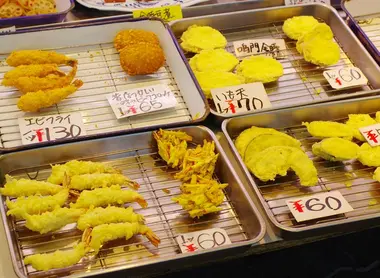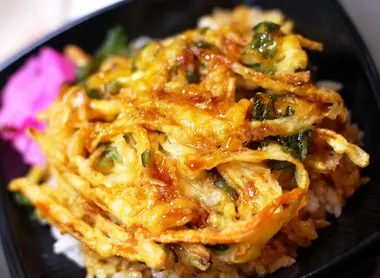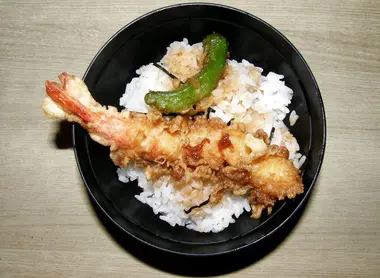 Fabulous fritters
Deliciously light and crisp, this famous Japanese way of frying was first made popular in Japan by Portuguese travelers.
The presence of fried food in the Japanese diet astonishes some people, and yet... Surprise! Even fried foods can be low in calories in Japan! One piece of tempura, regardless of what it is, is often about 100 calories, not much when you consider that a single western donut can contain nearly 400...
Sacred snack
Tempura is thought to have been brought from Portugal when, in the sixteenth century, a few hundred Catholic missionaries came to Japan and settled mainly in Nagasaki. They brought a fried vegetable recipe with them to eat "ad tempura quadragesimal", during Lent and on Fridays, times when eating red meat was forbidden by the church. But of course, dozens of other legends exist about the origin of the word tempura!
Dip it in oil!
When preparing these Japanese fritters, the food is coated with flour and then dipped in a simple paste made of flour, egg and water, before being fried in canola and/or sesame oil.
While shrimp, green beans, onions and kabocha, Japanese pumpkin, are the most popular tempura, absolutely everything can be fried in Japan - eggs, various fish, meat, seafood...
How it's eaten
Tempura falls into the category of agemono, deep-fried foods, and the most popular kind is a mixed vegetable pancake (green beans, onions, carrots) called kakiage, usually eaten with a bowl of rice.
Tempura is generally dipped in a sauce called tentsuyu (a mix of dashi and soy sauce) to which daikon (white radish) paste and yuzu (a Japanese citrus fruit) are added, supposedly to help digest fat.
Kushikatsu, skewered meat and vegetables, are also a very popular fried food, but they differ from tempura in that they are dipped in breadcrumbs before frying. It's similar to the popular tonkatsu, fried pork cutlet, which is one of many everyday, home-style dishes (katei-ryori) like donburi and udon.
Where should you eat it?
Tempura is served everywhere in Japan, but at some restaurants it's a real specialty:
In Tokyo, Tempura Tenkamehachi offers delicious tempura at low prices, while at Yokota you can enter the world of haute cuisine with tempura that earned the chef a Michelin star, likewise at Hiraishi in Osaka.
In Kyoto, you will find very good tempura at Mikuni, but if you want to sample tempura in a slightly crazy but very popular way, enjoy it with ice cream at Karafuneya Coffee!
All the themes of the city