Yatai
屋台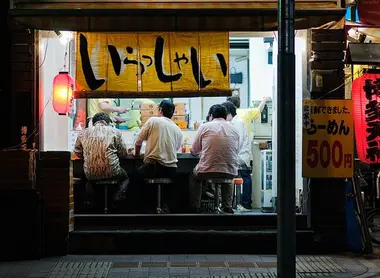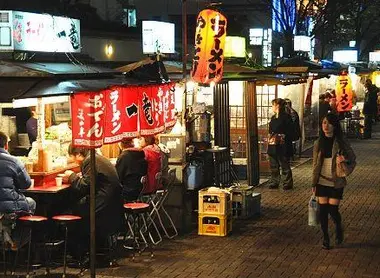 Eating on-the-go in Japan
In Japan, it might be hard to find any burger vans or chicken shops, but why not visit a yatai instead, the original Japanese street food.
A yatai is a Japanese food stall. Since the Edo period these have sprung up along busy roads. Most yatai, or rotensho, temporary stalls, are set up during matsuri or festive events.
There are, however, permanent stands too. From 6pm the yatai welcome many office workers that come to eat and relax after work, as well as visitors from other cities wanting a quick place to dine. Some of the most popular yatai even become famous, more so than the restaurants found nearby!
Yatai food is certainly not the finest or healthiest, but it is always satisfying and usually accompanied by beer. The most common stands will offer you ramen, yakisoba, okonomiyaki, oden and sometimes yakitori skewers or various local specialties.
Remember, this is Japan, so all yatai have generally good hygiene conditions. The stands have special authorisation to be there, and are regularly monitored. The biggest challenge for a non-Japanese speaker might be ordering your meal, but often the products are readily available and visible, so there is nothing left to do but to point at what you'd like (in the case of oden or yakitori). Yatai menus are generally not long or complicated. 
Yatai can usually be found in all Japanese cities, but it seems that Fukuoka definitely has the most! They are found near the center of Hakata along busy main roads, such as those near Canal City. Don't aim to visit a specific yatai. Look around, see what smells good, and don't hesitate to sit down on an available stool. Yatai offer a fun, lively atmosphere in which to eat your meal.
All the themes of the city