Yamanote Line Food Tour: 5 specialties to discover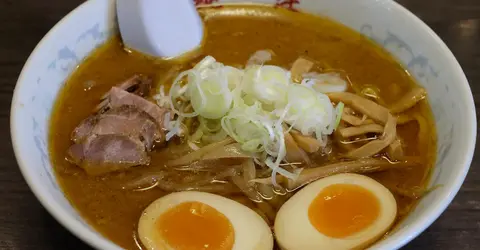 A trip for your tastebuds!
Every neighborhood on the Yamanote line is unique. Whether it's the architecture, the people, or the shops, each station has its own identity. That goes for the food, too! Discover 5 specialties on Tokyo's most popular train line.
1. Korean food in Shin-Okubo
Alternately a refuge for post-war Korean migrants, the pleasure district, and a temple of K-pop music in Tokyo, the story of Shin-Okubo closely follows the evolution of relations between Japan and South Korea since the beginning of the last century.
Read also: Okubo Koreatown
While today the neighborhood is mainly visited for its music stores and K-pop merchandise shops, it's also famous for its many cafes and restaurants! There are places where you will find a lot of Korean specialties, perhaps a bit less spicy than usually served on the other side of the Sea of Japan.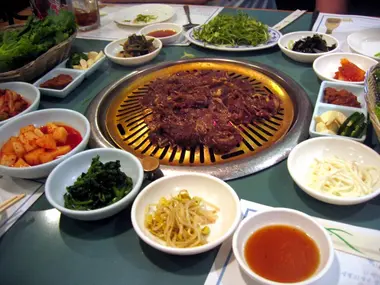 Where to go:
With its retro style and acid colors, the Coffee Prince Cafe is a pretty faithful reproduction of the cafe from the Korean drama of the same name. Specializing in desserts, it will particularly delight lovers of pancakes and latte art.
Address : 2 Chome-2-1 Hyakuninchō, Shinjuku-ku, 169-0073 Tokyo Opening hours : daily from 10:00 to 23:00 
Located in the heart of Shin-Okubo's shopping street, Hansarang is one of the area's most famous restaurants. Its specialties? Bulgogi (marinated meat that is grilled), chijimi (savory pancakes), and cheese karubi (a huge dish made of chicken, cheese and vegetables), among others.
Address : 1 Chome-16, Okubo, Shinjuku-ku, 169-0072 Tokyo Opening hours : daily from 10:30 to midnight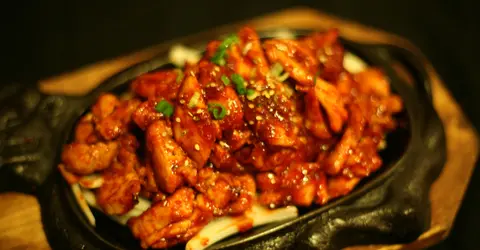 2. Golden-Gai in Shinjuku
Highly prized by the salarymen, Golden Gai in Shinjuku is a must to finish (or start) an evening. With its bars, lively little streets, and its many izakaya, its atmosphere of yesteryear will seduce both curious travelers in quest of the picturesque as well as young city people caught up in the frantic routine of Tokyo.
Where to go:
Golden-Gai is one of those places to be discovered by yourself. Don't hesitate to lose yourself in its narrow alleys and smells of alcohol and yakitori (Japanese meat skewers), you will always find something to enjoy.
Read more : Golden Gai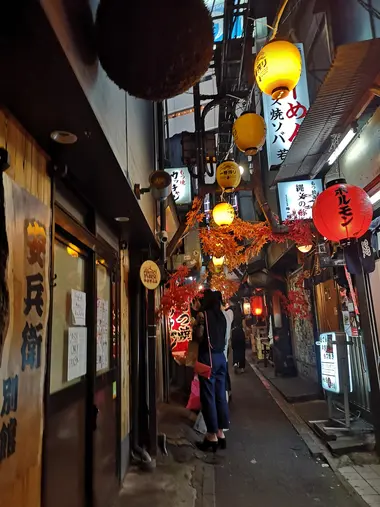 3. The beef in Shibuya
Lovers of red meat, it's Shibuya that you have to go to!
Yakiniku (Japanese barbecue) abounds and you will even find restaurants specializing in Kobe beef, aka one of the best meats in Japan!
Where to go:
Marujyu Seiniku Getting Shibuya
Lost in the middle of the electric district of Shibuya, this small meat restaurant offers Kobe beef skewers from 1,000 yen. A good way to taste this Kansai specialty, without necessarily having to take the Shinkansen from Tokyo.
Address : 29-3 Udagawachō, Shibuya-ku, 150-0042 Tokyo Opening hours : daily from 11:00 to 23:00 
Also located in Shibuya, this yakiniku is one of the most popular restaurants in the area. And for good reason, the chef sources the meat himself, directly from the best markets in the country, which allows him to offer fresh and tasty meat every day.
Address: 2-7-6 Dōgenzaka, Shibuya-ku, 150-0043 Tokyo Hours : daily from 18:00 to 03:00 
Halfway between Shibuya and Roppongi, Yoroniku is a luxury yakiniku restaurant that has delighted its customers since 1912. Its specialty? Beef fillet!
Address : 6 Chome-6-22 Minamiaoyama, Minato-ku 107-0062 Tokyo Hours : Monday to Friday from 18:00 to midnight, and weekends from 17:00 to 23:00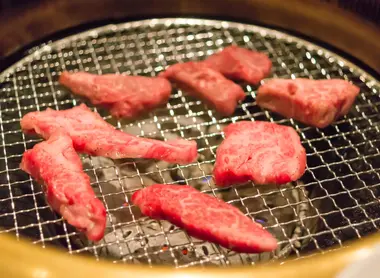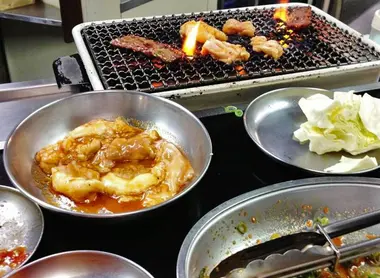 4. The street food of Ameyoko (Ueno)
Ameyoko is probably one of the most famous neighborhoods on the Yamanote line when it comes to eating on the run. Offering cuisine from all over the world, there is absolutely something for everyone: Italian, Turkish, Korean, Japanese, and even French food, you'll find plenty to eat on any street corner, since the area is full of food and drink stalls.
Read more: Ameyoko
Where to go:
As with Shinjuku's Golden-Gai, Ameyoko is a neighborhood that is best discovered by wandering through its many small streets.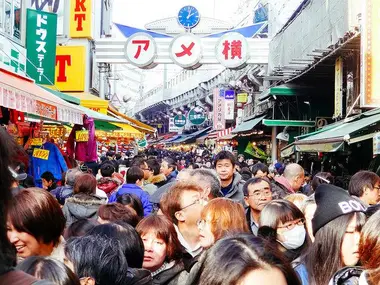 5. The ramen in Nippori
Haven't had enough yet? Why not hop on the Yamanote line and get off at Nippori Station?
Renowned for its ramenya (ramen restaurants), the East Exit of the station is a busy hub of Tokyo. Especially in the evening, when the salarymen leave the office and grab a quick bowl of noodles between colleagues before heading home.
Where to go:
Located between Nippori and Nishi-Nippori railway stations, Jin is a ramenya popular with locals. And for good reason, it offers large portions at low prices!
Address : 2 Chome-13-11 Nishinippori, Arakawa-ku, 116-0013 Tokyo Hours : Monday to Saturday from 11:30 to 15:00 and from 17:00 to 01:00
All the themes of the city